DTC Priced Right
Can Native avoid the pitfalls?
In this episode of DTC Priced Right we're taking a look at Native and how it's used integrity-laden positioning to disrupt a multi-billion dollar industry.
This episode might reference ProfitWell and ProfitWell Recur, which following the acquisition by Paddle is now Paddle Studios. Some information may be out of date.
Please message us at studios@paddle.com if you have any questions or comments!
This week we're getting smelling, or anti smelly—we're talking about Native, specifically Native's deodorant products and other bath and hygiene products. And we're talking a little bit about what they're getting right when it comes to being an organic, integrity-laden brand within this market, as well as some optimizations that they should be looking at when it comes to their monetization. And we're gonna wrap all of these lessons up into a nice little case study so that you can get your pricing going in the right direction.
The personal care market is a multi-billion dollar industry, yet it lacks proper regulation and monitoring to ensure products are safe. So, Native set out to create a clean, natural, and cruelty-free product that is safe. And it resonated, as it has tripled in growth over the last several years. Native's done a phenomenal job listening to and understanding its customers, but what else could they be doing to keep that growth going?
Below are some valuable takeaways you can implement in your own business.
Integrity-laden positioning increases willingness to pay.
Integrity-laden positioning is resonating with prospective DTC customers.
When you're a premium product using integrity-based ingredients, don't be afraid to break down what's in your product.
Take advantage that people are buying your product, over others, for very specific reasons.

Membership/subscriptions should be more than just discounts.

In the case of Native, the subscribe and save discount (on deodorants) could be less.
People are craving community—create community to reinforce the membership.

Segmentation exposes different opportunities for growth.
Segment willingness-to-pay data and your customer base to expose different opportunities for growth.
Understand your segments in order to understand where you should be priced
Nobody wants to smell bad—we hope anyway. The first deodorant, named Mum, was trademarked in 1888, while the first antiperspirant, named Everdry, launched in 1903. But BO wasn't always a concern for people, and what little concern there was, was literally covered up by perfume. Many considered anti-sweat toiletries unnecessary, unhealthy, or both. Additionally, bodily fluids of any kind, including perspiration, were previously not talked about, particularly in public. That is until high school student, Edna Murphey, and former traveling Bible salesman, James Young, put the topic front and center in the early 1900s.
Murphey had started a company called Odorono (Odor? Oh No!). And to help grow the business, she hired James Young from a New York advertising agency. Young decided to get edgy and place a contentious advertisement in a 1919 edition of the Ladies Home Journal. The headline: "Within the Curve of a Woman's arm. A frank discussion of a subject too often avoided." And the message: If you want to keep a man, you'd better use Odorono so you don't smell. Needless to say, the messaging caused a lot of discomfort and controversy, but sales rose 112 percent.
Harvard Law grad, Moiz Ali, realized the lack of attention and concern the multi-billion dollar personal care industry had in ensuring its products were safe, and founded Native—a natural deodorant subscription service—in 2015. The idea for Native came in a single moment, while he was reading the label to Axe's deodorant and couldn't understand most of the ingredients it included. That idea turned out to be a multi-million dollar one, and one of the fastest growing clean and cruelty-free deodorant companies in the US. In 2017, with only one product at the time and eight employees, Native was acquired by Procter & Gamble for $100 million, cash, just 2.5 years after launching.
Native's success
Native's rapid success stems from two factors:
First, Native listened to its customers. Ali was intent on understanding who the Native consumer was, and ensured he built in a feedback loop right into the customer experience from the beginning in order to improve the product and ultimately grow the brand by cultivating trust and building relationships.
Learning and understanding its customer's behavior led to the second factor—great marketing. Native was able to utilize that insight to properly position itself through targeted marketing—including "clean and minimalistic" packaging and branding to match—it was all intentional.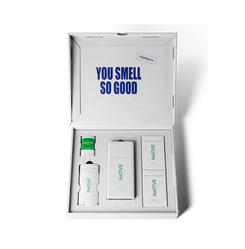 Today, Native can help with more than just your stress sweat. Its line now includes body wash, soap, and toothpaste—keeping you clean, fresh, and smelling divine. Native's commitment to quality and natural ingredients—like shea butter, coconut oil, and baking soda, to name a few—is evident in the short list that is clearly listed for every product. Which to its customers, makes what is not listed more important. All of Native's formulas are free of aluminum, parabens, and sulfates.

Since Procter & Gamble acquired Native in 2017, it has since tripled in growth. It seems Native has gotten the formula right, as it disrupted a multi-billion dollar industry with a clean, natural, and cruelty-free product that has garnered thousands of happy customer reviews.
Make the product better
Every time we talk about a company like this, I feel like we're in the wrong business. Not because it's easy, it's obviously not easy to build something like Native, but I just feel like these spaces are huge, and if you can carve out a nice little niche and a differentiation, which I think Native has really done. Native is really leading the wave with partnerships. I see Native, I believe in Whole Foods, but definitely in Walgreens. They've also gotten rid of plastic packaging and have more recycling packaging. I really like their minimalist branding too—they're definitely latching onto the moment.
So really, it's don't cheapen the product, actually make it better and then do it all digitally. And brick and mortar in this case, with those partnerships, and you'll do you great.
Let's take a look at their pricing page and then dig into some of the data from prospective and current customers. We're gonna take a look at what Native is doing really well as a company when it comes to monetization, and what they're doing not so well, in order to package up all those findings into a nice little case study. So you can get your own pricing right.
Native's pricing page
Add-ons right in the checkout flow are great.
Native is a textbook example of doing add-ons right by putting them right into the checkout flow. I think a big thing a lot of people don't realize in the game of something like deodorant, is that it's not only about expanding that AOV (average order value) through add-ons, but also expanding AOV through different products in different product lines. And when we look at the Native flow here, they not only give you options to subscribe and save and how often you want it delivered, but you also see toothpaste and a couple of other options. It allows you to have that really quick add-on that all of a sudden expands that cart and potentially expands the subscribe and save as well.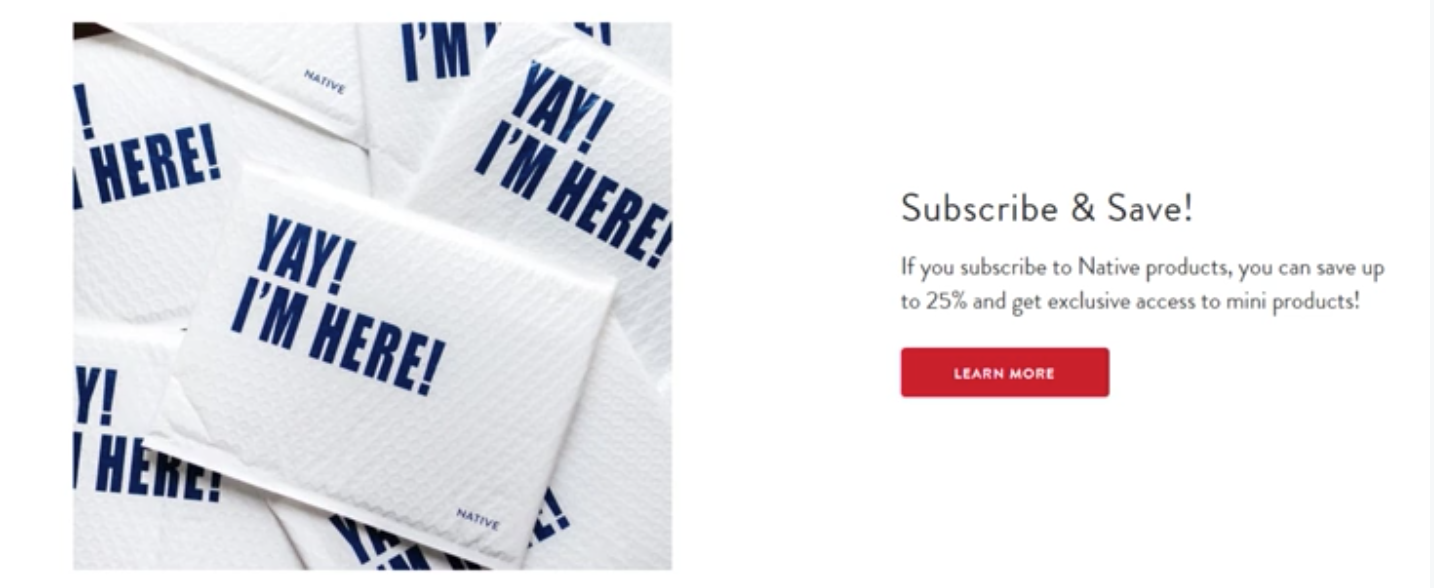 And unlike other brands, I think one thing that Native does really well, is showing only two options. I don't know if that's the max—I haven't gone through every single flow. But a lot of these folks that we've looked into have like seven or 10 different options. They might be testing, and it might be working. But even in my experience back in the day in the world of DTC, offering up more options was always worse. Pairing things down and finding that sweet spot—which was never nine or 10—was one of those things that really helped get over that analysis paralysis, and that dissonance or paradox of choices they have.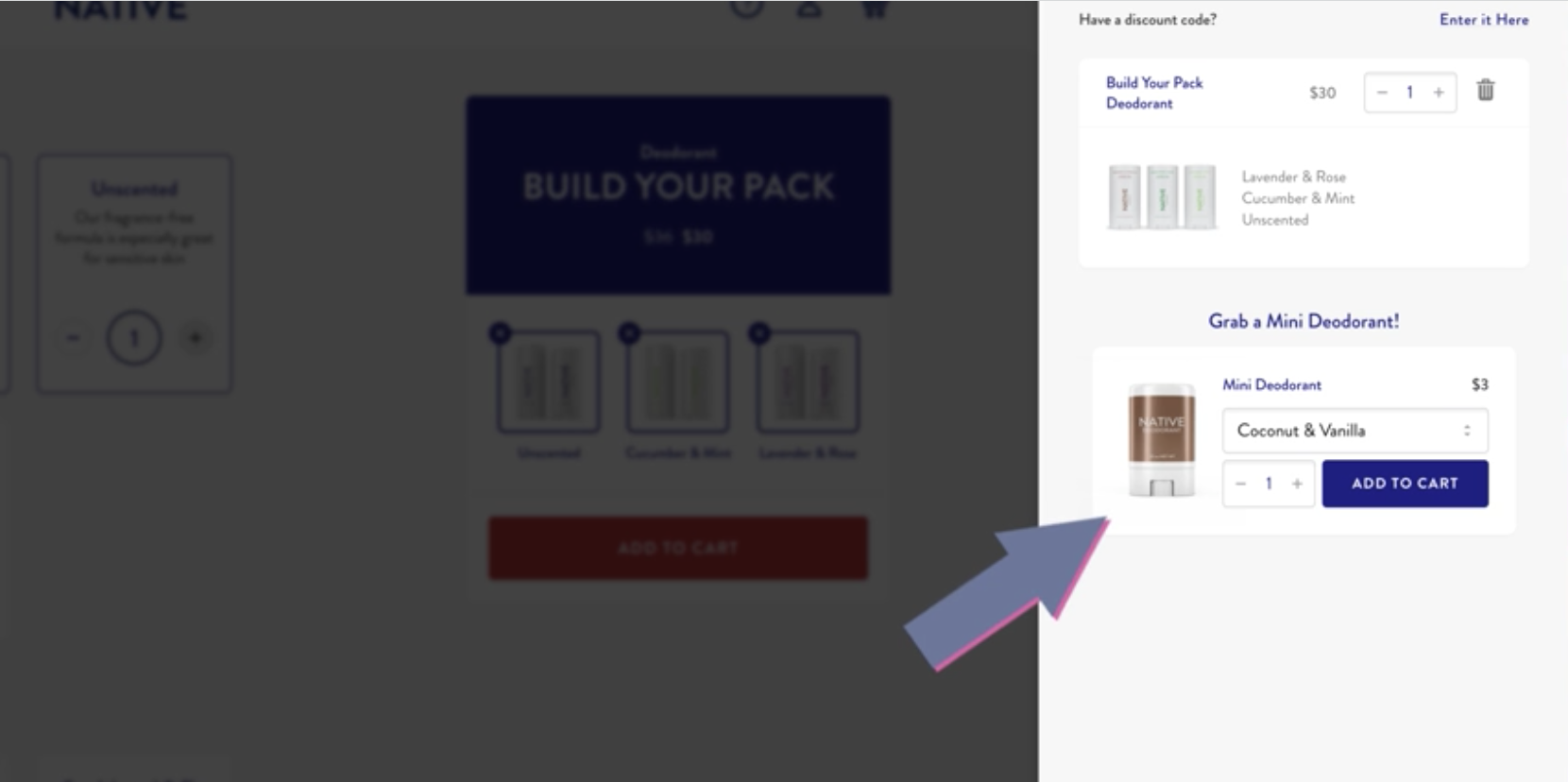 The subscribe and save and add-ons build into that. It's something that's interesting to me. They say delivery is every three months and I trust Native on that. And that's where I think that potentially depending on how fast things are, they're shippable. Native, hopefully, has a really good flow once you've purchased, so that you can get that delivery right on time.
We've seen with other products, like Bottomless, you actually have it on the scale, so they know when you're at the bottom and need to send you a new batch. There's probably something actually cool Native could do, like go "click this button or order more," something like that.
DTC brands in the coffee space do that a lot. I think I would trust Native. And then if I over shop, I basically would be surprised, or I would go, "Oh, I need to go get more." And then I would adjust my frequency. I know Native is using ReCharge, which makes it pretty easy for you to do that.
Let's take a look at the data.
Data and analysis
Integrity-laden positioning increases willingness to pay.
So what we did here is we tested a range of positioning statements against the median, and saw this kind of boost in willingness to pay. From the ones that we're looking at right now, you can see things like US made,cruelty free or animal testing-free, you'd expect getting a little bit of a bump there. But then even more interesting, earth friendly, plastic-free packaging, and then safe and effective ingredients, so you can understand, both of these are just really popping. As we mentioned earlier, it's a huge space. Make your product better and use better ingredients. We've seen this across DTC.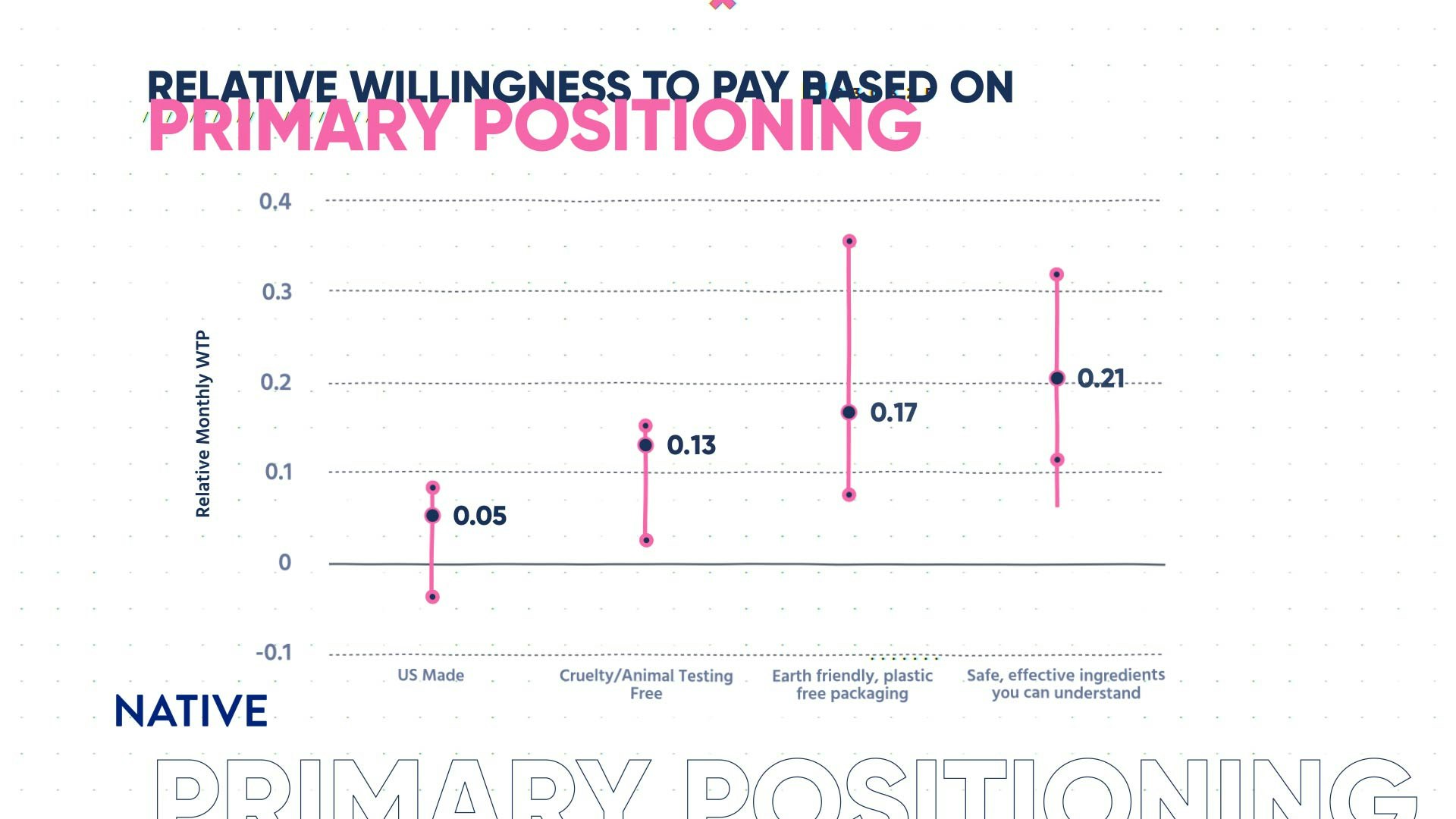 Cruelty free with proper packaging and natural ingredients, make it good, and rinse and repeat. You've seen that a lot, and that's not to say that it's easy, it's just what a lot of brands have done in the context of Procter & Gamble and Unilever, and some of the bigger dogs that are out there. And then do it in a much more nimble brand, which I think Native has been able to do in order to realize what in the world's going on, and ultimately, properly boost willingness to pay around these types of products.
Native has an opportunity to actually push their price points a little bit. I think that right now, they're not low, but they're not really as premium as I would want. A dollar here, a dollar there on a product like this, or toothpaste, these types of things, means a lot. And when you're a premium product, or you're at least posturing that way, it's really important to back that up with a price because people are coming here instead of just going and getting the random degree, or whatever it is, for very specific reasons, so you should kind of take advantage of that.
One gripe I have with Native, particularly around their subscription and membership program, is that it should be more about discounted products. And that's like one of the big things that they have in it is, "Hey, you can get any product at 25% off." I think that's an amazing start, and most DTC brands should have that, but they don't right now. But this brings that community together in a Glossier style, meaning they should be giving feedback, they should be getting early access to things, etc.
Value Matrix
You're about to see something called a value matrix. We collected data from the group comparing feature preferences and plotted those on the horizontal axis, more valued features on the right, less valued on the left. We then collected willingness to pay for the overall product and plotted that based on their number-one feature preference on the y-axis. Analyzing data in this manner allows us to determine which features are differentiable add-ons, core, or commoditized for each segment.
Memberships/Subscriptions should be more than discounts.
You see here, this whole concept of member-only products. I don't know what it is, but maybe it's member-only scents, maybe it's some exclusives, these types of things. There's other products that they're selling around, kind of, the bathroom, that they could take advantage of and could make exclusive. Maybe they're made with this exclusive product, or they can't get as much of it and want to make it integrity-based, so it's a small batch or something like that. I think that could be really powerful.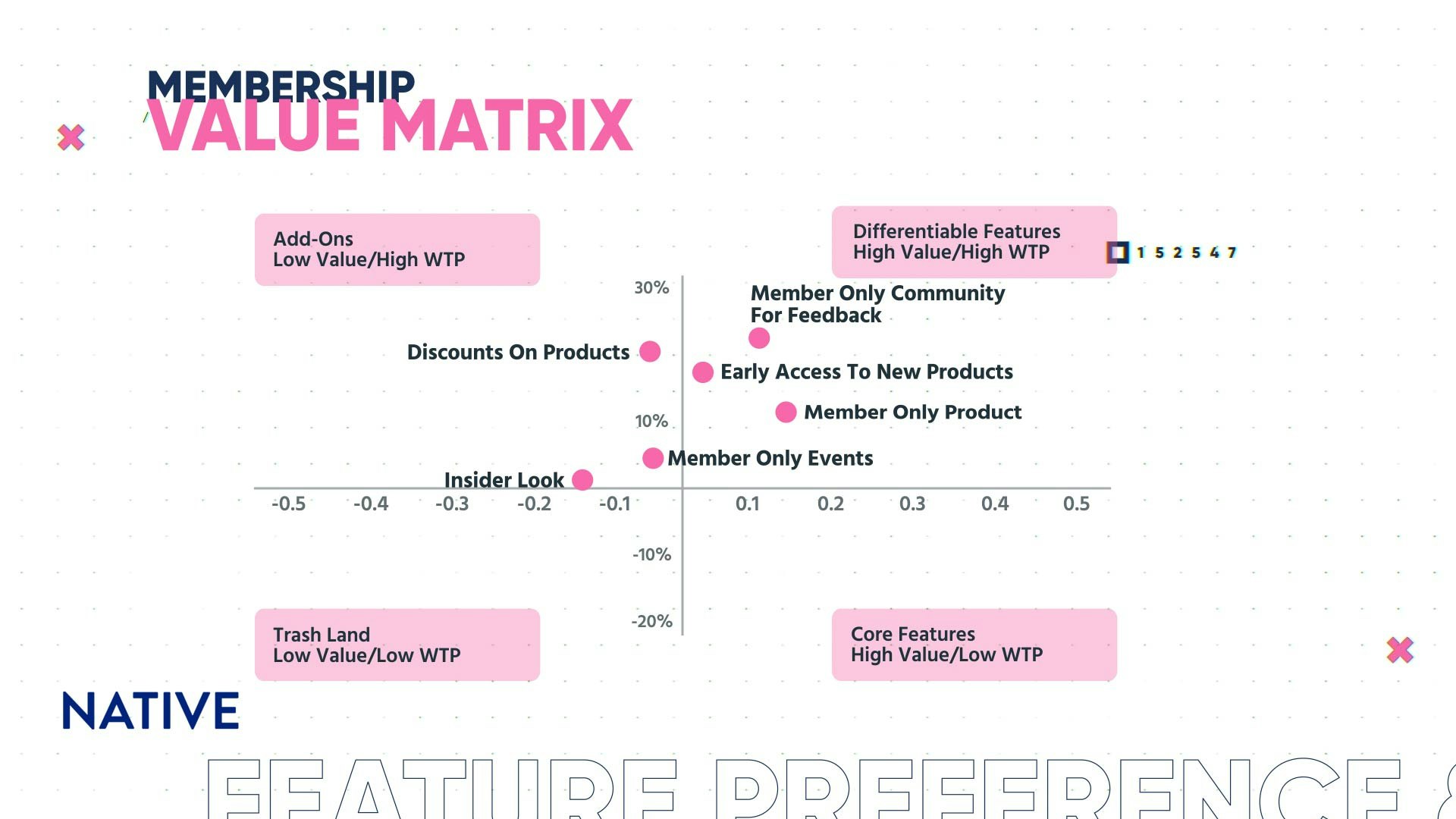 Discounts on products are here, people do care about it, and they're willing to pay for it, which is good. But even like a member-only community for feedback, it sounds so weird, but when you look at the story of Glossier or even Rent the Runway, some of these other brands that we're early to this game, they were really able to take advantage of the community not only to make the product better, but for some reason to make these rabid fans increase their average order value, and get everything they needed right away.
So I think that's a really big thing to keep in mind. And even an insider look isn't really that compelling to people, and that's fine. But somehow member-only events are actually a little bit there. But I think early access to products of feedback community, and then even things like member-only products could really accentuate this membership model that they have.
Segmentation can expose some very different opportunities for growth.
The last piece I think Native could actually improve a little bit on, but you have to be careful. Let me just say that segmentation can expose some very different opportunities for growth. And the big point here for your business is you should be taking a look at the segments that you sell into, and understand where the differentials are and willingness to pay. Very commonly, it'll be like on household income or gender, or a whole host of things. But I think that Native, if they don't know this—and it was hard to tell from their pricing structure—they don't have anything differentiated this way.
There's a pretty big opportunity based on the health consciousness of the user or the buyer, as well as the gender of the buyer. Now we have to be careful not to get too far into a pink tax. So the pink tax, for those of you don't know, is basically you know things like Schick blades, you know for razors and things like that. They tend to be much more expensive than the Gillette, male raisers and not necessarily because the quality is different. I think sometimes it's the exact same razor maybe that's pink versus not pink, and then all of a sudden they're charging different prices for it. That's okay if the value is justified. Oftentimes these brands won't justify the value. And I think that what you're noticing here is that high health affinity, high health-conscious women having much, much higher willingness to pay—about 30% higher than the overall median.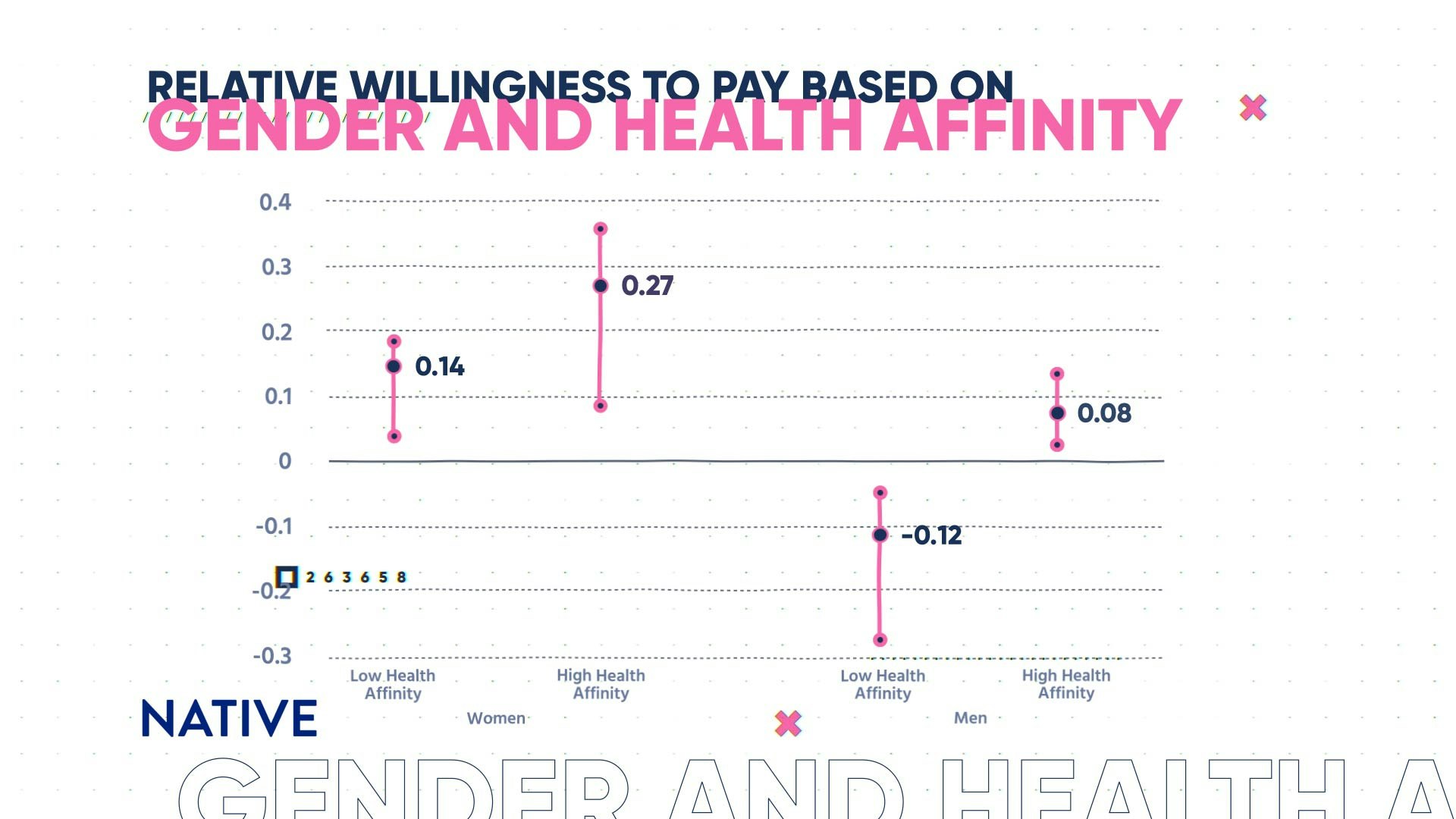 Now, what I would do is offer up different products or more premium products in order to take advantage of that willingness to pay, rather than just taking the same product and making a differentiated price. But I think this is where this health consciousness comes in. There's definitely a 10 to 20% difference, both in men and women. There's almost a 20% gain with the higher health affinity folks.
So long story short, I think that there's two things that Native can take away from this. One, just make sure your pricing on the segment that's going after you. Yes, you might wanna be just the mass market, but this is deodorant so the market's massive, even if it's a little bit smaller and it's just the high health folks. But that goes back to our point about being premium and pricing a little bit premium, not necessarily egregiously premium. And the other thing here is that, there's an affinity on the women's side for some from higher price products or some products that basically take advantage of this willingness to pay.

Recap:
Integrity-laden positioning increases willingness to pay. This is something we've seen across the DTC landscape, especially with cost-driven companies. It's something that is really resonating with prospective customers right now, and something that we've seen is actually something that can get them to pay more.It's not that you have to go full cause. I mean, we saw the data with Who Gives a Crap—that's coming up later in the season—a toilet paper brand. Whenever I say their name, I feel like I have to clarify that the cause is very central to their selling. Native is just a high quality product that's just good. And I think that the integrity-laden positioning of being organic, free of certain ingredients, and having ingredients you can pronounce, actually boosts willingness to pay a lot. So don't be afraid to break down what's in your products.
I think similarly your membership or your subscription should be more than just discounts. And as an incentive, and obviously there's an incentive to get subscribe and save. I think the subscribe and save in the case of Native could actually be a little bit less than it is right now. It's pretty aggressive—a 17% discount, at least on the deodorants, was a lot.People are craving community, even when it comes to deodorant and these types of products. You don't have to go full Glossier, but there's something there. And I think that basically reinforcing that membership could really be helpful for Native.
The other big thing is you have to segment willingness to pay data, and segment your customer base because it's going to expose different opportunities for growth.I think in the case of Native, they have to be careful not to fall prey to the pink tax. Ultimately there's a very high difference in willingness to pay, not only for women who are high health conscious, but just high health conscious folks in general. And the big thing for you as an operator is you have to understand these segments in order to understand where you should be priced. The worst thing to do is average out your pricing being a little too expensive for the folks on the low end, and too cheap for the folks on the high end. It just creates a bad recipe for conversion, a bad recipe for revenue overall.