Supporting large scale launch campaigns 
Convertri's go-to-market strategy is centered around launch campaigns through partners. While this gives reach to very large audiences, Convertri found this approach is challenging when it comes to recurring billing. CEO Andy Fletcher explains:
"With our sales model, it's much more effective to sell a one-time, fixed purchase and then upsell to a subscription later on. This is really difficult when your system doesn't connect the initial payments to the subscription."
This model, combined with big promotional launches made for large revenue spikes that were falsely flagged as fraudulent by both previous payment providers. 
On the initial launch, this left Converti frozen out of an account containing $280k with one provider and having an account completely shut down by another. Andy says:
"We understood that we couldn't work with them but we wanted to know why and exactly what happened so we could make sure it didn't happen again with a new provider. Nobody would talk to us to explain, which was really frustrating."
Andy spoke to a friend who recommended Paddle and on looking for a new partner he decided to set up an account.
"The problems with other providers had put a strain on those relationships, I couldn't fully trust them again. We just wanted a solution that we could work with to explain the business model, and give us the level of faith that once transactions were processed, we'd be able to receive the payouts."
Finding a partner in Paddle
Convertri implemented Paddle in-house without any issues. After testing the platform with Convertri's existing recurring revenue base, Andy decided to approach the Paddle team about running a product launch through the platform.
"What really stood out for me was that after I reached out, I was invited into the office to meet the team. This was the human relationship I'd been looking for."
On meeting the team, Andy was introduced to a Paddle Account Manager who helped him work with the Risk team and plan for the launch.
"Paddle's Risk team really took the time to understand our business model. This gave me reassurance that I would be able to receive my payouts as and when they were due – without any issues."
Paddle has built-in anti-fraud measures and a dedicated Risk team that could work with Convertri and ensure that any spikes in revenue wouldn't be flagged incorrectly or cause issues with payouts.
With Paddle in place, Converti has implemented a hybrid funnel model. This uses card vaulting to make moving from a one-time initial payment to recurring billing a more seamless process:
"We were 18 months into using Paddle and hadn't had any hiccups so it was great to work with the team on setting this up. We're still doing 12 months of Convertri standard but this means that when we upsell the front end is exactly the same because it connects the payments."

$500k product launch week
The product launch with Paddle saw Convertri jump from $30k to $50k MRR with additional one time purchases during launch week totaling $500k. After the event, retention of this customer cohort also exceeded expectations.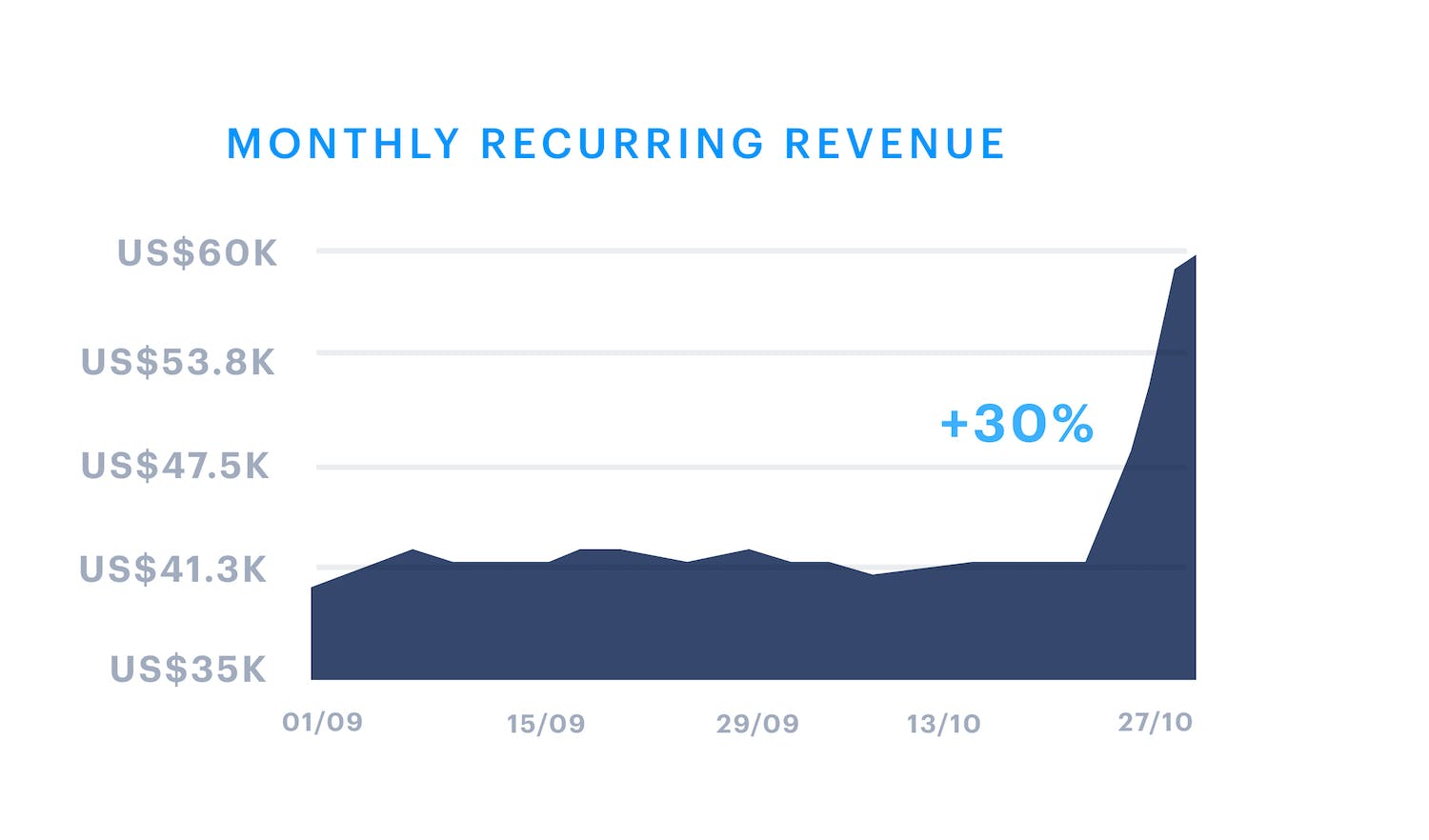 "You'd expect after a launch that the spike in your MRR would tip at the top and then come back down by a third or even half. It's unusual for it to be just a notch and then straight back up again but we ended up adding about $20k MRR from it."