Billing
The only complete billing solution for SaaS
As your merchant of record, we handle your payments, tax, subscription management and more, so you can focus on growing your software business.

Take the headache out of growing your software business
Transform the way you manage your billing, tax and subscription processes. We handle the hard parts for you.
---
Grow revenue
Power any software billing model, through any billing motion
With Billing, you aren't tied to a single way of doing business. Whether you're focused on a sales or product-led growth strategy, Billing's flexible approach enables you to scale those ambitions without the headaches.
A mix of both? We've got your back. Invoicing, subscriptions and one-off payments; all in one place at last. All reconciled automatically into a single source of truth.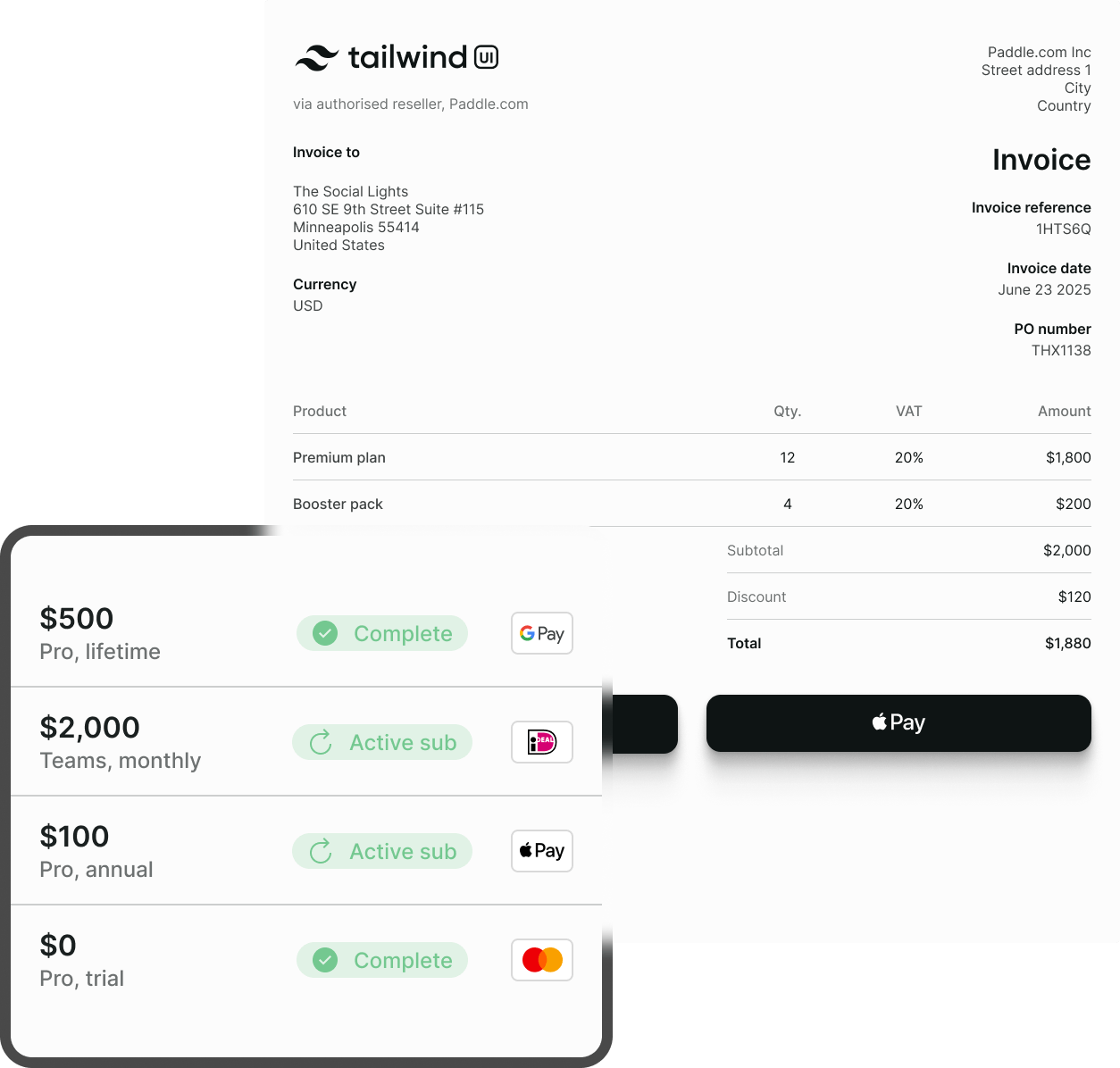 Subscriptions
Flexible, multi-product subscriptions, multi-seat plans + add-ons
Learn more
Invoicing
Automated, tax compliant B2B Billing reconciled for you
Learn more
Increase conversions
Unlock international revenue growth in days, not months
Enable full localization of your purchase flow at the touch of a button. Increase conversions and improve your customer experience with a checkout that's in the right language and right currency. Make converting easy with localized payment gateway options, and leverage region-based pricing to expand into new markets.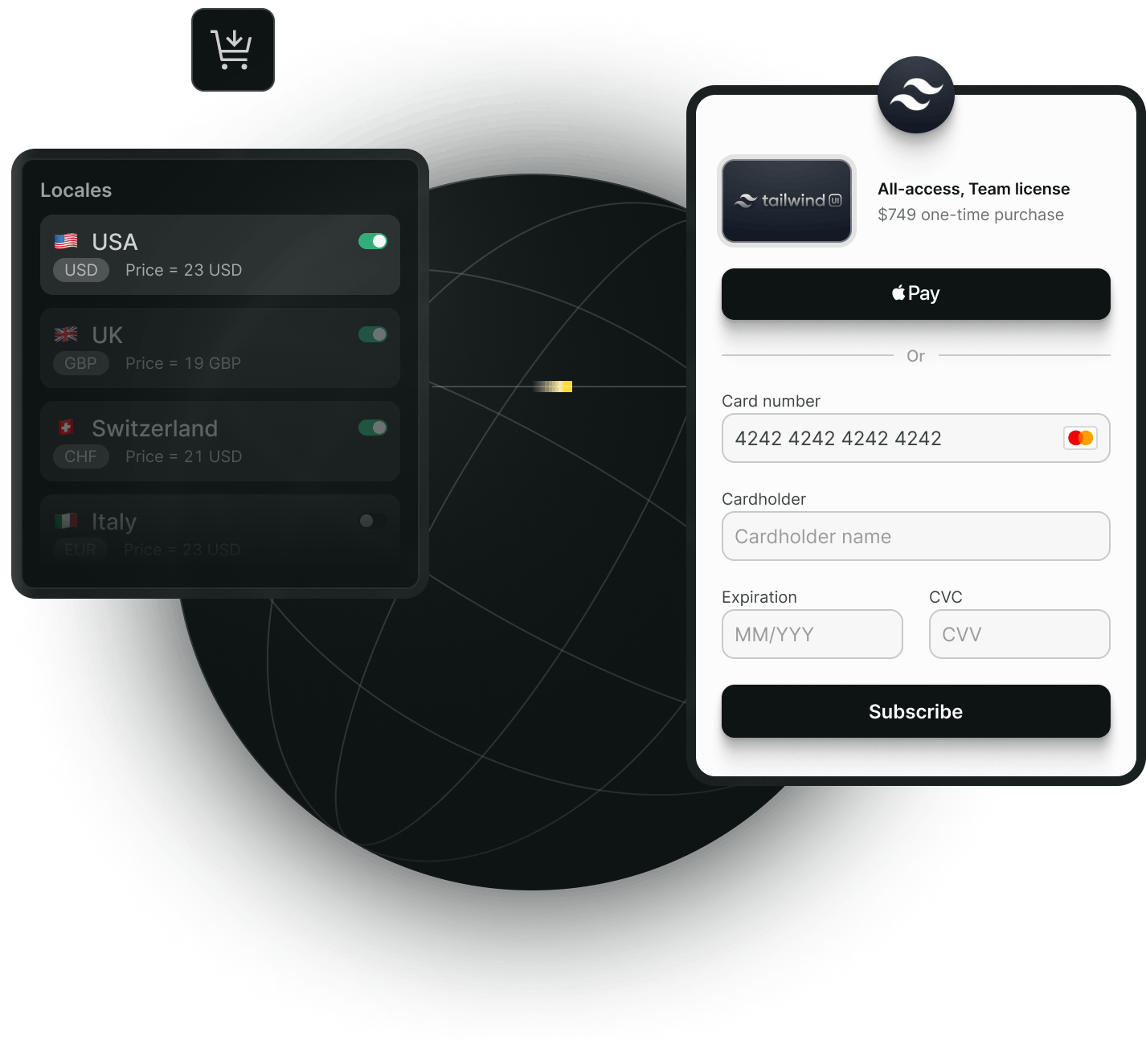 Reduce risk
Total tax compliance from day one
As your merchant of record, we take care of all aspects of your global sales tax obligations. Processing payments, merchant fees, fraud and filing, all handled for you.
Advanced fraud detection and automated recovery & rejection systems limit your exposure to risk from bad actors.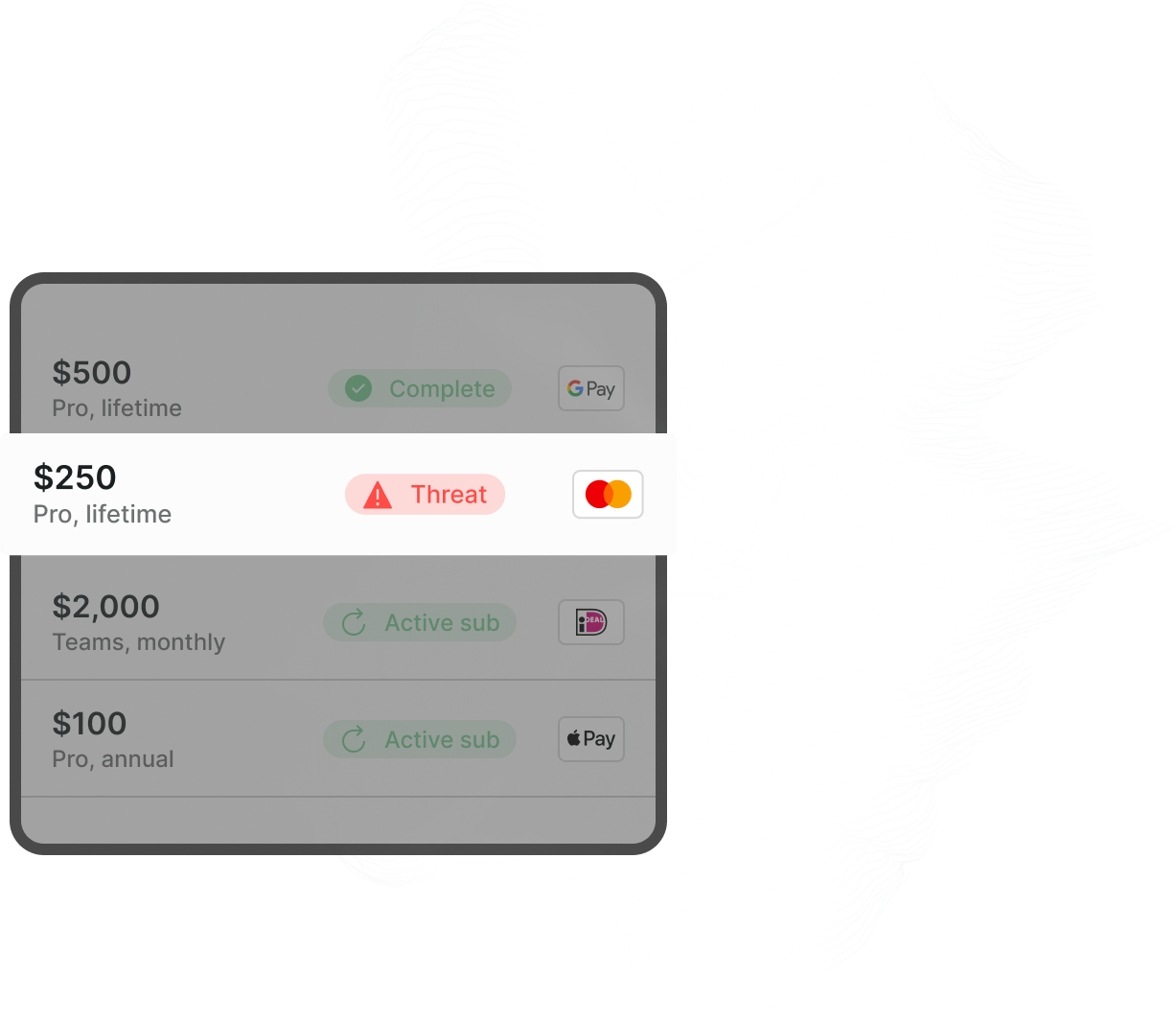 Tax compliance
Scale quicker with global tax compliance from day one
Learn more
Fraud protection
Prevent card attacks, fights chargebacks, and screens fraudsters
Learn more
SOC2 certified
We are fully committed to data privacy and security, and have successfully completed Service Organization Control (SOC) 2 Type 2 audit.
3Dsecure
Paddle fully supports 3D-Secure 2 right out-of-the-box. We take care of the entire process and all the compliance.
GDPR compliant
Paddle and its payments partners are compliant with legal, regional, and payment-related regulations including GDPR.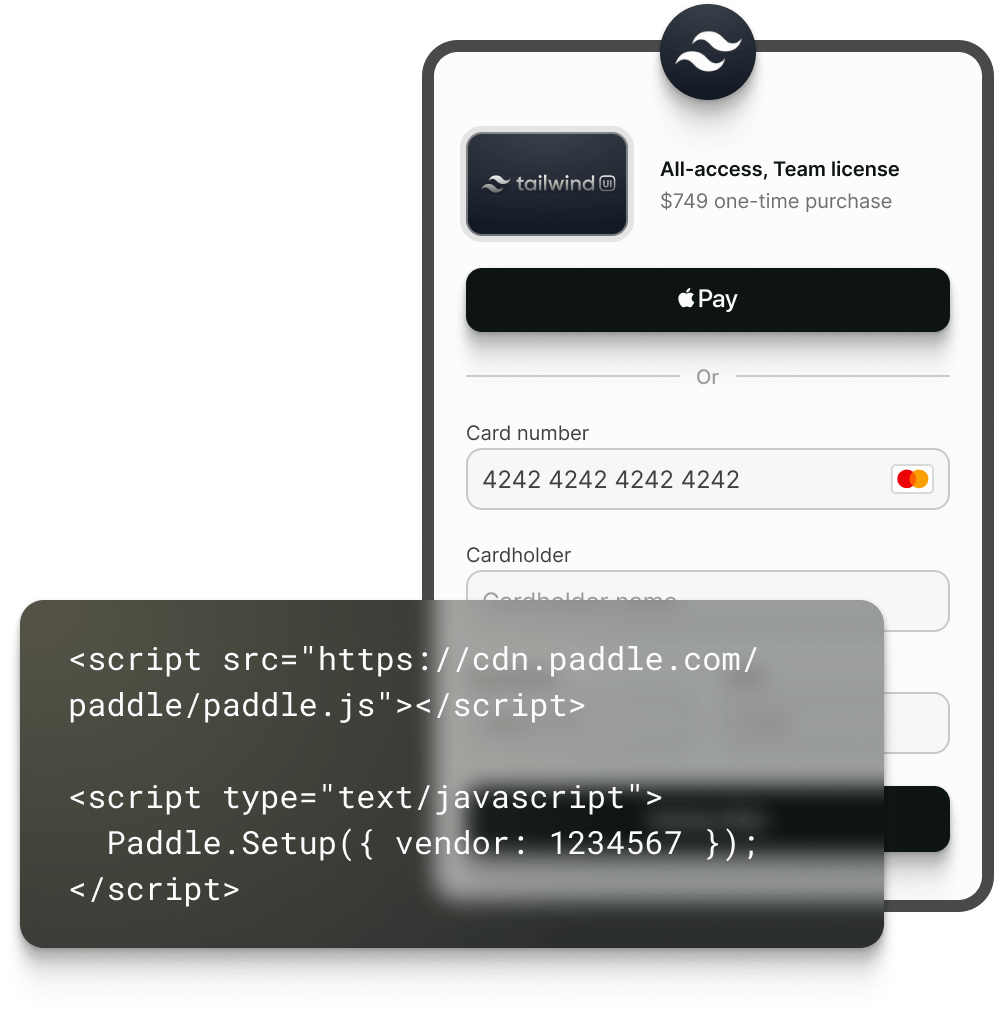 Services
Get even more out of Billing
Get access to expert guidance for your business and your customers. From advice on pricing and go-to-market strategies to specialist billing support and help migrating subscriptions our team of SaaS experts provides a range of services to help you grow.
Customer & billing support
Migration & implementation services
Bespoke growth advisory
Discover more Paddle services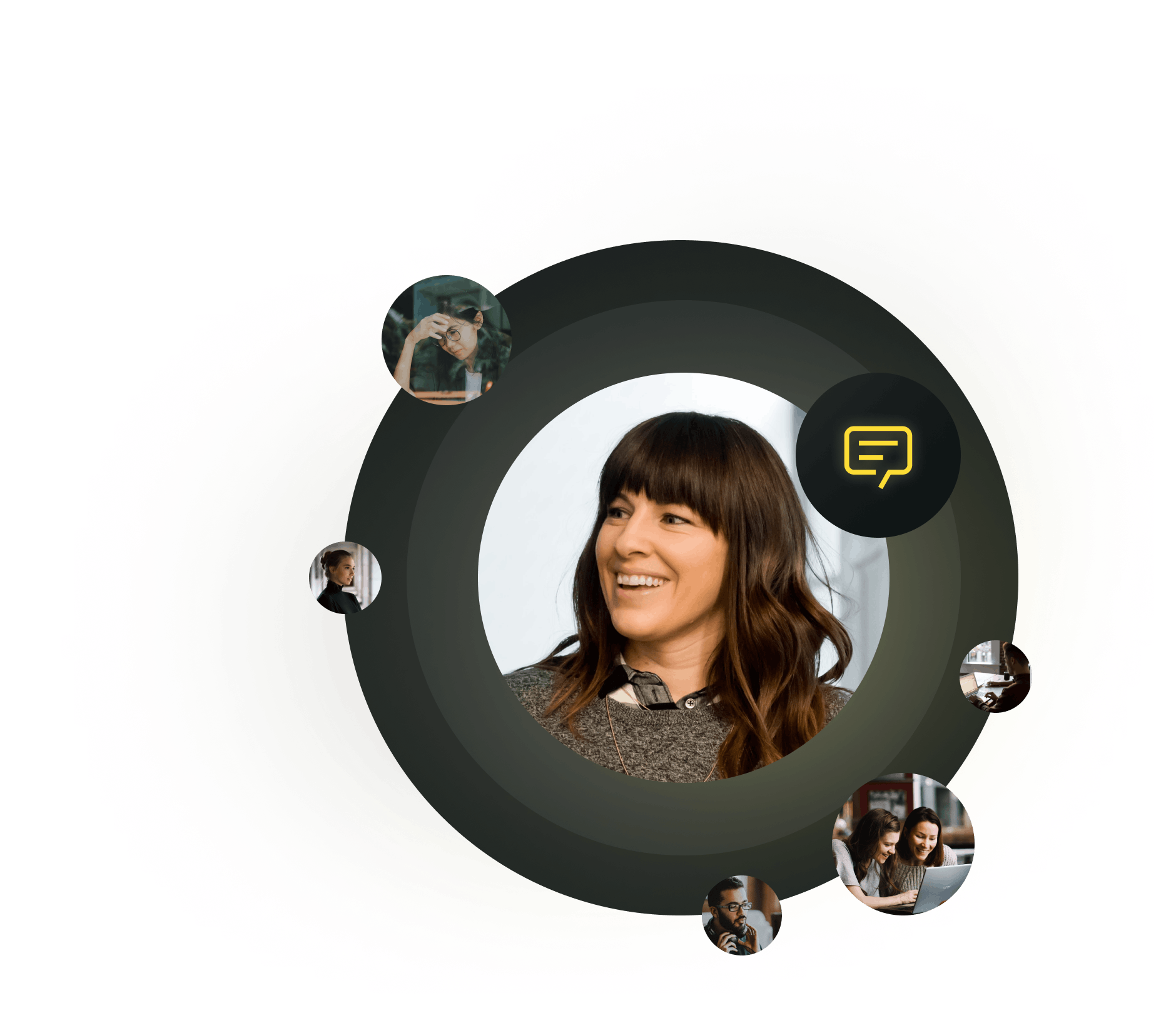 Pay-as-you-go
Global payments and billing seamlessly unified in one platform
Cross-border sales tax compliance
Protection against fraud and chargebacks
No migration fees, monthly fees, or hidden extras
Sign up
5
%
+
50¢
per Checkout transaction
Custom pricing
Tailored pricing for rapidly scaling and established large-scale businesses.
Contact Sales
Custom pricing to fit your business model and products
Get access to optional premium services and success management
Custom migration services and implementation support