Billing
Global sales tax compliance so you can sell with confidence
As your merchant of record, we handle all your tax and compliance on every payment, removing you from liability.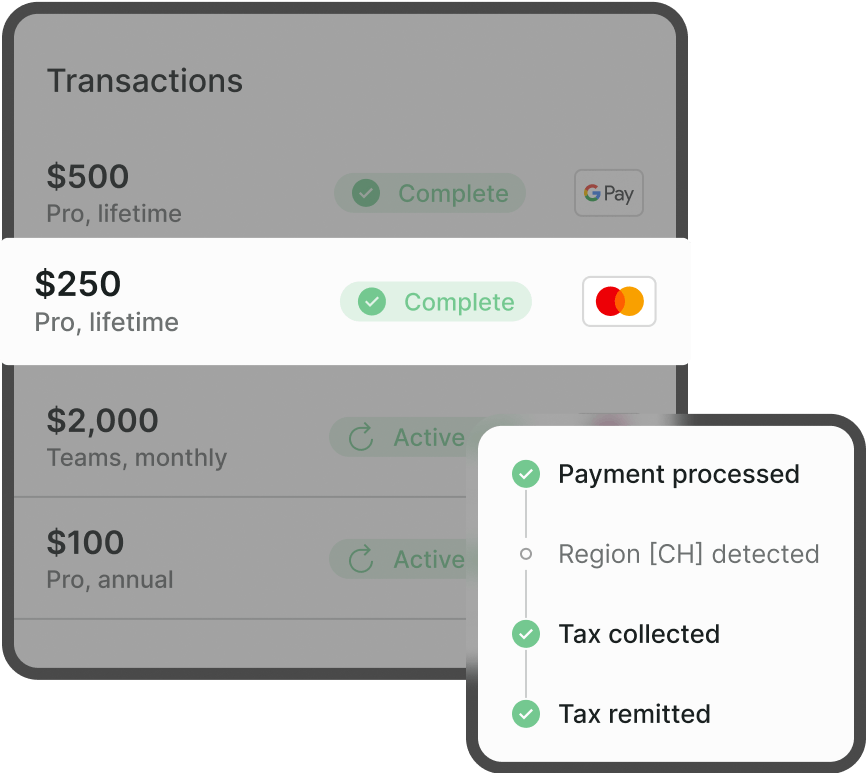 Automatically collect sales tax & VAT on every transaction
We register charge and remit sales tax in over 100 jurisdictions so you don't have to. Sales tax is applied automatically to every payment through Billing, so you know you're protected.
Collect the right amount of tax in any region
Automatic registration per region
Automatic filing and payment across all regions
Stay in line with regulatory changes through automatic updates
Full data protection & regulatory compliance
Enter and scale in new markets around the globe with ease. Rules and regulations change all the time. Billing keeps you compliant as your business grows with the latest security and privacy regulations around the world. Comply with data protection laws in EU, California, Switzerland and more.
SOC 1 & SOC 2 compliant
GDPR ready
PCI-DSS
SOC 2 certified
We are fully committed to data privacy and security, and have successfully completed Service Organization Control (SOC) 2 Type 2 audit.
GDPR compliant
Paddle and its payments partners are compliant with legal, regional, and payment-related regulations including GDPR.
PCI-DSS
Paddle is PCI DSS SAQ A compliant - this means that we do not directly store card information and are PCI Compliant for web transactions only.
CCPA
Paddle and its payments partners are compliant with the California Consumer Privacy Act.
What we really appreciated with Paddle was its transparency and we were really happy to see that being so much easier when it comes to compliance.
Be investment ready at every stage
Take the headache out of your next funding round. With Billing, your entire payments infrastructure is integrated into a single platform, making auditing and due diligence easy and transparent. Give investors confidence in your business infrastructure and readiness to scale.
Discover how Billing supports funding and exit