With limited resources as the SaaS start up, Plausible Analytics were looking to offload the operational complexities of tax compliances and billing so that they can focus on marketing and developing their product.
Co-Founded by Uku Täht and Marko Saric in 2008, Plausible Analytics is an open-source software-as-a-service (SaaS) analytics tool that is simple to use, lightweight and privacy-friendly.
"We have no connection with the advertising industry, we don't use cookies and we don't track people across the web as they browse different websites," explains Plausible Analytics' co-founder Marko Saric. "People are looking for something that's not Google Analytics – something that's easier to understand, something that's more lightweight so their sites load faster, and something that's far more ethical."
This is exactly what Plausible Analytics is delivering. However, to build their business  effectively, Marko and his team needed to keep focus on their go-to-market strategy and product offering, instead of having to think about building and maintaining their payments system. 
That's why, when the beta version of Plausible Analytics was launched in early 2019, Marko and his team decided to look for a way to offload their complex operational processes.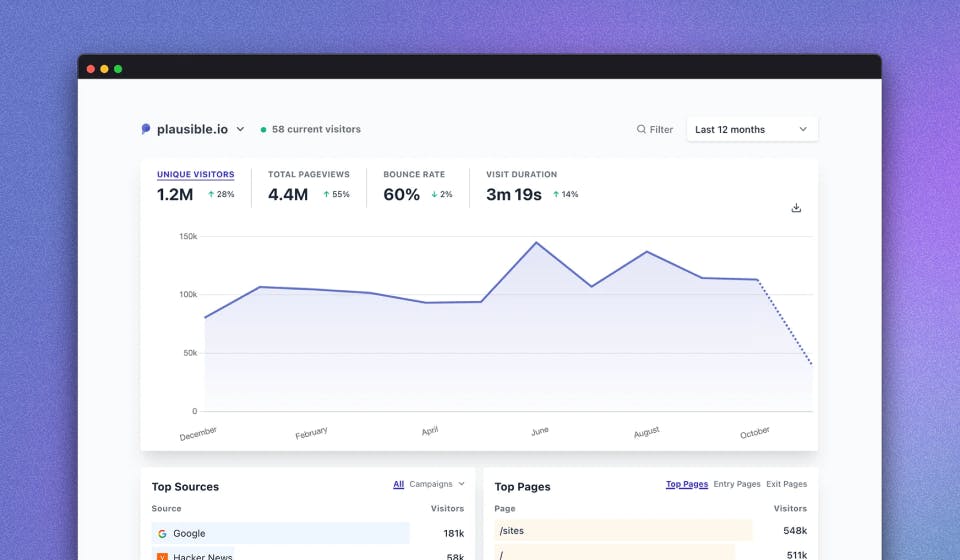 Building on success
"We don't have time to think about things like sales taxes, billing and invoicing," Marko says. "There are millions of people out there using Google Analytics that don't know about what we have to offer. We are wholly focused on getting our message out to those people and pushing for growth."
This is when Marko and his team discovered Paddle, an all-in-one platform that can manage a SaaS company's entire payments infrastructure, including the complexities around collecting, processing and reporting on payments. "Paddle is a totally hands-off solution" Marko says.
Growing with Paddle 
Paddle now takes care of many of Plausible Analytics' operational complexities. 
"Paddle takes away the burden of invoicing, VAT and so much else. It means we can focus on the important stuff such as marketing and product development."
Making sales tax and VAT simple
The Plausible Analytics team are delighted with their experience with Paddle so far. "Everything is automated, so it's incredibly easy," Saric says. "If there is a problem, we simply email the customer support team and someone will get back to us within a matter of hours. The whole experience has been very smooth." 
Since using Paddle, Plausible Analytics has grown its business from zero customers and zero revenue to almost 8,000 customers and $1 million annual recurring revenue. 
The benefits of Paddle increase the more customers the company gets. Paddle has given Plausible Analytics the tools to grow sustainably, with all of the accounting work taken care of. 
Thanks to Paddle's recent acquisition of SaaS metrics and retention platform ProfitWell, Plausible benefits further. "The joining of ProfitWell and Paddle gives us access to a lot of new data that we haven't seen before," Saric explains. "The more subscribers we get, the more data we have to learn from. We can discover what type of plans work better, who churns more, and who churns less. We are categorising data and discovering new trends every day."