Renderforest is an all-in-one platform to create videos & graphics for branding with over 8 million users globally. With intense competition, Renderforest's CEO, Narek Safaryan developed a bottom-up growth strategy priced to each user's needs, creating a standout user experience to compete with subscription-only competitors.
Previously, Renderforest moved on from an unreliable 'piecemeal' selection of tooling that failed to manage their complex billing logic across the whole customer lifecycle, resulting in failed payments, thousands of customer billing tickets each month, and a high refund rate.
With Paddle's reseller model and platform, Renderforest was able to unlock its bottom-up growth strategy and set a course for 3X ARR growth:
Reduced the refund rate by 60% (to rates matching similar software startups), adding tens of thousands of dollars in ARR.
Run millions of dollars of ARR through Paddle's platform.
Saved over 100 hours per month on billing support burden.
Managing the lifecycle of over 8 million users.
Saved over $7,000 per month in hidden foreign exchange fees from its previous payment provider.
Designing a bottom-up growth strategy
Renderforest is an all-in-one branding platform, used by over 8 million users globally and over 300,000 new users signing up each month. With Renderforest, anyone can easily create branding and design assets like logos, websites, animations, and videos.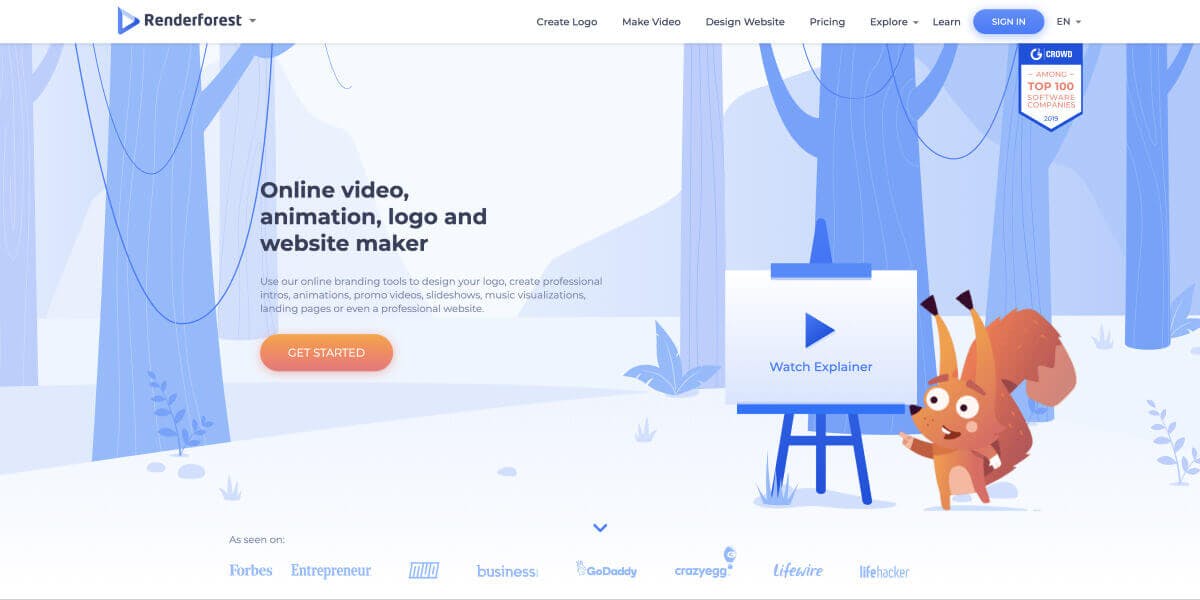 With intense competition from other design and video software and service vendors, CEO Narek Safaryan needed a strategy to grow from a startup to a scale-up software business following their $8 million funding round in early 2018.
Pricing was the core component of their growth strategy.
Most of their competition depended primarily on performance marketing to drive new user acquisition. Renderforest chose to maximize user acquisition through free channels like referrals. CMO, Roman Daneghyan explains:
"The model was part of our marketing strategy from the beginning. We have lots of free users who are just creating videos and sharing them on their social networks and websites - which all have watermarks."
Renderforest's team researched and understood common use cases they could use to acquire new users. From early on, they identified common, scalable use cases.
"In the beginning, we only created logo animation videos. We realized we could create other templates besides the logo animations. So we added explainer videos to our library. Now we have hundreds of video templates, with templates identified by analyzing the market and surveying our users."
As the Renderforest team added more and more products, they began to observe differences in when and why users signed up.
"Some people look for logo animations or logo videos. They just want to buy one and use them for a long time. No one needs to pay more for a subscription if there is an option to get only one video."
With free watermarked and one-time product purchases, they began to acquire more users faster than its competitors who had subscription-only, pay upfront strategies.
"This pricing is a competitive advantage. For example, someone needs only one video, but competitors charge only for a 10-video subscription."
Subscription revenue was used to maximize value amongst its best user segments who used their platform on an ongoing basis.
"Subscription plans are good for people who want to create a larger amount of videos like marketing agencies or real estate agents. The biggest part of our growth, in the beginning, was the premium package."
Renderforest's growth strategy depended on combining all these methods of pricing and packaging their product to align with their users needs - maximizing user acquisition with a freemium strategy, whilst maximizing revenue with a subscription model.
"We are working to increase one-time purchases, we are working to increase free users, and we are working to increase the number of subscribed members. We are working all these angles to increase the popularity and the awareness of the brand, ultimately increasing revenue."
With a freemium pricing strategy driving global user acquisition and growing revenues through subscriptions and upsell, Renderforest plans to triple year-on-year revenue by the end of 2019 to $6 million.
Reliable payments and subscriptions
Renderforest were struggling to maintain all this logic with their previous payments & billing system to deliver their existing growth strategy.
To deliver frictionless user acquisition (via freemium and one-time purchases) together with the ability to grow the value within each account (via tiered and usage-based models), the subscription and billing logic had become very complex.
Renderforest's previous payments & billing provider struggled to handle all this complexity.
Firstly, it was difficult to track each account through the entire buying journey, as the same user, and same card which may have been used for multiple transactions. Notifications of subscription changes, product orders, and the growth of the customer account failed to send, leaving a hole in its "source of truth" reporting.
CEO, Narek Safaryan explained his frustration:
"Their API does not send off calls that the payment is processed. On the first day, we had a few hundred angry customers who paid for the service but didn't get the service. Our support team had to serve them manually one-by-one."
Secondly, with a high volume of transactions, their previous billing provider struggled to show the insights, particularly after the vendor updated its interface.
"Their new dashboard was not user-friendly and had lots of bugs. We became their QA."
Thirdly, their previous provider also struggled to create an effortless customer experience as customers moved between plans, adding additional one-off purchases within a subscription.
"It was quite a hassle. We had to ask the user to cancel and resubscribe with a new plan with a discount which is a hassle for the user as well. We also had to resubscribe them again to the new plan."
Fourthly, their previous provider added a currency conversion fee for all purchases in currencies outside of their payment account. Renderforest wanted to accept payment from their global audience in as many currencies as possible and convert into accounts denominated in US dollars and Euros but ended up accepting and holding only US dollars.
From other Paddle sellers, localized pricing can increase conversion rates by 30%. Renderforest faced either high payment fees on international customers or fewer conversions - neither of which tallied with their strategy to acquire new users globally.
"Our previous provider started charging a currency exchange fee which added to our overall cost. Over about two weeks, we lost about $7,000 in fees. So we started charging only in USD."
Finally, their previous provider gave little support and was slow to reply, leaving Renderforest without the means to help their customers.
"We used to wait about 12-13 hours until support got back to us. When you are continuously growing, it's a really big hassle. We were losing lots of clients."
This disjointed user experience and payment process led to a high refund rate, support burden, and customer churn - clear obstacles to the growth Narek needed to address to meet Renderforest's ambitious growth targets.
With that, Narek and his team looked for a more reliable payments solution to partner with through Renderforest's next phase of growth.
"We doubled our revenue in 2018. This is the reason having a stable billing and subscription platform was important for us."
Renderforest needed a platform for growth.
Implementing Paddle to achieve a bottom-up growth strategy
Narek's team was cautious to test new payment solutions. With over 300,000 new users each month running through their purchase or subscription process, Renderforest wanted to compare providers based upon:
1. Reliability on payments processing: Did order and subscription updates trigger notifications correctly across the billing logic that matched their strategy?
2. Checkout conversion rates: Did the new checkout negatively impact the number of users buying?
By following Paddle's documentation, Renderforest was able to implement and test Paddle quickly and easily. With more reliable payments flowing through and the checkout conversion rate remaining high, Renderforest accelerated its plan migration from their previous provider to move over to Paddle sooner than planned.
The Paddle team also worked with Renderforest to implement customer-first best practices. Firstly, Paddle's account manager worked with Renderforest to implement custom billing logic, including webhooks into its backend systems. With reliable updates syncing to their product, the burden on buying support was removed from their support team.
Secondly, Renderforest was able to restore localized pricing (and the conversion rates) but without the tradeoff of holding only one currency or suffering high currency conversion fees for international users. Instead, Paddle enables Renderforest to hold and payout funds in the currencies they wanted - both Euros and US dollars.
Thirdly, the complexity around subscriptions was managed seamlessly through Paddle's Subscriptions API, including the revenue-driving use cases of incremental charges. Instead of manually intervening and requiring the customer to create a new subscription, they used Paddle's Charges API to create one-off charges when existing subscribers wanted to make additional one-off purchases, removing the manual support burden and creating a seamless customer experience.
Finally, Renderforest had complete visibility over their revenue metrics in the Paddle dashboard, including all of its millions of users orders and subscriptions.
Unlocking 3x growth
With Paddle's Merchant of Record model (instead of assembling many tools & custom logic around a payment processor), Narek and the Renderforest team had a reliable checkout provider to implement the billing model they needed to drive growth globally.
Using Paddle's checkout, Subscription API and account management team, Renderforest delivered a seamless experience to its users and customers in under a month, whilst maintaining all its orders & subscription complexity on the backend.
Reduced the refund rate by 60% (to rates matching similar software startups), adding tens of thousands of dollars in ARR.
Run millions of dollars of ARR through Paddle's platform.
Managing the lifecycle of millions of Renderforest users
Removing hundreds of hours of support burden.
Saved tens of thousands in hidden foreign exchange fees from their previous payment provider.
Paddle's Subscription & Commerce Platform also took over other unanticipated challenges with selling software globally.
Paddle gives an all-in-one platform for software companies to grow with, instead of trying to assemble a working stack from:
Payments provider
Subscriptions management
Global tax management
Billing support tooling
Firstly, with a reseller model, Paddle managed the burden of global taxes for Renderforest. Instead of creating and maintaining tax and accounting relationships in every jurisdiction worldwide, Renderforest lets Paddle manage all the complexity behind calculation and payment of taxes due to maintain compliance with individual country's regulations.
This was something Renderforest had to build and maintain themselves on top of its previous payments processor - diverting attention and headcount from its other team.
"For me, it's better to leave all that accounting to a third party rather than keep another operational team to handle all of this."
Second, Paddle's Buyer Support team took over the remaining burden around billing questions, fraud, and chargebacks on Renderforest's behalf. This removed the need to maintain a heavy support team to resolve buyer purchasing questions and accounting for the volume of transactions they were beginning to build up.
"The way it works for now is a perfect solution for us. We want to leave all this accounting and payment processing for a third party."
Finally, the biggest unforeseen benefit was Paddle's account management support. Instead of the 12-13 hour support wait times with their previous payments provider, Renderforest could rely on the Paddle team to respond quickly and promptly.
"With Paddle, the customer support quality is absolutely amazing. When we are experiencing any issues, the team is always there and we get responses in under an hour."
Besides reactive support requests, Paddle works with sellers to answer queries and questions around growth as a software company - deriving insights from 1000s of software sellers globally on the platform.
"Paddle is super flexible in supporting our clients which is really amazing. We do appreciate the amazing quality support. It's the top reason why we love Paddle so much!"
Renderforest is well on its way to grow globally and realize their growth strategy. Named in the Top 100 Best Software Companies 2019 according to G2 Crowd, they have proven that customer-first best practices drive user delight and revenue growth together.