Building a chargeback reduction strategy in a high-fraud industry
ProxyRack (Secure Privacy Group Ltd.) is a complete solution for accessing VPNs and private proxies.
Operating in a high-risk industry with prevalent targeted fraud, it needed a strategic billings partner to help address several critical business issues, including:
A high level of chargebacks, running at over 3% before Paddle was onboarded
Previous billings providers that had failed to advise on the issue or even banned ProxyRack as a result
The need to distinguish more effectively between legitimate and fraudulent transactions
Struggling with high chargeback rates and inflexible billing providers, ProxyRack needed a payment partner that could understand – and help it overcome – some highly specific challenges. In particular, it was attracted by Paddle's average chargeback win rate of 40%, double the industry average.
Diagnosing ProxyRack's fraud triggers
The first step was to understand the issues that were causing ProxyRack's unusually high chargeback levels.
With no insight from the existing provider, Paddle immediately onboarded as ProxyRack's SaaS Commerce Partner so that it could process all transactions and access first-hand data.
This revealed that the problem was occurring in two forms: friendly fraud and chargeback fraud. Equipped with this insight, Paddle's account manager conducted a site review and trustworthiness check, leading to recommendations around the refund policy, use of review sites and customer cancellation flows.
The next step was for Paddle's in-house fraud team to implement custom fraud rules, bespoke to the trends detected within ProxyRack's transaction flow. This involved customization of Paddle's anti-fraud algorithm, which uses machine learning to assign a fraud score to every transaction processed by Paddle, based on comparisons of geo, email and payment trends across relevant verticals, as well as analysis of buyer behaviour and payment fingerprinting.
High-scoring transactions were then either immediately rejected at the checkout or frozen and referred for manual review, with a decision typically made within 1-2 hours.
These rules were reviewed and revised on a rolling basis, as more data and insight were gathered. Paddle's fraud team also worked with ProxyRack to capture relevant customer information that could dispute chargeback claims, such as login and product usage activity.
As the Commerce Partner, Paddle is able to manage administrative functions such as tax liability, currency conversion and billing support queries. While also providing SaaS-specific APIs allowing for them to monetize more appropriately. For companies like ProxyRack, this means less time spent on day-to-day management and more on product development and business building.
Paddle reduced ProxyRack's chargeback rate by 90%
With a proactive billing partner and a dedicated anti-fraud service flagging and preventing questionable transactions, ProxyRack has made significant progress in its core objective of reducing chargeback rates.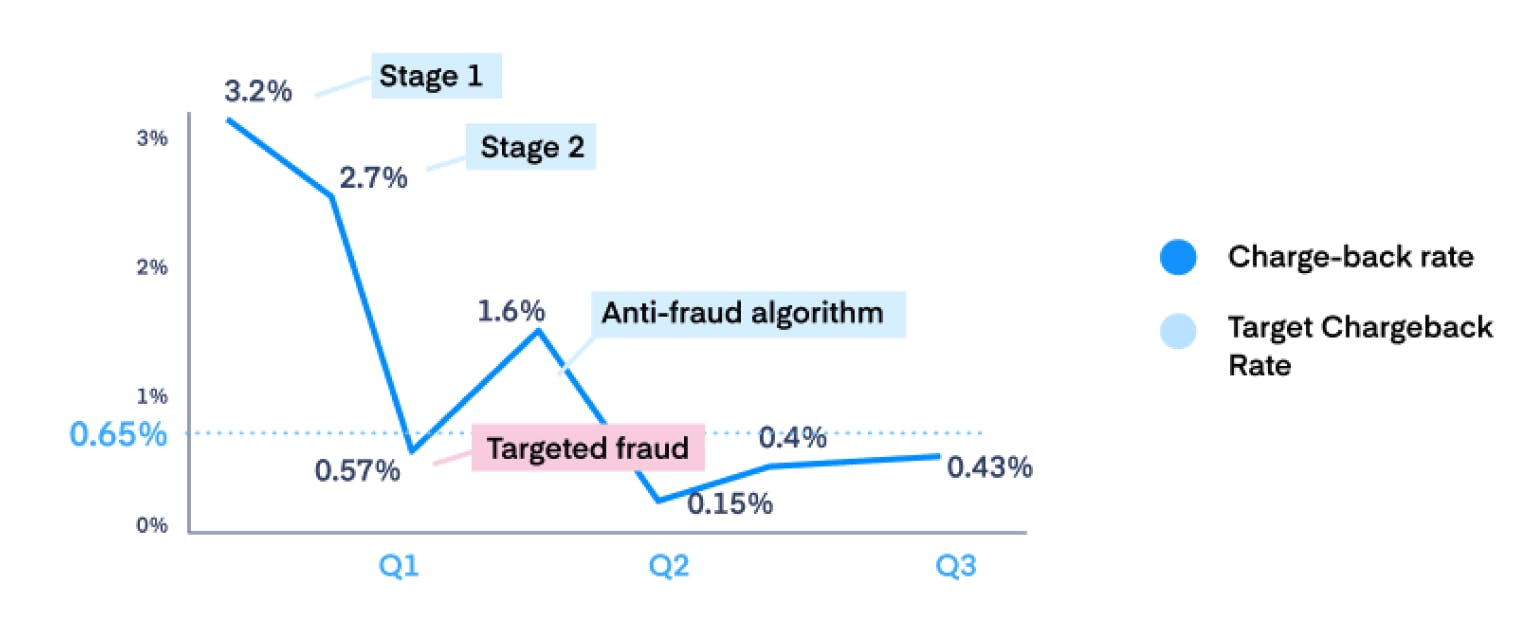 Before Paddle onboarded, chargebacks made up 3.2% of all orders. Over the next three quarters that was brought down to 0.43%, comfortably below the target rate of 0.65%. As of today, the chargeback rate is 0.34%.
This reflects the benefits of an approach that harnessed Paddle's ability to gather data and generate insight, iterate solutions as we learn from the data, and deliver consistent improvements when these changes are given the time to make an impact.
ProxyRack also benefits from data and insight that is provided on customer activity as it continues to develop its product range.