Today, the powers of PLG are just beginning. Plus, the journey of coronavirus through the eyes of a big name CEO. And finally, a little something we're cooking up with CartHook for the ecommerce crew.
Fact: Consumers would rather try a product than converse with a salesperson. Which means your company's product needs to sell on its own, paving the way for a product-led growth approach. 
Being truly product-led requires building a product users can't live without. It sounds simple, but there are multiple routes in achieving true product-led growth. And eventually, being product-led will just mean "good business." 
I found an insight roundup from Product-Led Institute, with 26 experts weighing in on this. Here are a few that resonated with me:
First up, our friend Hiten Shah—Co-Founder of FYI and Product Habits.
"Product-led growth changes how companies grow because it brings a focus on how the product you've built can help you acquire more customers. Customer acquisition doesn't just become something marketing is focused on, the responsibilities for acquiring great customers expands to the product team as well." 
This is a great one, because PLG should essentially translate into a full team effort. 
Kieran Flanagan, VP of Marketing over at HubSpot, says this: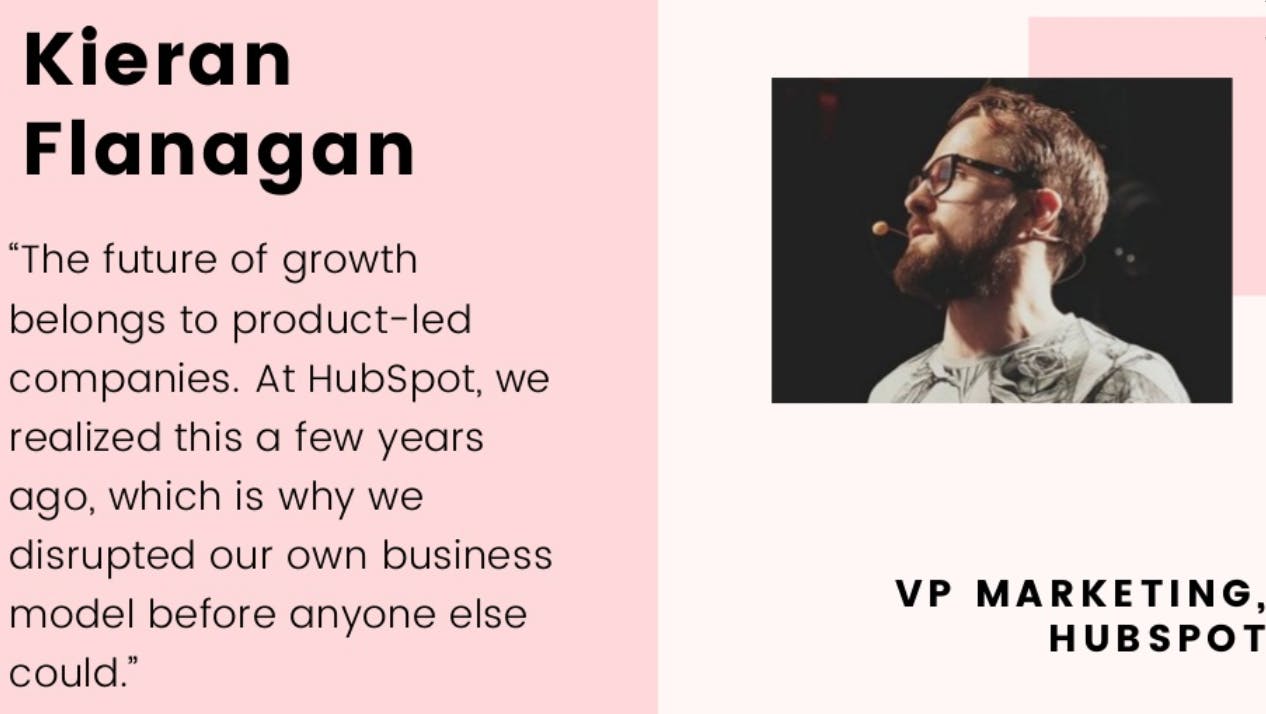 Like many others, we're big fans of HubSpot, trailblazers in this space. And we've had the chance to come up close and personal with many awesome members of their team, including Chris O'Donnell, SVP of Product. He gave a talk at our conference, Recur, back in December on his "rivers and pools" framework that helped HubSpot transform its PLG approach. Here's a link to Chris' full talk, so you can check it out if you want to dig deeper. 
And my favorite on the list is by Kristen LaFrance, Growth Lead over at Churn Buster.
"At heart, product-led growth is incredibly intuitive," she says. "It's understanding that no amount of flashy marketing or hard selling can replace the value a customer receives from a product built to fit their needs. Make something that consistently provides value and you can rely on your customers to come back and back again." 
Ultimately, PLG (and so much of what we're doing here in B2B SaaS) is about value. Provide value to your customers, and they'll remain loyal in turn. 
Click here for the full resource—featuring voices from our friends at Fix My Churn, Drift, MongoDB, Pendo, Appcues, and more.
Slack's journey through the pandemic
We found a tweet storm that might be of special interest to our B2B SaaS crowd. 
Stewart Butterfield, CEO of Slack, took to his Twitter page to share his unfiltered journey through the coronavirus pandemic thus far.
This comes directly from the mind of a C-suite level exec of a publicly traded company with investors to whom he is a fiduciary, 110k+ paying customers, and thousands of employees who he cares about "very, very much." No pressure.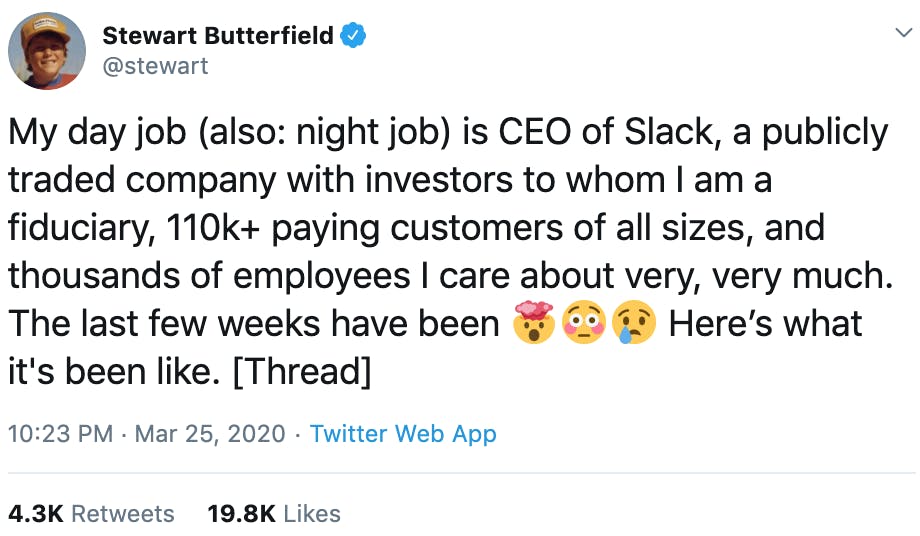 The coverage spans the month of March, beginning with fewer than 100 cases of COVID in the States, closing their Osaka & Tokyo offices, announcing optional WFH, launching a set of resources for remote workers, debating and approving a plan for the fiscal year (hiring, budgets, targets, forecasts), prep sessions for media interviews and earnings call, eating out at a restaurant for the last time, major indices plunging, and Slack demand and uncertainties rising. 
I found this one worth the read for a couple reasons:
It is WILD to see how quickly this whole thing has progressed, and in comparison, how much you've seen progress in your own professional sphere. 
Stewart's a snappy writer—so from the content side, I can appreciate this one. 
If you're in a role of a founder, CEO, or the like, this could give you some solace that you're not the only one out there in the thick of it.
(Or, it'll give you a serious bout of anxiety??) Time will tell. 
Here's a link to the full tweetstorm. Good luck out there, folks.
A CartHook x ProfitWell PSA
We're joining forces with CartHook's CEO Jordan Gal next week to get down on subscription upsells. 
But why would you want to listen to us when it comes to upgrades and subscriptions?
We've collected the largest churn data set in the world, and alongside CartHook, the leaders in post-purchase up-sells and funnels for subscription companies, we're here to share insights on where and why subscription ecommerce companies are failing at efficiently moving consumers into subscription plans.
During our conversation, we'll take a look at:
Benchmarks on subscription retention and revenue
A framework for understanding your upgrade paths and checkout funnels
Simple tweaks to start boosting subscription revenue, stat
We'll also look at the retention mistakes we see far too often, and how you can thwart those.