Subscription consumer software appears to be growing again after 18 months of turmoil.
MRR growth outpaced US inflation for a third straight month in October, mainly thanks to lower churn.
This is the latest in our ongoing subscription market updates, which track the movement of the ProfitWell B2C Software Index, and its underlying growth and retention trends. Subscribe to the Paddle newsletter to get these updates in your inbox.
B2C Software MRR grew at a 6.7% rate in September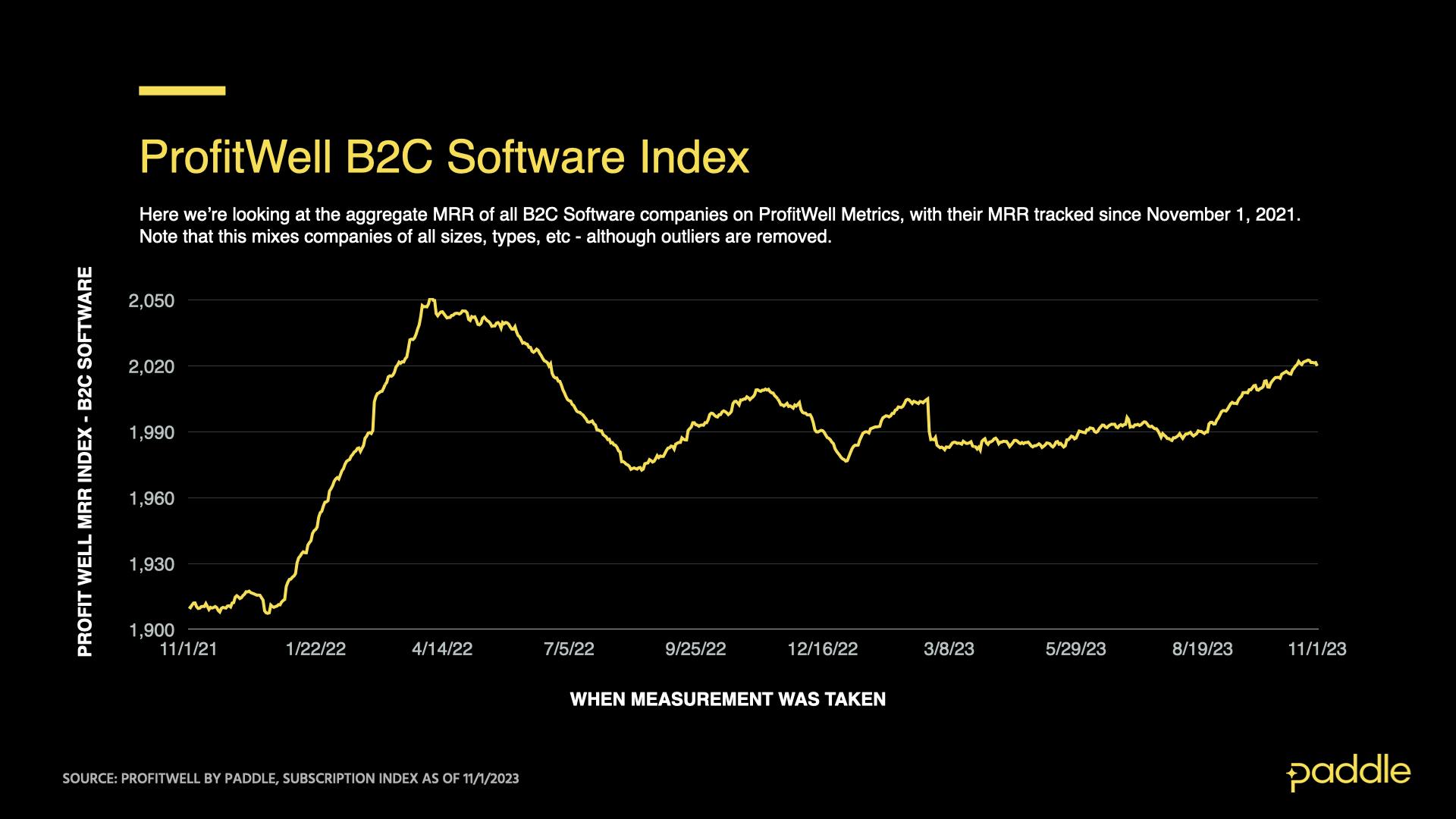 The ProfitWell B2C Software Index tracks the cumulative monthly recurring revenue (MRR) from a sample of the 34,000+ companies on ProfitWell Metrics. By measuring the revenue performance of this cross-section of companies over time, we can objectively observe how quickly the sector is growing (or not). The index does not adjust for inflation.
Explore the free demo of ProfitWell Metrics here.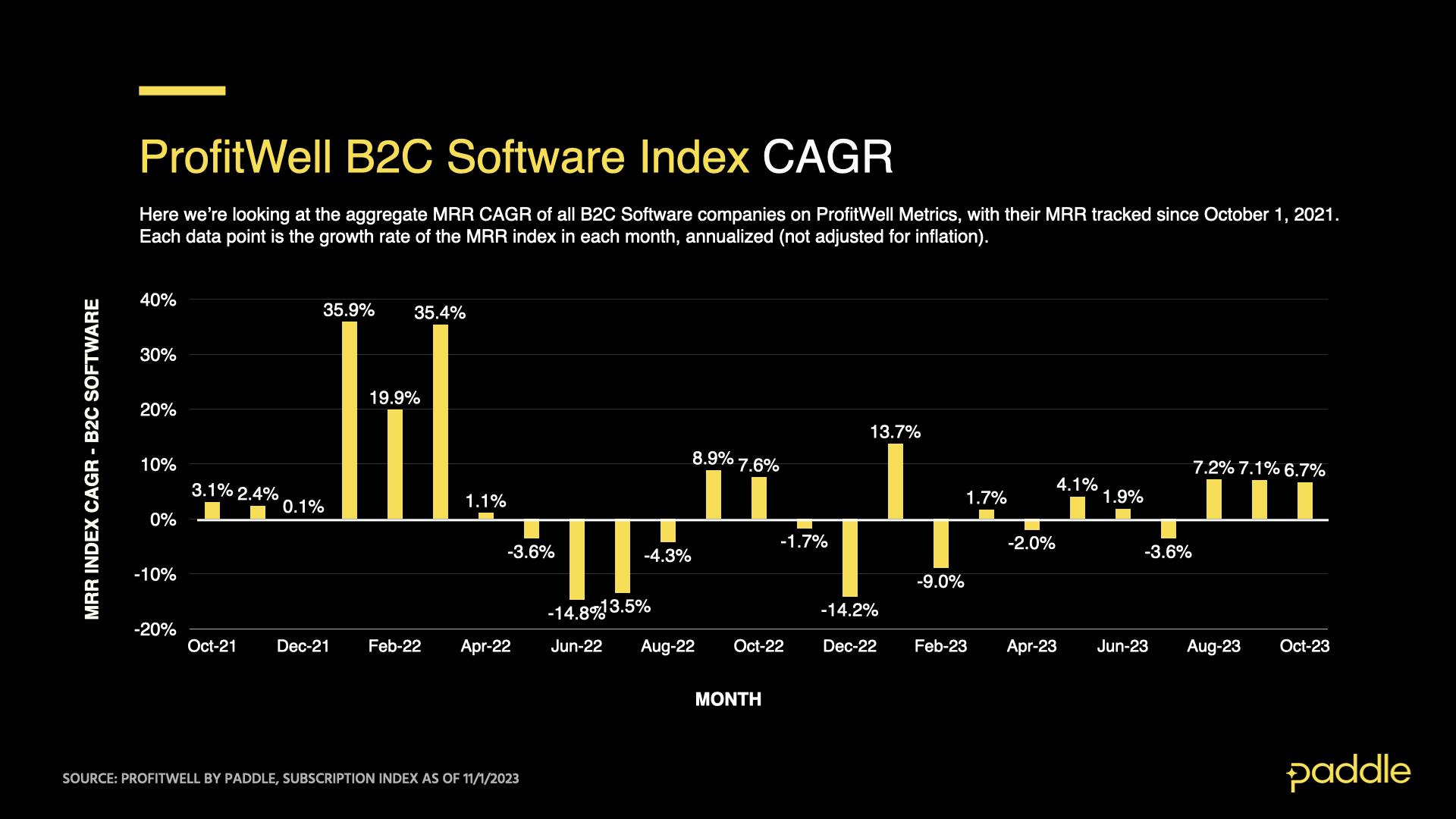 The ProfitWell B2C Software Index increased at a compound annual growth rate (CAGR) of 6.7% in October.
This is in line with the growth rates we saw for August and September, when MRR grew at rates of 7.2% and 7.1% respectively.
It is the first time that the sector has grown for three consecutive months since Q1 2022.
In the six quarters since Q1 2022, consumer subscription revenue has not posted any gains outpacing US inflation rates, which ranged between around 3-9% in that period. This means that in inflation-adjusted terms, the sector has effectively been in a contraction.
Compare this to B2B SaaS, which continues to grow, albeit more slowly than pre-pandemic.
Sales are higher than H2 2022, but not by much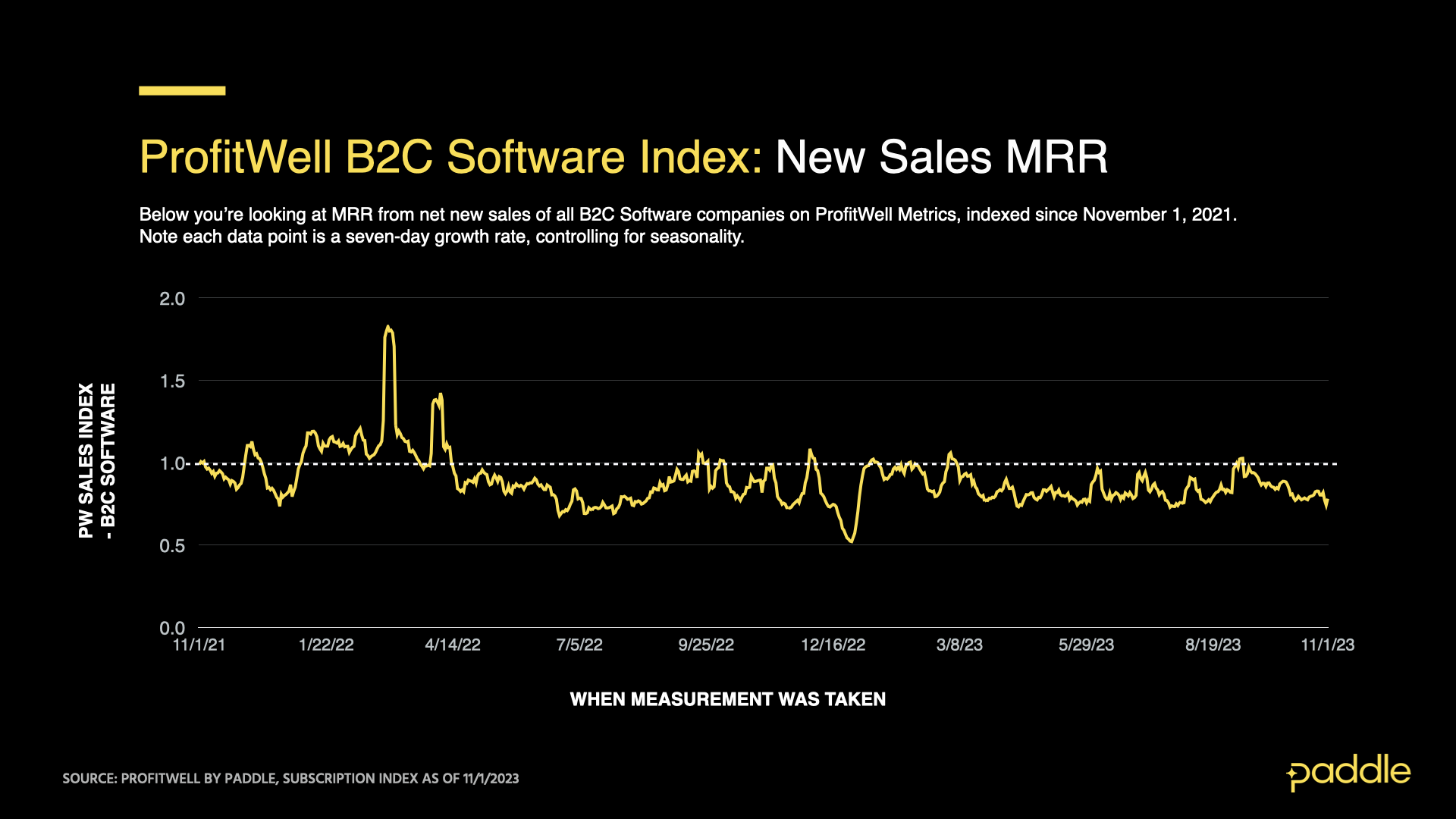 The ProfitWell B2C Software Sales Index is a seven-day rolling average of MRR from net new sales, expressed as a multiple of typical daily sales in 2019. A 1.00 index reading represents sales on an "average" day in 2019, while a 1.10 reading would be 10% higher sales (the ProfitWell B2C Software Churn Index is calculated similarly, but will be negative, with -1.00 being an "average" 2019 figure).
Because these indices are seven-day averages, they should be read as directional indicators and not direct inputs into the main SaaS index.
The ProfitWell B2C Software Sales Index averaged 0.81 in October. This was an 11.1% decrease from September, and 7.2% lower than the same month last year.
It's typical for the B2C Software sector to see strong sales in September, and this year was no exception: September's reading was the highest month since the end of the 2022 holiday season, and October's decline was a return to normal after that one-month spike.
The sales figure indicates that purchases of B2C Software are still above the levels we saw in H2 2022, when the index gave readings as low as 0.74. But this isn't enough to explain the recent recovery in growth.
Recent performance was driven by slowing churn, not higher sales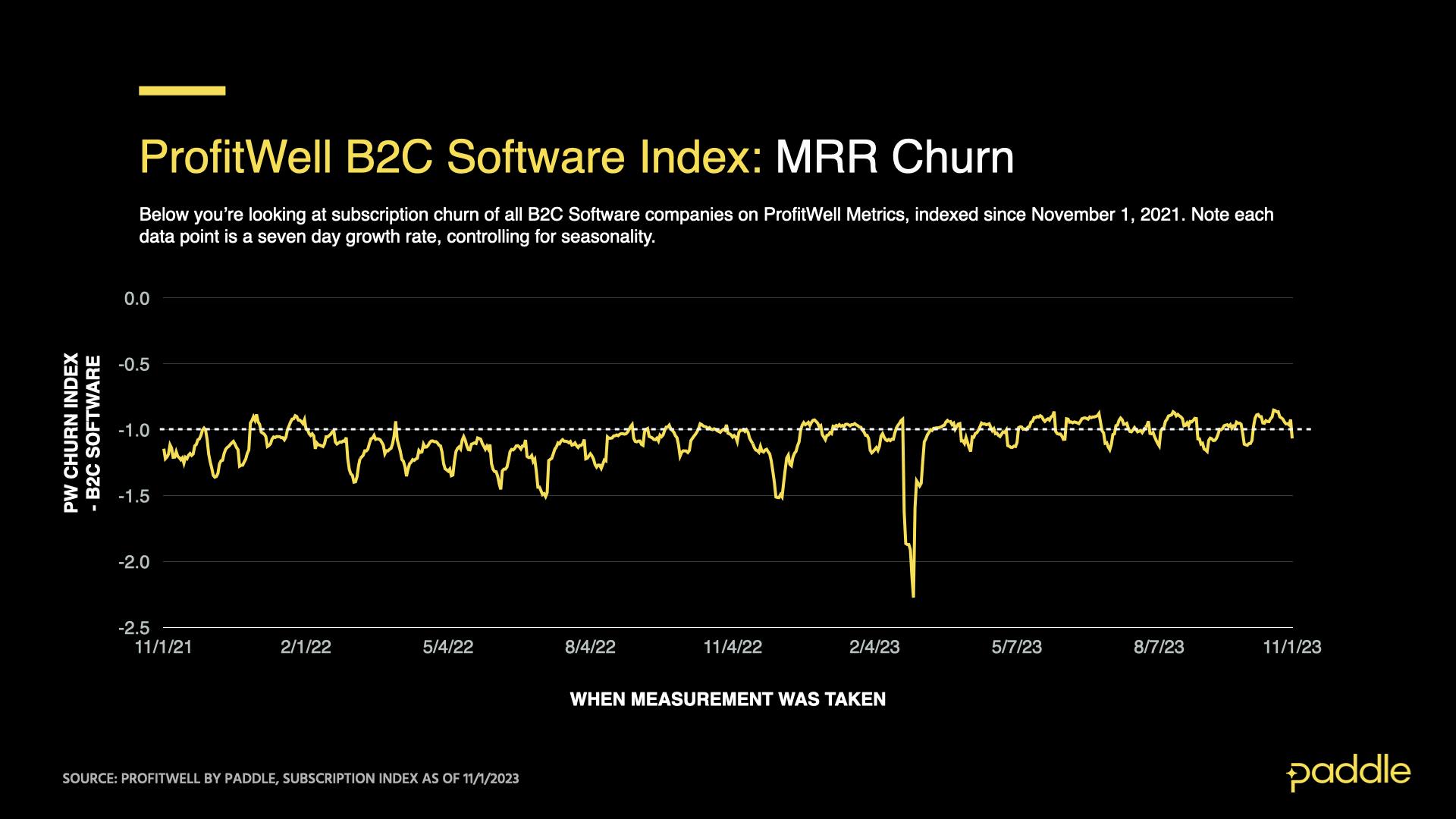 The ProfitWell B2C Software Churn Index averaged about -0.96 in October, showing that nominal churn was 6.9% lower than in September and 8.4% lower than in the same month last year.
From Q2 onwards, much of 2023 has seen lower consumer churn. In dollar terms, 2023 has seen the lowest churn figures since Q3 2019.
This is partially because churn rates are down overall. Monthly churn rates have averaged 6.2% for 2023 so far, down from 6.3% for 2022 and 6.8% for 2021.
But total B2C software revenue is also still below its April 2022 peak, meaning that there are fewer dollars left to churn. As that churn goes down, the volume of sales needed to replace that lost revenue goes down as well.
Is this growth sustainable?
It's likely that many of the customers that subscription brands gained during the pandemic have already been lost, and were low-stickiness buyers whose habits did not change permanently.
Much of the consumer software market has reverted back to pre-pandemic trends, whereas the covid-era changes in how people work have actually stuck — especially when it comes to remote work and cloud software.
So when pandemic restrictions were lifted, these temporary buyers shifted their spending away from software, and back to physical goods and services.
Hopefully, this means that the newfound growth in B2C Software is sustainable, coming from consumers who are buying without the push of shelter-in-place restrictions.
But that growth is under threat from the impact of higher interest rates and weaker consumer spending. Physical retailers like Walmart are giving softer-than-expected earnings reports after several months of strong sales, and that's backed by our own data on Subscription eCommerce.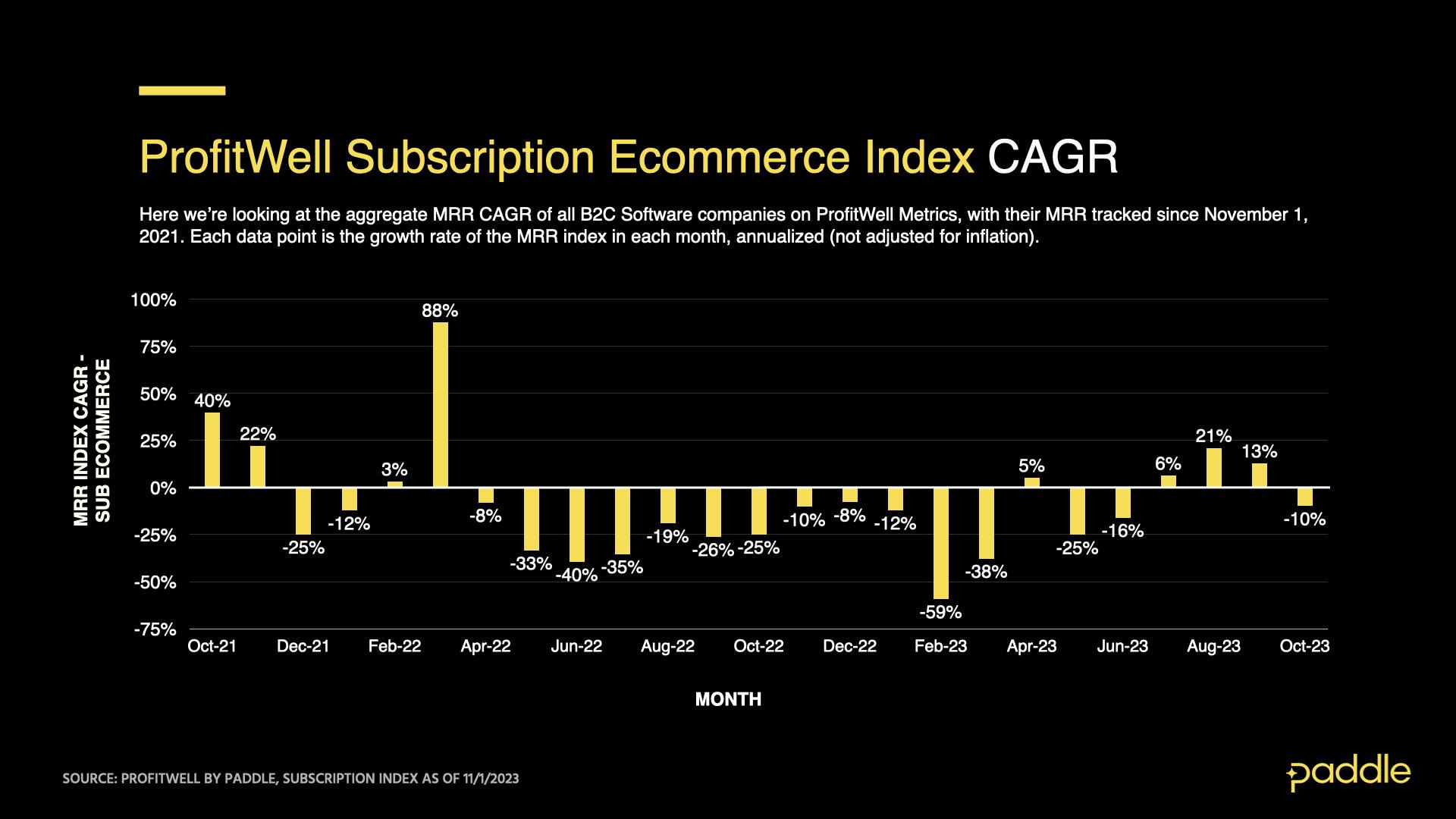 We will continue publishing updates as we enter a pivotal 2023 holiday season.
We publish monthly reports on the ProfitWell Subscription Index to show you where the market's headed — and help you form strategies to respond. All backed by data from the 34,000+ companies on ProfitWell Metrics.
Subscribe below, and be the first to receive the next subscription market report.