Here at Paddle, we wholeheartedly believe in value-based pricing, which is extremely customer-centric. Value-based pricing is basing a product or service's price on how much target consumers believe it's worth. Once you have your prices set on value, you need to pitch a pricing strategy to your sales and marketing team members.
Part of this pricing process includes a pricing sheet. A price sheet is a place where you can keep all pricing-related information organized in one place. It feels a bit tedious, but after conducting the hard work of market research and setting prices, it's an important step to make sure those efforts don't go to waste. 
Throughout this article, I'll break down the basics of a pricing sheet, how to make one, and some examples we approve of.
What is a pricing sheet?
A pricing sheet compiles a list of prices for products tailored to a specific set of buyers. It's a tangible visual for companies and customers to map out pricing and purchases. 
Pricing sheets vary depending on the company and customer. You can have one template you use for all customers or you can adjust them on a case-by-case basis.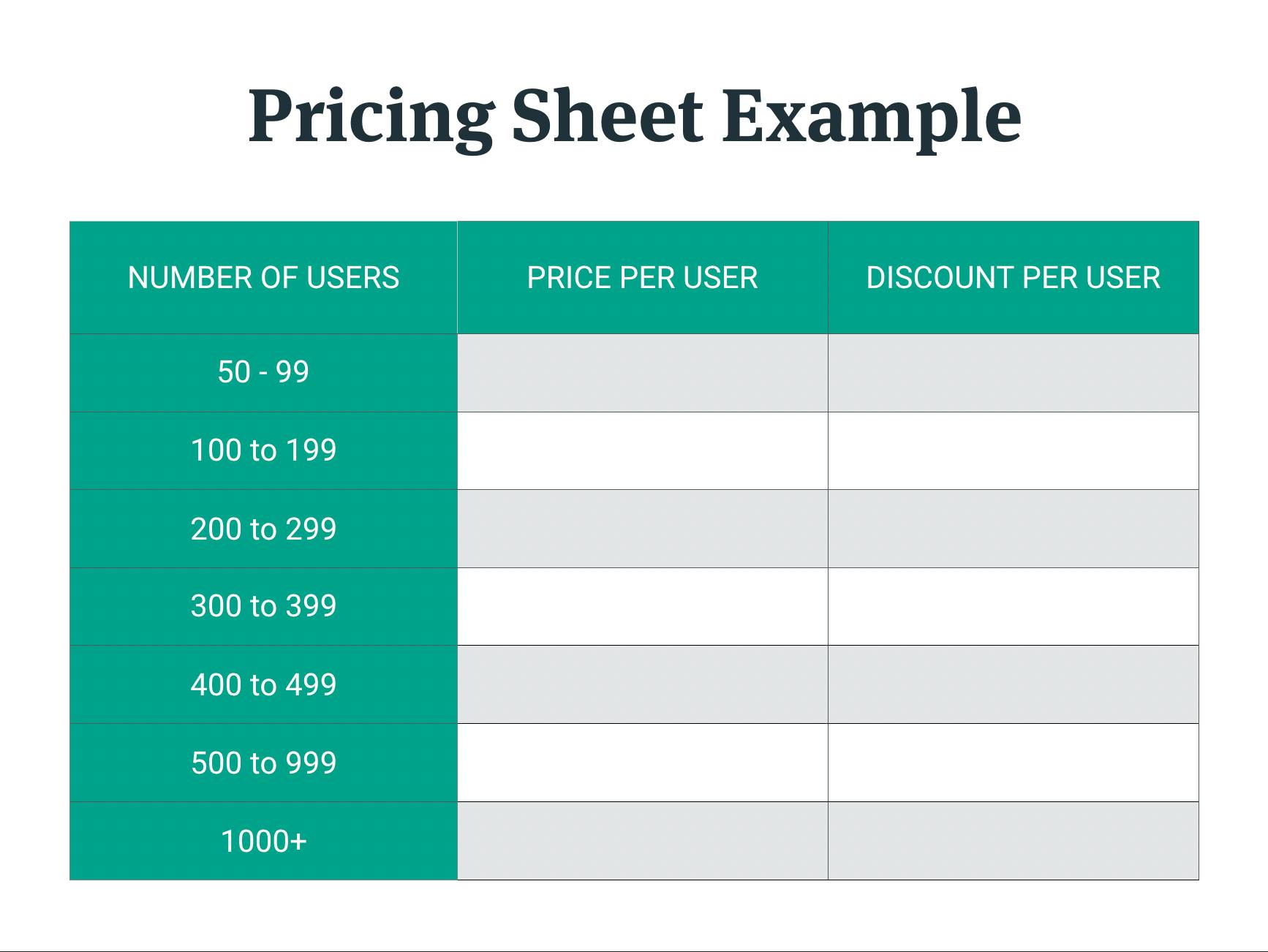 Best practices: what subscription companies can learn from small business pricing sheets
Companies with a shorter sales cycle typically have the pricing strategy laid out right on the company's website. Companies with longer sales cycles or products with volume-based discounts don't usually include pricing on the website. They lean more toward having interested customers directly contact a sales rep. That being said, companies of all sizes can benefit from a pricing sheet. Especially in SaaS, the service you provide differs with each company. A pricing sheet will tailor the price map for each customer and help keep things organized. 
Top tips:
Keep it short: Your pricing sheet should not be packed to the gills with data. It should only contain the most important information. Examples of relevant information to include are factors like number of users, price per user, and discounts (if any).
Keep it simple: Anyone should be able to digest the information on your price sheet easily. No unnecessary jargon or equations allowed.
How to create a pricing sheet 
You can either have one standard pricing sheet, or, you can create sheets unique to each company. Either way, creating the outline of a sheet doesn't require too much heavy lifting.
1. Perform market research
As I mentioned right off the bat, you need to first develop a pricing strategy. This requires conducting some serious market research to determine things like product-market fit, competitor prices, customer willingness to pay, and so forth. 
2. Calculate profit margins
Before making the actual price sheet document, you have to do some calculating. Determine how much it costs for you to produce or acquire products. Take these costs into account when developing a pricing sheet. This may vary if your price is on a per-customer basis. 
3. Open your spreadsheet document
Your company logo should be on the spreadsheet to prevent any confusion. It's a good habit to include your company logo on every document you send out, to not only promote your brand, but to protect it.
4. Create a column for products and services
Now it's time to finally put the sheet together. You can make it easy and download a template online. Or, you can make your own using software like Keynote, Google Sheets, Excel, etc. Any software that has the capability to create and add information into a table will work. 
5. Create a column for prices
Insert prices corresponding to products/services. 
Each item needs its own line and you should create columns/rows for factors like price, discount, customer ID #, product, and total. 
6. Enter business contact information
Include contact information for both your business and your customer. This will make it easy for whoever is viewing the document that might have questions regarding the content within it. 
Pricing sheet example
Here is another example of a pricing sheet. You can feel free to copy this template, however you'll want to personalize it with your company color scheme and logo.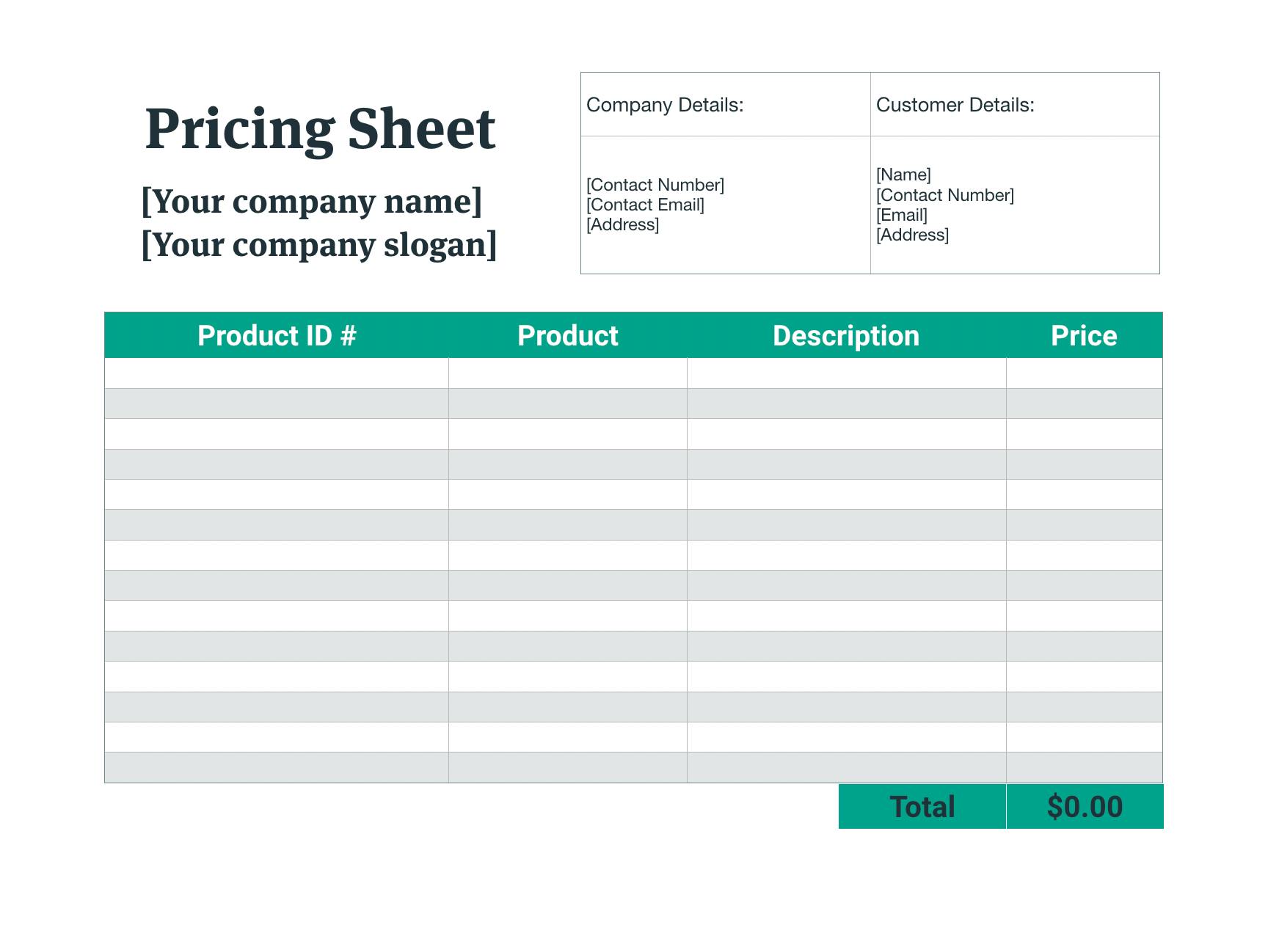 Offload the admin by using free reporting tools
While it's a good habit to keep your information organized within a sheet, you can negate the mess of keeping them all organized with Paddle's ProfitWell Metrics – Paddle's free subscription analytics tool. You can certainly have your sheets, but ProfitWell Metrics can do the work for you. It provides free reporting and analytics to help you understand where you're doing well and where you could be improving. 
Additionally, there's Price Intelligently— our industry-standard software and consulting designed to take the guessing out of your subscription pricing strategy. All of our products and services will help you maximize pricing and get the most return on the value your product provides.