Increase your revenue, reduce costs and cut down riskAutomatically
Our products simplify and automate your billing operations so you can focus on growth.
Products
Your all-in-one payments 
infrastructure
Billing
The only complete billing solution for digital products. Payments, tax, subscription management and more, all handled for you.
Discover Billing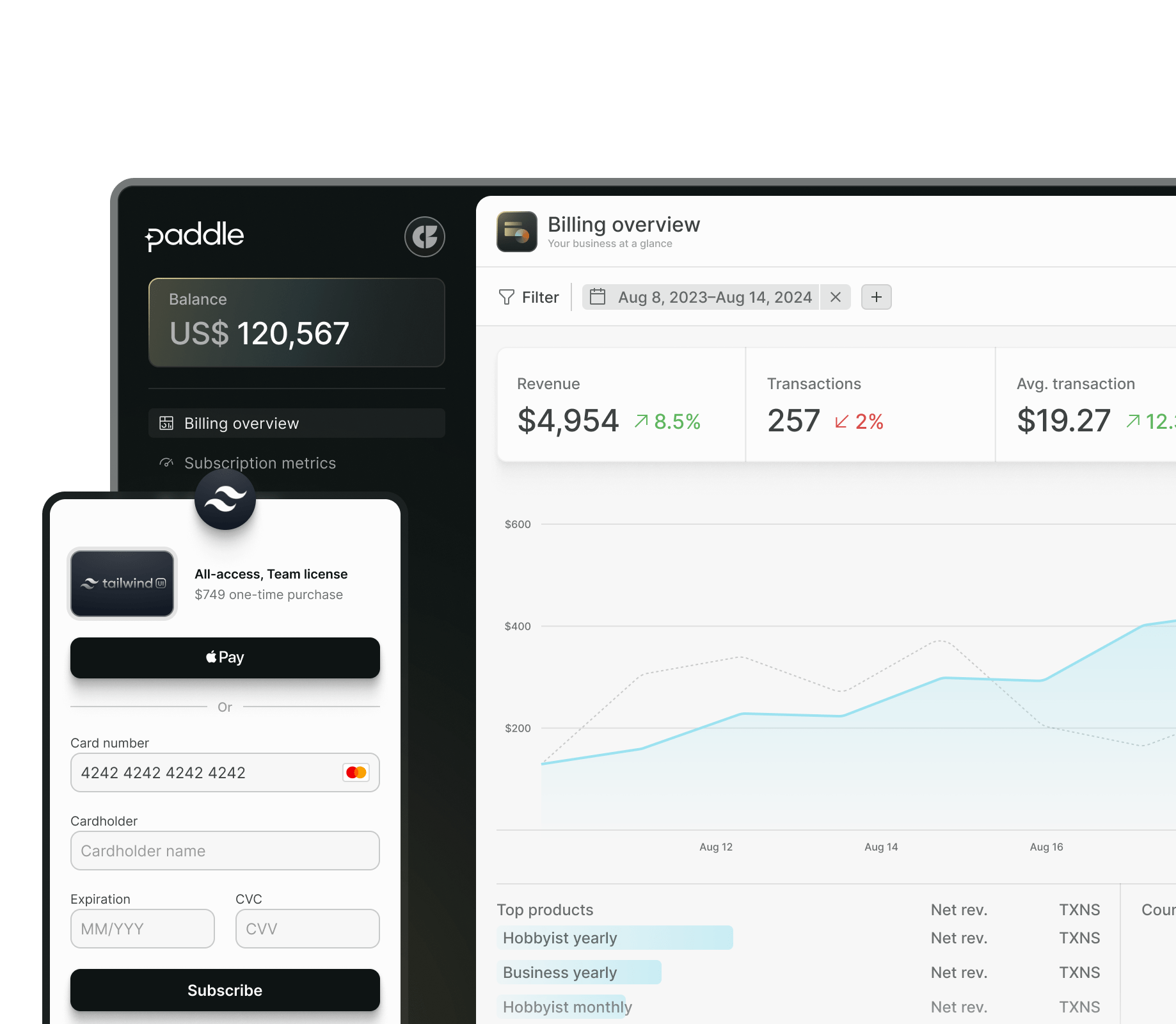 ProfitWell Metrics
Keep a finger on the pulse of your business with accurate, accessible revenue reporting for subscription and SaaS companies - completely free.
Discover ProfitWell Metrics
Price Intelligently
The world's leading SaaS pricing experts. We use a blend of frameworks and methodologies to collect and analyze data to deliver insights that help businesses solve their unique pricing challenges.
Discover Price Intelligently
Retain
A smarter way to recover failed payments, Retain automatically recovers failed card payments and increases customer retention. Set it up once and we'll do the rest.
Discover Retain
---
Results
Over 4,000+ software businesses use Paddle to scale their commercial operations
43 million transactions processed
$111 million in taxes collected and remitted
4,000+ customers using Paddle
---
Our model
How is Paddle different?
Paddle provides more than just the plumbing for your revenue. As a merchant of record, we do it for you.
What is a merchant of record?
Build and maintain relationships with payment providers
Take on liability for charging and remitting sales taxes, globally
Take on liability for all fraud that takes place on our platform
Reconcile your revenue data across billing and payment methods
Handle all billing-related support queries for you
Reduce churn by recovering failed payments