B2B SaaS revenue growth declined in October, as companies came down from a bump in end-of-quarter sales and headed into Q4.
Churn was only slightly higher, but is expected to increase significantly going into November and December.
This is the latest in our ongoing SaaS market reports, which track the movement of the ProfitWell B2B SaaS Index, and its underlying growth and retention trends. Subscribe to the Paddle newsletter to get these updates in your inbox.
MRR growth slowed to 6.2% in October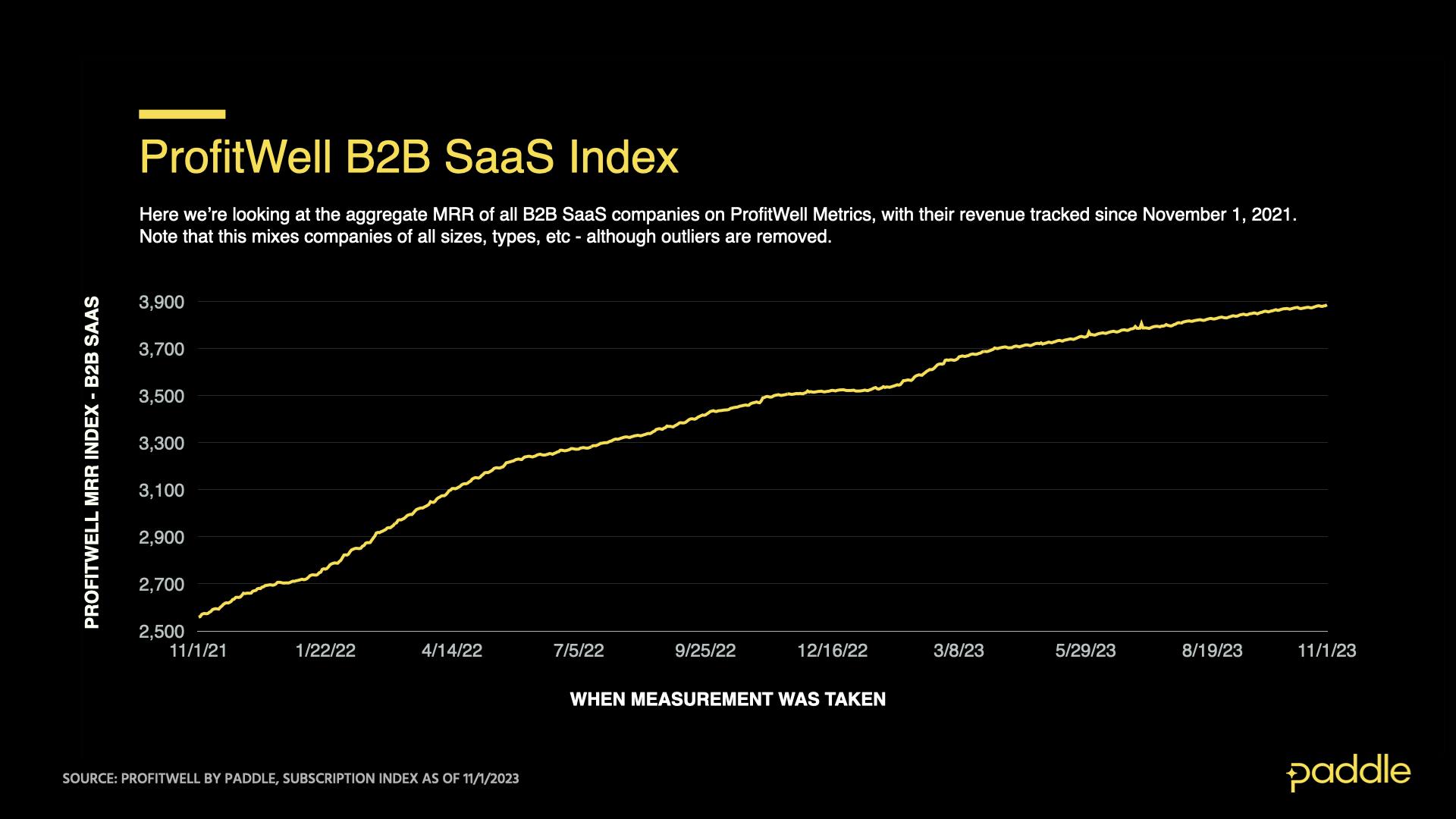 The ProfitWell B2B SaaS Index tracks the cumulative monthly recurring revenue (MRR) from a sample of the 34,000+ companies on ProfitWell Metrics. By measuring the revenue performance of this cross-section of companies over time, we can objectively observe how quickly the sector is growing (or not). The index does not adjust for inflation.
Explore the free demo of ProfitWell Metrics here.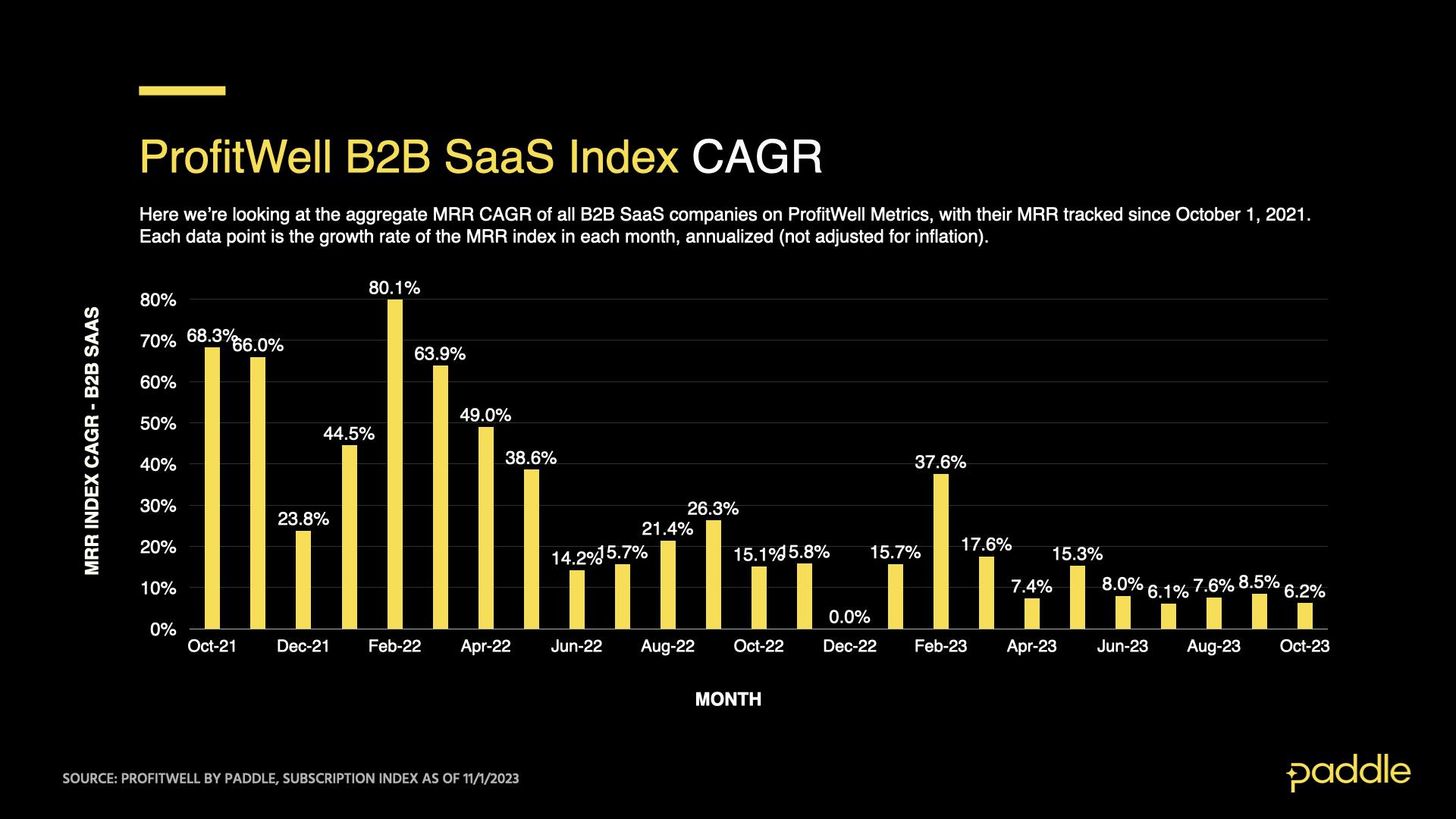 October's decline was driven by slower sales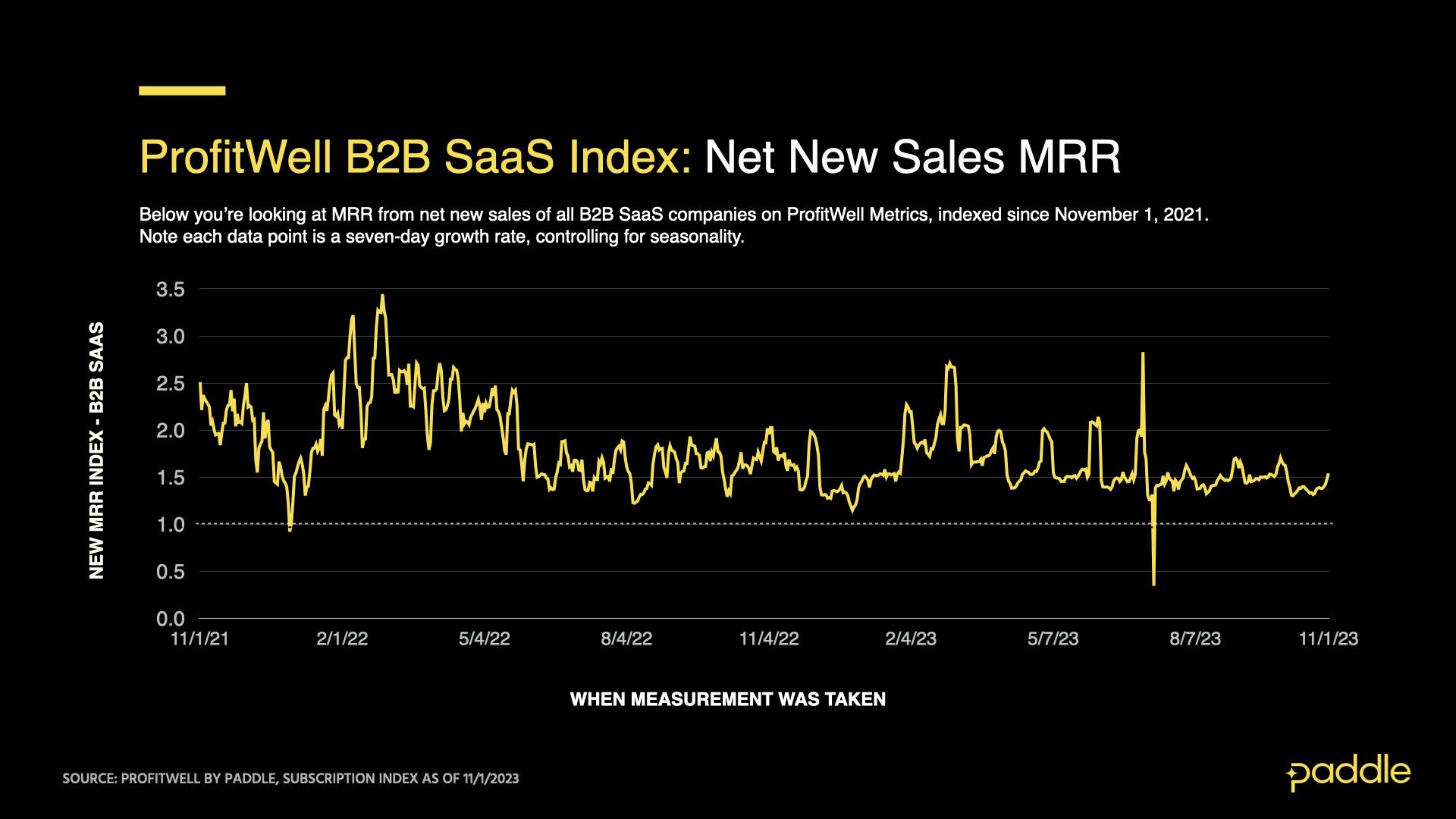 The ProfitWell B2B SaaS Sales Index is a seven-day rolling average of MRR from net new sales, expressed as a multiple of typical daily sales in 2019. A 1.00 index reading represents sales on an "average" day in 2019, while a 1.10 reading would be 10% higher sales (the ProfitWell B2B SaaS Churn Index is calculated similarly, but will be negative, with -1.00 being an "average" 2019 figure).
Because these indices are seven-day averages, they should be read as directional indicators and not direct inputs into the main SaaS index.
The ProfitWell B2B SaaS Sales Index averaged 1.42 in October, a 7.5% decrease from September.
It's typical for the first month of a new quarter to see lower sales, as sales teams rebuild pipeline following the previous month's push to close new bookings. Yet October sales volume was also 6.6% lower than that in July, which was additionally hampered by low activity during the US' 4th of July holiday.
We expect November to see sales volumes similar to October, before a 10-20% drop in December.
Customer retention declined slightly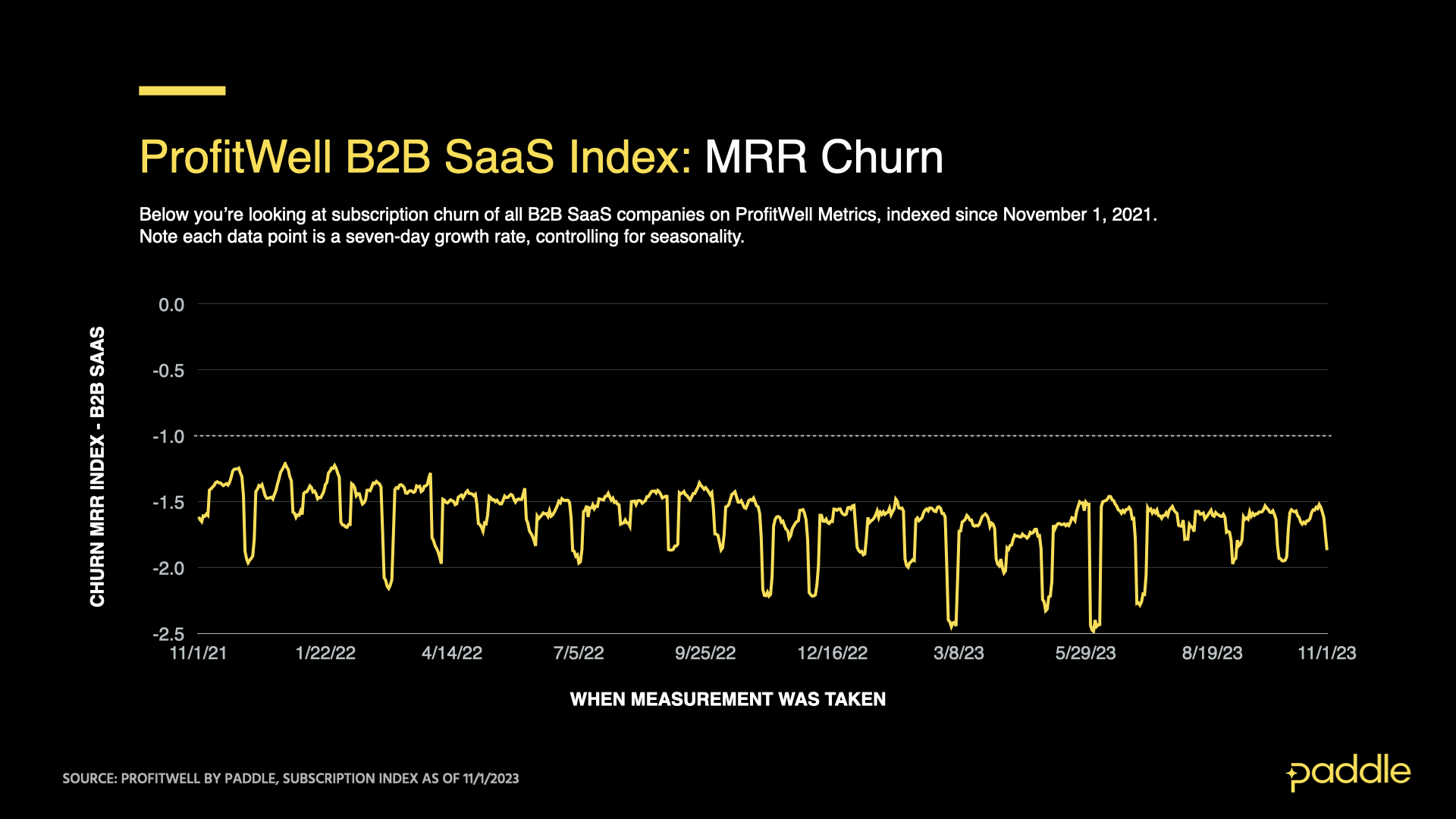 October revenue churn was similar in volume to the levels we saw in September.
The ProfitWell B2B SaaS Churn Index averaged about -1.68 in October, showing that nominal churn was 0.6% higher than in September.
In 2022, we saw churn increase by 3.2% from September to October, before jumping 13.0% in November — as companies trim costs during their annual planning cycles. We expect November and December churn to do something similar in 2023.
There's good news for AI and vertical SaaS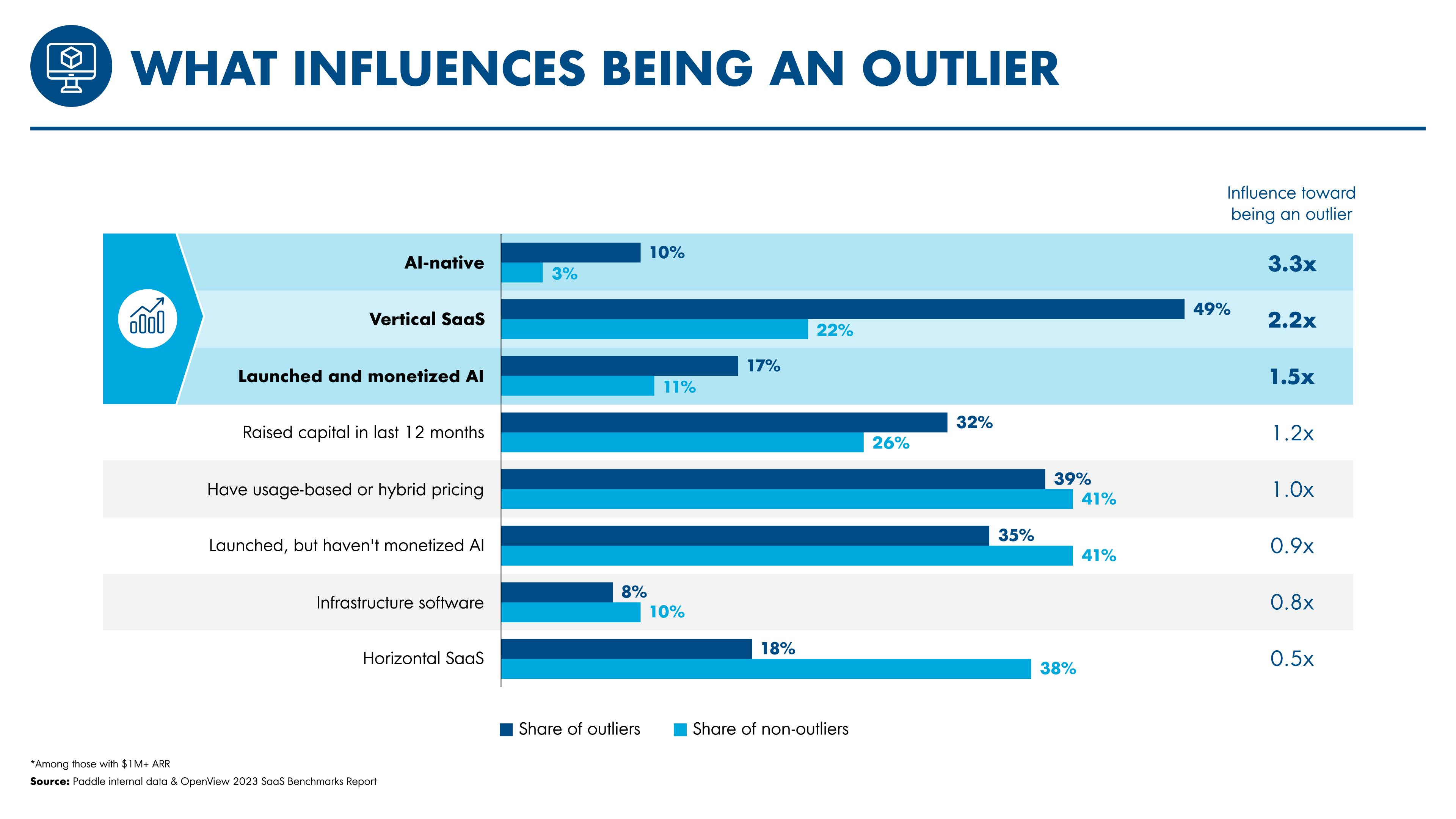 This year, we partnered with OpenView to collect data for their 2023 SaaS Benchmarks Report. We found that while most horizontal SaaS companies are seeing similar or lower growth than last year, vertical SaaS companies were 2.2x more likely to be growing faster this year.
While this bodes well for vertical SaaS in general, it also underlines a larger principle: in a more saturated or competitive market, it's critical to be specific about your target ICP and double down on go-to-market efforts there.
We also found that a segment of AI-based companies were outperforming: those who've both launched and monetized AI features as core parts of their product offering.
But just slapping an "AI" label on your marketing won't help. Companies who've launched AI features, but haven't monetized them, are in fact underperforming slightly. This behavior — which we term "AI washing" — signals that AI is beginning to deliver real product value, instead of merely giving a temporary boost in marketing momentum.
SaaS is growing fast beyond the obvious markets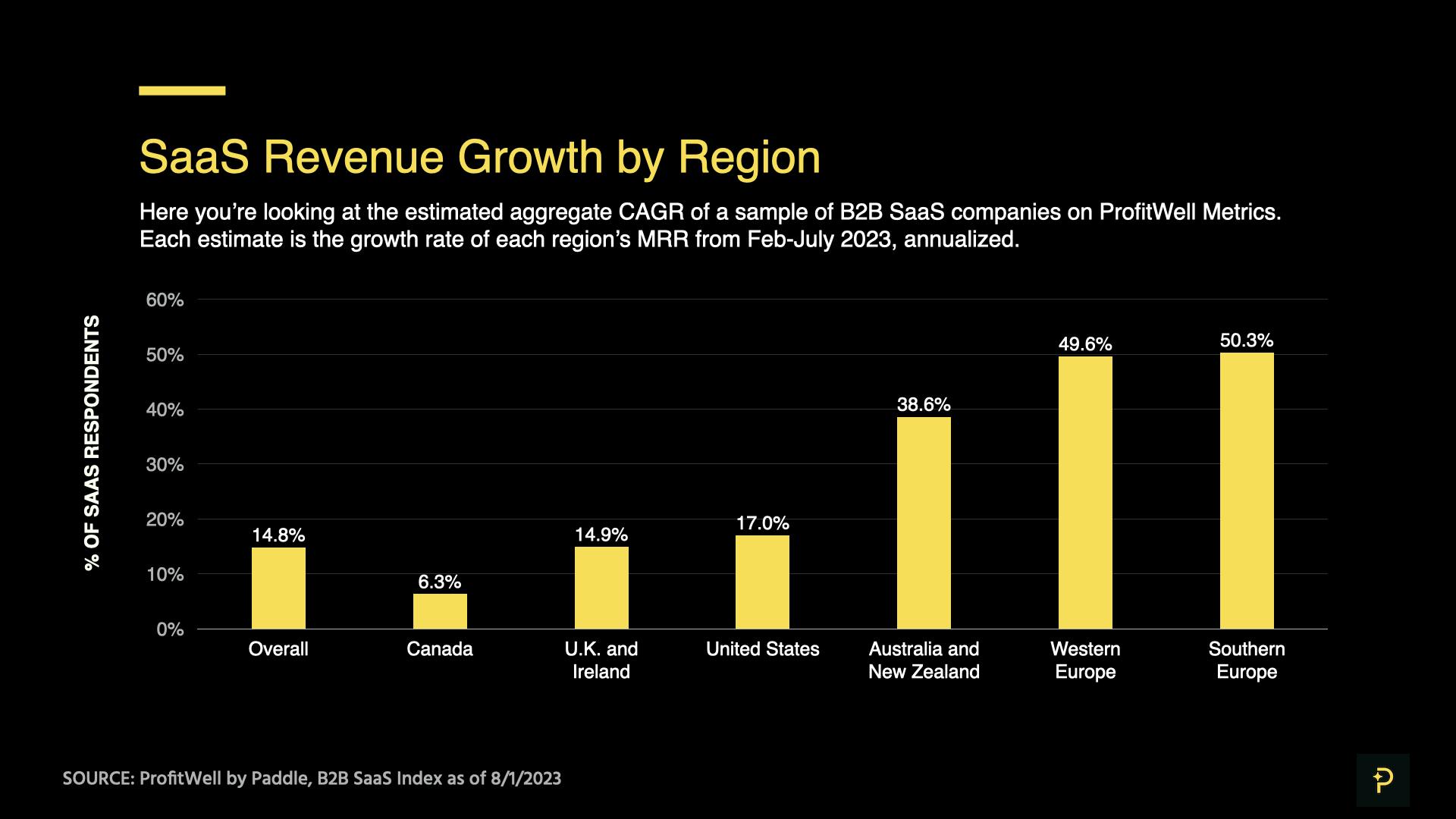 Much of the slowdown in SaaS growth comes from North America and the UK, where much of the software industry has historically been concentrated. The COVID-era shift to remote work powered an incredible acceleration in these regions, but these markets are now increasingly competitive as companies vie for many of the same customers.
Yet outside of these "developed" markets, we're seeing small but faster-growing clusters of SaaS companies: in Continental Europe, India, even Australia.
As these clusters grow, they provide sources of both potential competition and potential buyers. Yet as we've previously shown in our data, many North American companies fail to take basic steps to localize their go-to-market strategy or operations for these markets.
How can teams establish an effective international strategy? We recently collaborated with growth expert Elena Verna on a guide to internationalization — which you can read here.
We publish monthly reports on the ProfitWell Subscription Index to show you where the market's headed — and help you form strategies to respond. All backed by data from the 34,000+ companies on ProfitWell Metrics.
Missed our previous market report from September 2023? Read it here.
Subscribe below, and be the first to receive the next SaaS market report.