Product-led SaaS businesses are global by default. In theory at least, customers from anywhere in the world with an internet connection can find your website and sign up for or purchase your product. 
But what would the experience be like for them if they landed on your homepage right now? 
Sure, you'd get some new customers — some might navigate their way through and sign up to your trial or make a purchase. But others would likely look for information in their local language, try to find pricing that makes sense to them, or look at what support you have available – before going elsewhere.
While the extra customers you do get might be a great bonus, think about the potential revenue you're losing from those who didn't find what they were looking for on your site. To avoid this and fully harness the growth opportunity presented by going global, you need to create a truly local experience for your prospects and customers, whoever and wherever they are. 
At Paddle, we work with over 3000 SaaS businesses many of which have expanded internationally during their time with us. In this article, we'll draw on learnings from them to help you know where and how to localize your product and buying experience to have the most impact on the growth of your business.
1. Sales and marketing
Localizing your sales and marketing touchpoints is key to help you attract (and retain) the right customers. That's the customers that will realize the most value from your product and ultimately bring in the most revenue. 
Just by displaying information on your website in local languages increases the chances of a consumer making a purchase by 72.4%. 
Even more effective though is tailoring your message and adjusting your communications in relation to local preferences and privacy regulations. 
Why? Because it removes a level of friction, helps customers understand your product more quickly, and helps prospects align their willingness to pay with their expectations of your product – reducing the likelihood of them churning soon after subscribing.
2. Pricing
There are two ways to localize your pricing. 
The first is simply by showing your pricing in your customers' local currency. This is a purely cosmetic change – the actual price stays the same, it's just converted using the latest exchange rates.  Doing this helps customers understand your pricing and alleviates any worries about conversion charges. From our data, we see that: 
Companies with multi-currency enabled have grown 7% faster than those without. 
Companies with two currencies on offer grew 13% faster in 2021 than those with only one currency option. 
Companies with 25+ currencies saw 25% higher growth than those with only one.
The second is what we call true localization and it involves changing your pricing based on willingness to pay (WTP) in different markets. Here, you should research the buying conventions and competitive landscape in the markets you sell — or want to sell — into, to determine how best to price your products in each region. Those that do this best also take into consideration the cost of living (or of doing business) and inflation.
While it's more difficult, true localization will have the biggest impact on your overall growth.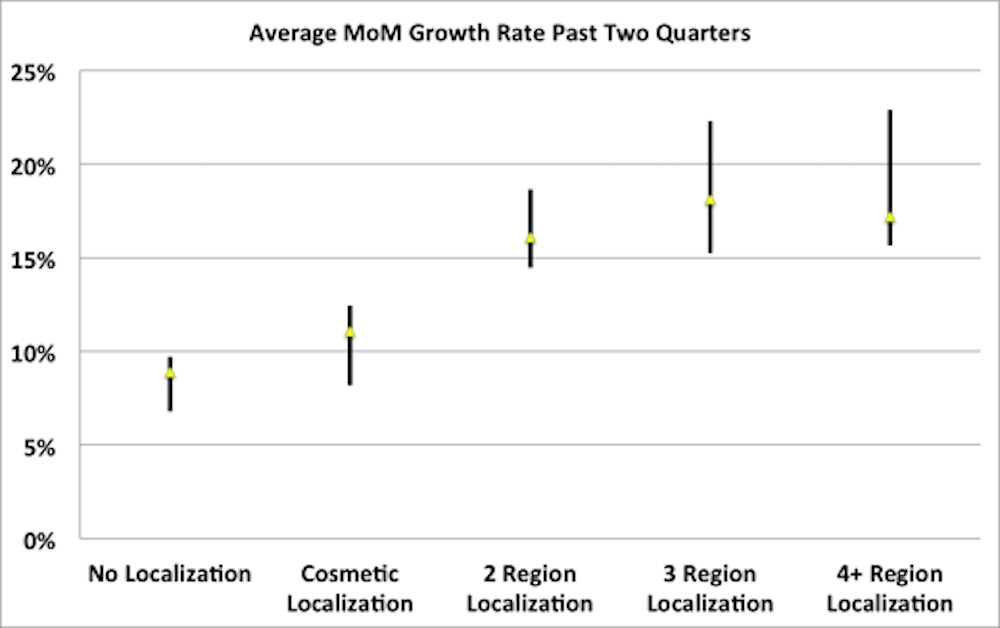 (Source: ProfitWell)
3. Payments
Different markets have different local payment methods and preferred ways to pay. So, while  a customer might see your pricing and be willing to pay, you could still lose them if they can't pay via a payment method they're used to. 
For example, in China 81% of customers pay using AliPay, whereas in the Netherlands iDeal is the most popular payment method. In other markets, like Germany, PayPal is extremely popular for low-value transactions and in others, credit cards win out. 
Our data shows that enabling local payment methods has a real impact on growth. Companies with at least one alternative payment method available grew 22% faster than those without one in 2021. Check out the impact on growth by payment method below: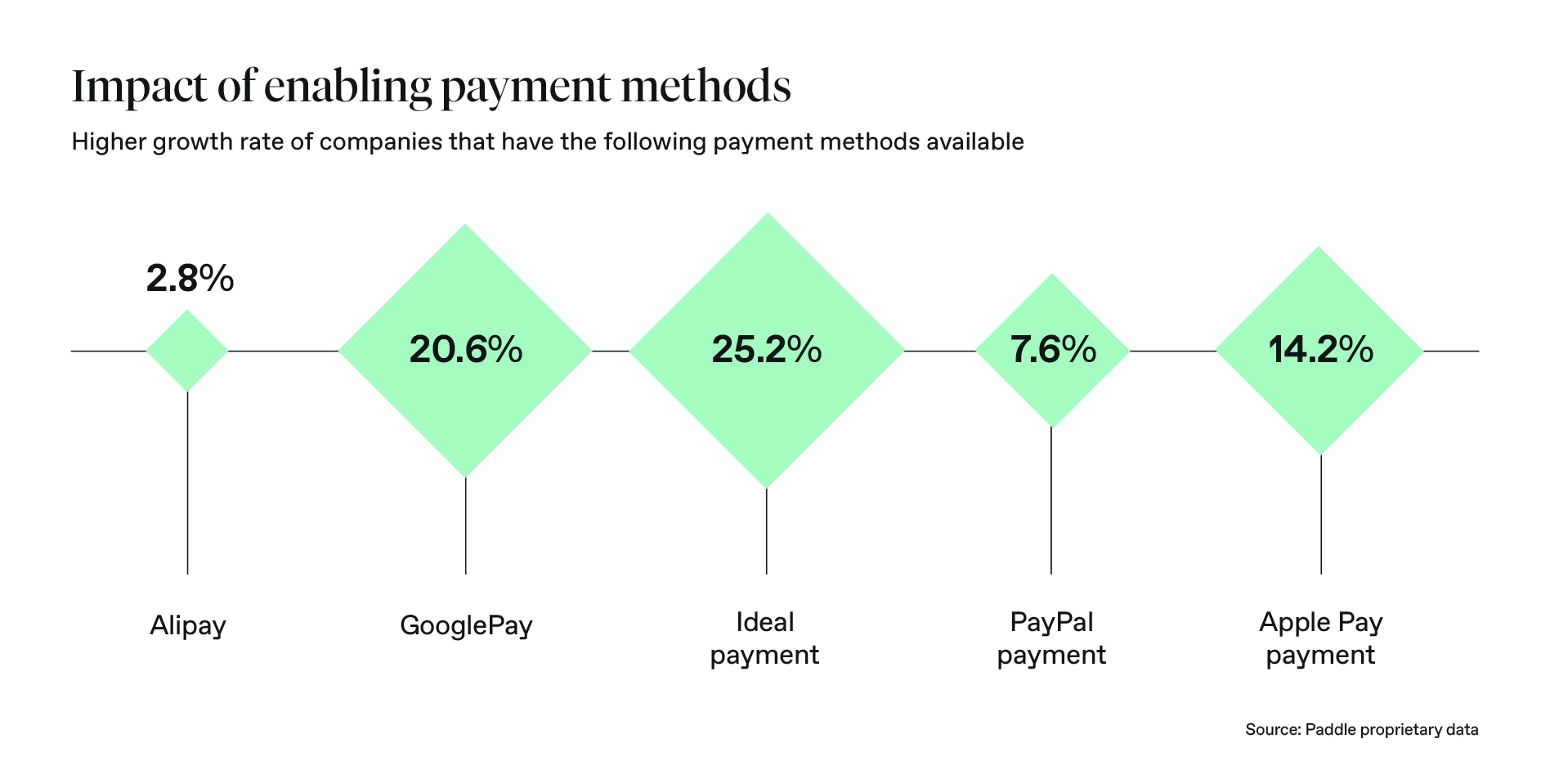 4. Product
Once customers have purchased your product, it's crucial  to help them get started and ensure they start experiencing the value from it as quickly as possible. For those selling internationally, this means taking the time to research your target market and creating an onboarding and in-product experience that's both accessible and in line with local expectations.  
This starts with translating your onboarding, in-product, and UX copy into local languages and extends to: 
Date and time displays (e.g., dd/mm/yy in the UK vs mm/dd/yy in the US)
Script displays (e.g., left-to-right languages like Hebrew or doubt-byte languages like Japanese). 
It also helps to work with native speakers in addition to translation or localization software as a way to quality check and smooth out the customer experience.
5. Customer support
Once you have international customers using your product, you need to consider how you will support them. Creating a local customer support system involves: 
Translating documentation, support articles, and FAQs so that customers can troubleshoot and self-serve their way to a solution. 
Providing prompt solutions across time zones so that every customer receives the same level of service, no matter where they're based. 
Offering different ways to contact you to suit local preferences. In Asia, WeChat is popular, and businesses globally are starting to use Facebook Messenger and Whatsapp alongside traditional phone and email channels.
Going global = thinking local 
The secret to going global is thinking locally and making sure that every customer gets the same great experience, no matter where they're based. 
To help you get started, we've put together a checklist with everything you need to localize your pricing and payment processes effectively. Download it here.