Plausible Analytics is an open-source project dedicated to making web analytics more privacy-friendly. An alternative to Google Analytics, Plausible's mission is to reduce corporate surveillance by providing a web analytics tool that doesn't come from the AdTech world.
And it's been an impressive story to date. Since launching in early 2019, Plausible has seen >1M annual recurring revenue (ARR) growth. The platform is now used by 8,000 customers, across 50,000 websites, boasting 1 billion page views per month. 
So, how does a bootstrapped startup in the EU take on one of the world's tech giants?
We spoke to Co-Founder and experienced Marketer Marko Saric to find out more about Plausible's journey and how to position your business when you're up against a market leader.
Align everything to your mission
Your business' mission is why it exists. It's how it's different from other solutions in the market, why customers should choose it, and the value they'll get from doing so. For Marko, staying mission focused and communicating that mission to the right people is crucial for SaaS businesses as they look to take place and grow in the market. 
"Our mission underpins everything we do and how we position ourselves. We communicate it on the homepage and across any touch point with our business. Staying consistent in this message has helped us to reach a broader audience. Where we started serving developer bloggers and individuals, we now also service large corporations who believe in privacy-friendly analytics." 
To put this into practice, Marko advises being bold with your mission and using it to create a web experience that helps users understand what you do within three seconds of landing on your site:
"Too many websites force you to scroll down to try and understand what that company does but people don't tend to do that. If you don't hook them in those first three seconds, they bounce back and they never come back to give you another chance. So be very clear in your positioning and don't be afraid to set yourself up against something big, something that people know already in your niche."
Face the competition head on
As digital innovation and SaaS adoption continues at pace in the wake of the pandemic, the industry is becoming increasingly competitive. How you face the competition, and position yourself against it is key. Marko explained:
"The biggest challenge that SaaS businesses face now is competition. There's so many new solutions because the SaaS model is now applicable everywhere and it can be started by anyone with the right tools and a great idea – like we did with Plausible Analytics."
There is so much noise now that getting the word out there about what you do and showing the value of the product is more crucial than ever."
Speaking to his experience with Plausible Analytics, Marko told us that this isn't something they got right the first time. 
After launching, the platform quickly went from zero to four hundred customers but then  growth started to level out. 
"We had to stop and consider how we could better articulate our product value, reach more of the right people, and cut through some of that noise," says Marko.
Part of this process involved reassessing the messaging on the website and communicating what differentiates Plausible Analytics from its competitors (in particular, Google Analytics) more directly. 
"At first, we didn't acknowledge that Google Analytics even exists on our website, let alone how Plausible Analytics is different to it."
From here, Marko and the team made a significant change to its homepage headline, going from:
"Simple analytics for your website"
to 
"Simple and privacy-friendly alternative to Google Analytics"
A seemingly basic change that gives the reader a much clearer explanation of what Plausible Analytics does and why it exists.
Showcase (and deliver) your product value
As Plausible Analytics' customer base has expanded, they expanded their go-to-market strategy to encompass both product-led and sales-led motions. Initially though, the aim was to build a product that sells itself. But, as Marko explained, doing this requires treading a balance between building new features and growing your reach so that new customers can find and make use of them. 
There will always be opportunities to build new things but they don't help you grow if nobody uses them. It's about focussing on where new features will add value, while making sure you spread the word to the people or businesses that will benefit from that solution." 
According to Marko, getting this balance right makes marketing it much easier: 
"A great product speaks for itself. With Plausible Analytics, we have something that is simple to use, beautiful to look at and naturally differentiates itself as a great Google Analytics alternative in several ways. All of this helps when communicating about the benefits of using the product. And it drives word-of-mouth as many of the users love the product so much that they share it with their friends and networks."
Offer a free trial
Part of going up against a market leader is making your solution compelling enough that prospects want to try it – or that they don't default to the biggest competitor. For Plausible, a key part of this was choosing to offer a 30-day free trial:
"Google Analytics gives away their product for free so it was important for us to have an  accessible starting point. People may not be used to paying for their web analytics, people may be unsure about switching over from the market leader, people may be unsure about the stats, metrics, and reports that we provide. All of these concerns can be answered if we allow people to play around our site and use the product for a bit without requiring any commitment from them upfront."  
To make its free trial even more accessible, Plausible doesn't require credit card details on sign-up, and free users can access the product the same way they would if they had a paid subscription. 
"The trial gives people enough time to test the features they're interested in. If we didn't offer it, it would be a completely different reaction – far fewer people would be interested in taking a look."
Convert free users with flexible subscriptions
With a broad range of customers, Plausible needed pricing that suits different needs and different business stages. As such, the pricing is based on website traffic (monthly page views).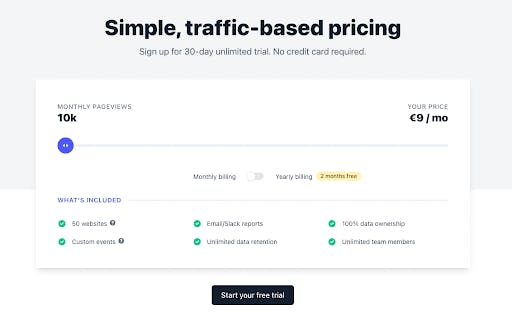 Plausible offers nine levels of subscriptions. The first eight are available through a self-serve checkout, with the top tier (at 10M+ page views) taking the user through the sales-led motion. Subscriptions are offered on a monthly or annual basis, with the annual incentivized with a two-month discount. 
Once a user has found the right subscription and converted to a paying customer, Marko and team trust the product to do the rest. 
"We stay hands-off with our customers. We trust the product to provide a valuable solution. If the customer realizes that value, they'll stay."
Harness the global opportunity

Starting with a product-led motion meant that Plausible Analytics was global by default. Going up against Google Analytics (GA) meant it had to be, otherwise it was missing huge amounts of revenue potential and denied a large subset of potential customers its GA alternative solution. 
"There's so many websites out there and yet there's this one huge giant that 80-90% of websites use for analytics. We're installed on just more than 50,000, Google Analytics is installed on hundreds of millions. There's a real growth opportunity there, and it's global."
Stay true to your fundamentals 
With the economy uncertain, Marko's advice is to stick to your fundamentals. 
"While as a bootstrapped business, we haven't yet felt too much of the economic impact, we don't know what's to come. But I think regardless, all SaaS businesses should be focused on making those incremental improvements to their product, messaging, and marketing because that's what will differentiate you from the competition and ultimately drive growth."