More than two years after Netflix's infamous price hike debacle, when CEO Reed Hastings created a PR disaster by unbundling streaming video and DVD rentals, Netflix is trying their hand at a new pricing strategy. The streaming service was essentially "one-size-fits-all" up until recently, but now Netflix is testing out a pricing scheme that utilizes access to simultaneous video streams on a single account as the primary value metric.
In addition to the original plan that allowed unlimited streaming on two devices at once for $7.99, Netflix has added a one-stream plan for $6.99 and a three-stream for $9.99 (a four-stream tier aimed at families with tons of bandwidth was added back in April for $11.99).
The company is only testing the pricing scheme for now, and it may never be available to everyone. Still, it's obvious Netflix is trying to attract some new subscribers. They've had a great year, but factors like competition from AmazonPrime (the shipping service includes streaming video for less than 7 bucks a month) and the heavy cost of killer content spurred a need for further price differentiation.
A Simple, Solitary Value Metric. Well Played, Netflix.
So what? Netflix is testing out a couple new pricing plans; I know, this isn't big news. Yet the fact that the new pricing structure uses the number of devices the customer is allowed to stream on concurrently to determine the price is intriguing. While it's uncertain if these pricing packages will attract new customers, they do reveal that Netflix is trying much harder to appeal to multiple buyer personas as well as uncover the best way to charge customers who desire more from the product.
Those are things almost any SaaS business should be doing. While branching out with a tiered structure might not be for everybody (a POS company like Square comes to mind), it is a superb way to upsell different customers who need different amounts of your product. However, that's only if you can tap into the value metrics that defend the prices.
There's absolutely no way Netflix could avoid pissing people off if they charged more for great content like House of Cards. The last thing Netflix needs is another 80% stock freefall like the one it endured in 2011, so charging more for certain shows is off limits. The obvious choice is access to simultaneous streams, and as mentioned above the company already rolled out a four-stream tier back in 2013. The main focus for Netflix is still growth, but the revenue model update might help them recover production costs while fending off those pesky account moochers too.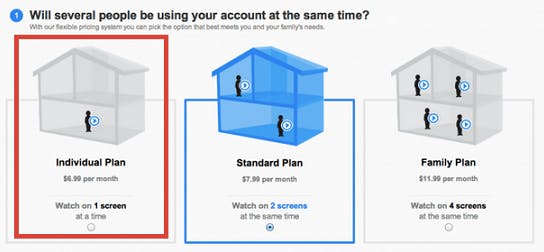 More importantly, it's a unique value metric that's easy to understand and communicate. Most confusing pricing schemes stem from the failure to use a product's distinctive or essential features to justify changes in price from one plan to the next. As such, let's discuss the importance of demonstrating your ability to grow with the customer before looking at three ways to uncover the features that should dictate how you tier your prices.
The Catch-All Tier Won't Help You Upsell or Maximize Profits
Recently we discussed how having too few pricing tiers can leave cash on the table in our Saddest SaaS Pricing Pages of the Year post, but I have to take a moment to point out a design element that has the same effect. While subtly magnifying your ideal product or making it stand out with a different color are sweet pricing page design tactics, there's a fine line between shining a warm light on a particular plan and forcing customers into a box.
Some of the "catch-all" tiers we're seeing out there in the SaaS realm are getting a little ridiculous, and the amount of companies with three plans but only one bracket with an actual price (and bells and whistles all around it) is even a little terrifying. You may have a fairly simple product and only one type of buyer, but why have the other plans at all if your ideal package dwarfs everything else on the page?


If your product doesn't require differentiation to be successful, then it's fair to say that you probably shouldn't advertise it. However, for many SaaS businesses the key to increasing recurring revenue is having the ability to grow with the customer. For a service like Dropbox, charging more when the customer uses more of the product is a cinch; the obvious value metric is storage. Yet sometimes charging for plain features like users and storage isn't the best bet, and for your business the value metrics could be totally unique.
Whether it's a catch-all tier or simply a lack of plans, cash will be left on the table if a company doesn't use an analysis of which features actually drive customers to buy the service to shape its pricing, and adopting the typical value metrics of your competitors isn't a shortcut to success either. There's nothing wrong with having an ideal product or simple pricing, but if you have multiple features that can diversify your offerings, then it might be time to up the plan count.
What's the Right Way to Expand My Pricing?
Netflix's latest pricing experiment may not turn out to be a win, but at least they're implementing a pricing process based on value to see what sticks. There's no golden brick road to the perfect pricing structure, after all. However, here are three crucial steps that will ensure your pricing focuses on the customer and has the ability to capitalize on each buyer's perception of value.
1. Quantify Your Customer Personas
We talk about this almost every week on our blog, but at any stage of your business it's extremely important to know who you're selling to and who you could sell to. Netflix knows offering more than one plan based on simultaneous streams can help them appeal to multiple customer segments. I myself have Netflix and still pay $7.99 per month for access, but I only need it on one device. If the $6.99 comes my way I'll be all over it. Perhaps there is a significant number of frugal Netflix prospects out there - deterred by the price with zero need for streaming on multiple gadgets.
Knowing each type of customer, especially on a quantitative level, is essential to expanding your pricing. Even as early as your initial development process, you need to uncover the range of potential customers you can serve and what matters to each of them. Talk to them and find out which features they value the most, what motivates them to buy, and how much they're willing to pay. The data collected will unveil important patterns you'll need for the development of an effective pricing structure.
2. Match Each Pricing Tier to Each Persona
Once you've identified which customer personas to target, you'll know how many plans you need. This is because each tier for your product should align to a specific persona. Every customer segment should line up with the pricing and value provided in a particular plan so they receive the amount of product or service that suits their needs.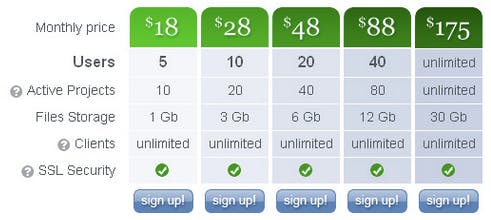 This critical alignment is vital, so get down and dirty with your customer data and figure out exactly what your customers are looking for. You may discover that you have no need for an enterprise plan, or that an entry level tier would really appeal to a price sensitive persona that needs a smaller package. Whether your pricing is too simple or you have a boatload of tiers and nowhere to put them, you won't know what needs changing until you incorporate what you can learn from the customer into your pricing strategy.
3. Align Your Pricing Along Proper Value Metrics
As I mentioned in the above rant about catch-all tiers, part of a killer pricing strategy that maximizes revenue is demonstrating how you can provide value as your customer's needs grow. The right value metric (or metrics) will make it much easier for your business to charge customers more for each unit of value they're receiving, and justify doing so.
With the Netflix pricing scheme, it's easy to understand that the price rises incrementally with the number of devices allowed. The potential for customers to become loyal buyers is far greater if they know exactly what they're paying for and how much value they're receiving at a particular price. For some businesses, this means having one simple value metric like users. For a video hosting company like Wistia, it means pricing based on the number of videos and bandwidth. Find out which features are the most important to the customer and how they're using them, then incorporate that knowledge into your pricing so you can charge accordingly.
Interested in learning more about SaaS pricing? Subscribe to the blog by downloading our SaaS Pricing Page Blueprint ebook, an awesome resource that offers in-depth data and analysis on building the optimal pricing page.
Interested in learning more about SaaS pricing? Subscribe to the blog by downloading our SaaS Pricing Page Blueprint ebook, an awesome resource that offers in-depth data and analysis on building the optimal pricing page.