SaaS revenue growth slowed in April, following in the wake of Silicon Valley Bank's collapse. Churn remains high, but remained stable at March levels.
This is the inaugural post of our SaaS market updates, which will track the movement of the ProfitWell B2B SaaS Index, and its underlying growth and retention trends. Subscribe to the Paddle newsletter to get these updates in your inbox.
SaaS growth slows, again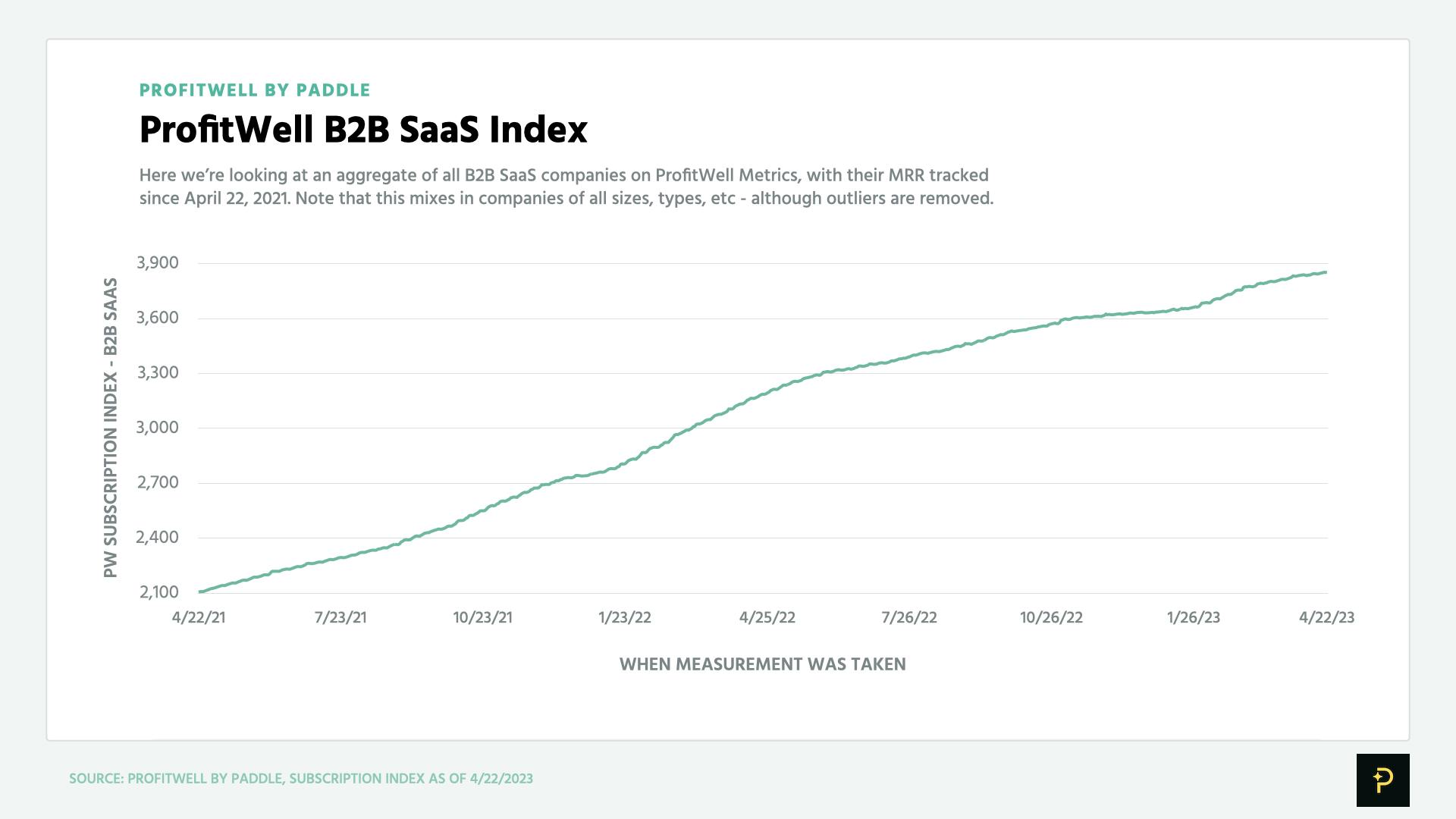 The ProfitWell B2B SaaS Index increased by 9.1% in annualized terms, between April 1st-22nd. This is a significant slowdown from March, where the index rose by 20.1% in annualized terms.
The ProfitWell Subscription Indexes collectively aggregate Monthly Recurring Revenue (MRR) data from over 33,600 companies on ProfitWell Metrics, using these to measure the growth (or contraction) of both B2B and B2C products.
Explore the free demo version of ProfitWell Metrics here.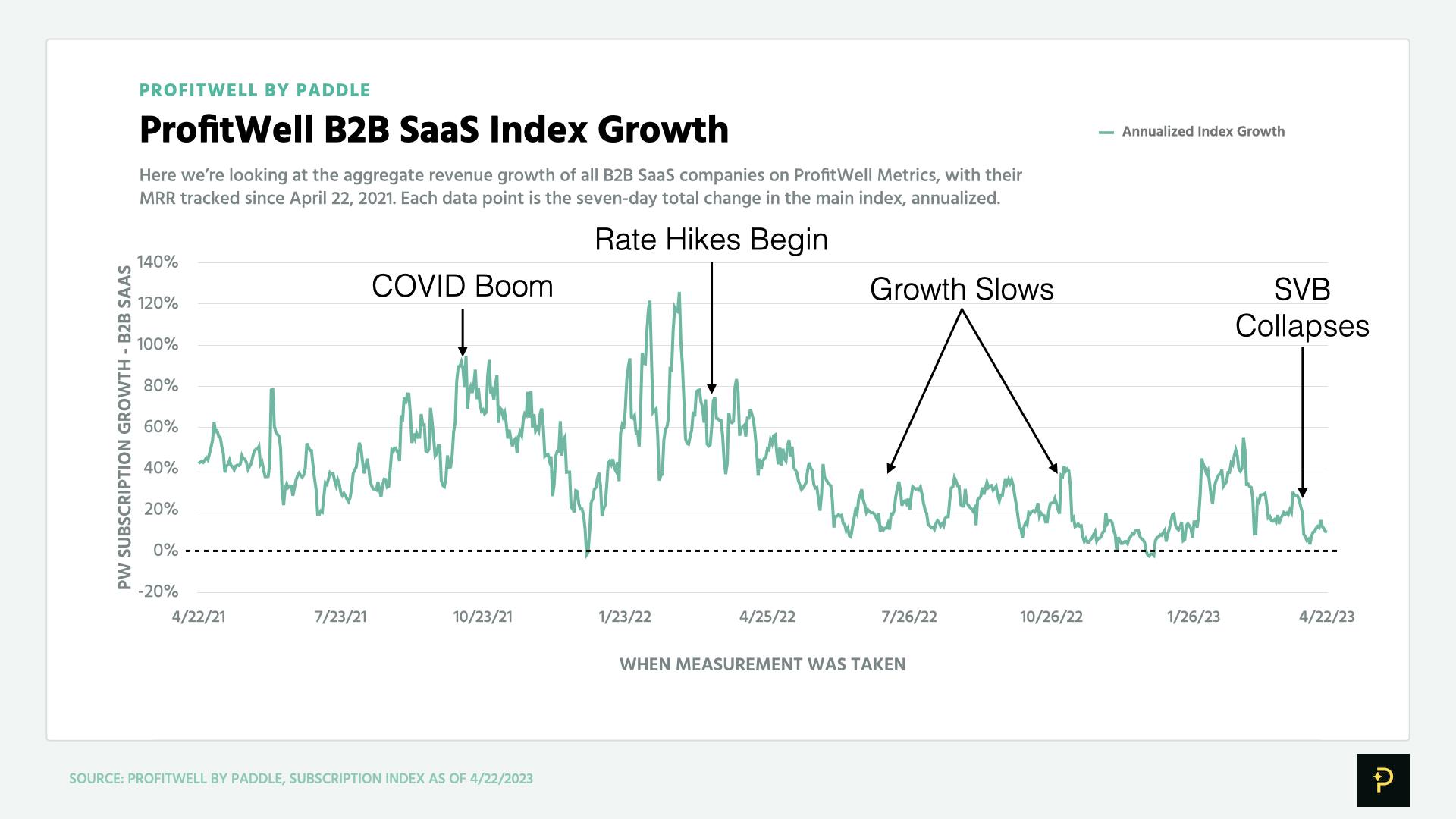 April's slower B2B growth represents a lull after a relatively healthy Q1, when the index saw an annualized growth rate of 24.5%.
The B2B market in Q1 had shown signs of recovery after a slowdown in H2 2022. While growth has slowed down after Silicon Valley Bank's (SVB) collapse, it's still unclear if turmoil in the banking sector will have a lasting effect.
Net-new sales dip, while churn plateaus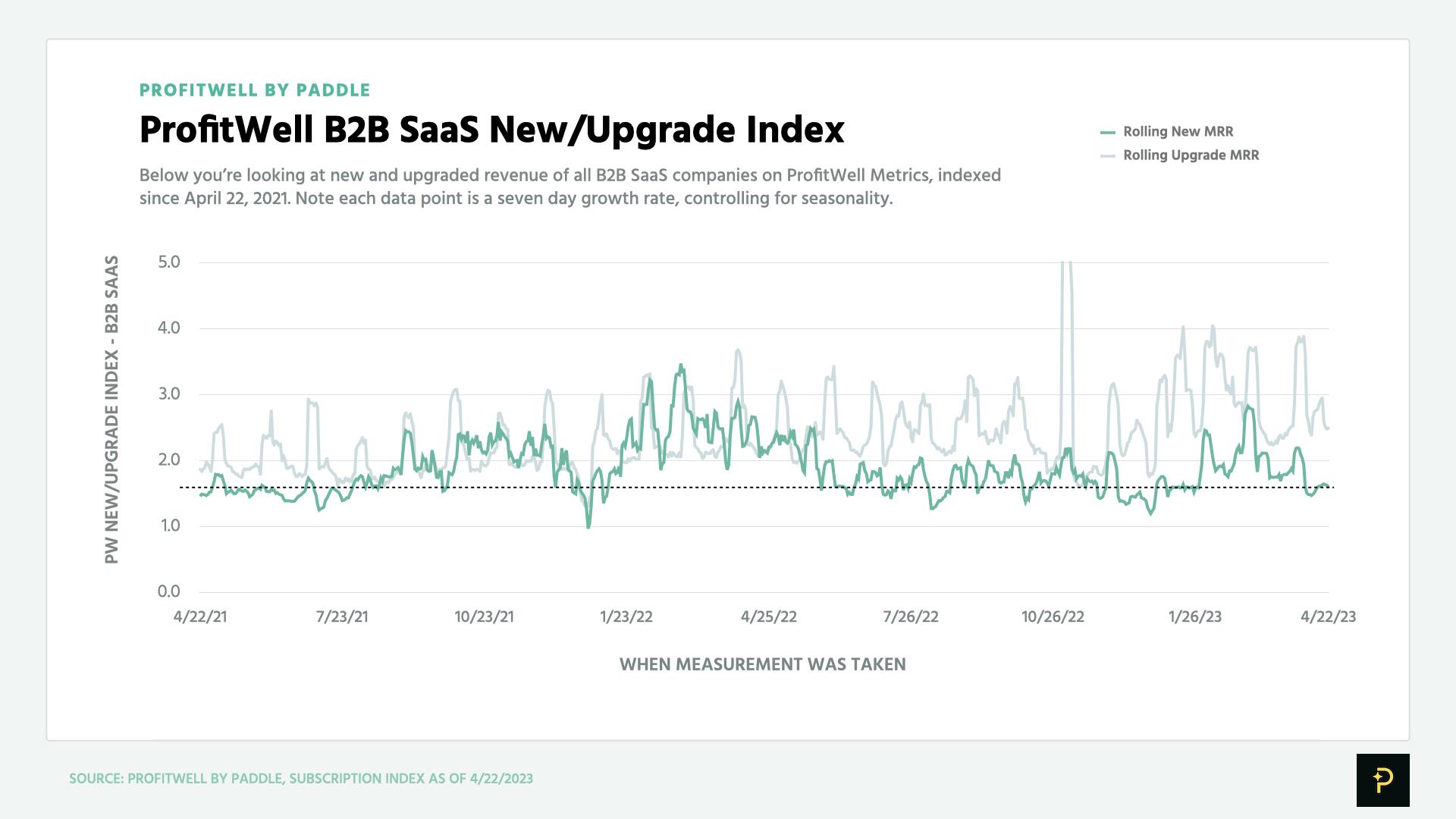 Much of the post-SVB slowdown comes from a dip in MRR from net new sales, or revenue coming from newly-acquired customers. The ProfitWell B2B SaaS New Index showed a reading of about 1.59 on April 22, a decline of 24.7% from its reading of about 2.11 on March 31.
The ProfitWell B2B SaaS New Index is a seven-day rolling average of MRR from net new sales, expressed as a multiple of typical daily sales in 2019.
While a 24.7% dip may sound severe, this index is prone to movement over the course of each calendar month that may not be fully indicative of a larger trend. Still, it does show that net new sales are the main underlying driver of the slowdown in revenue growth.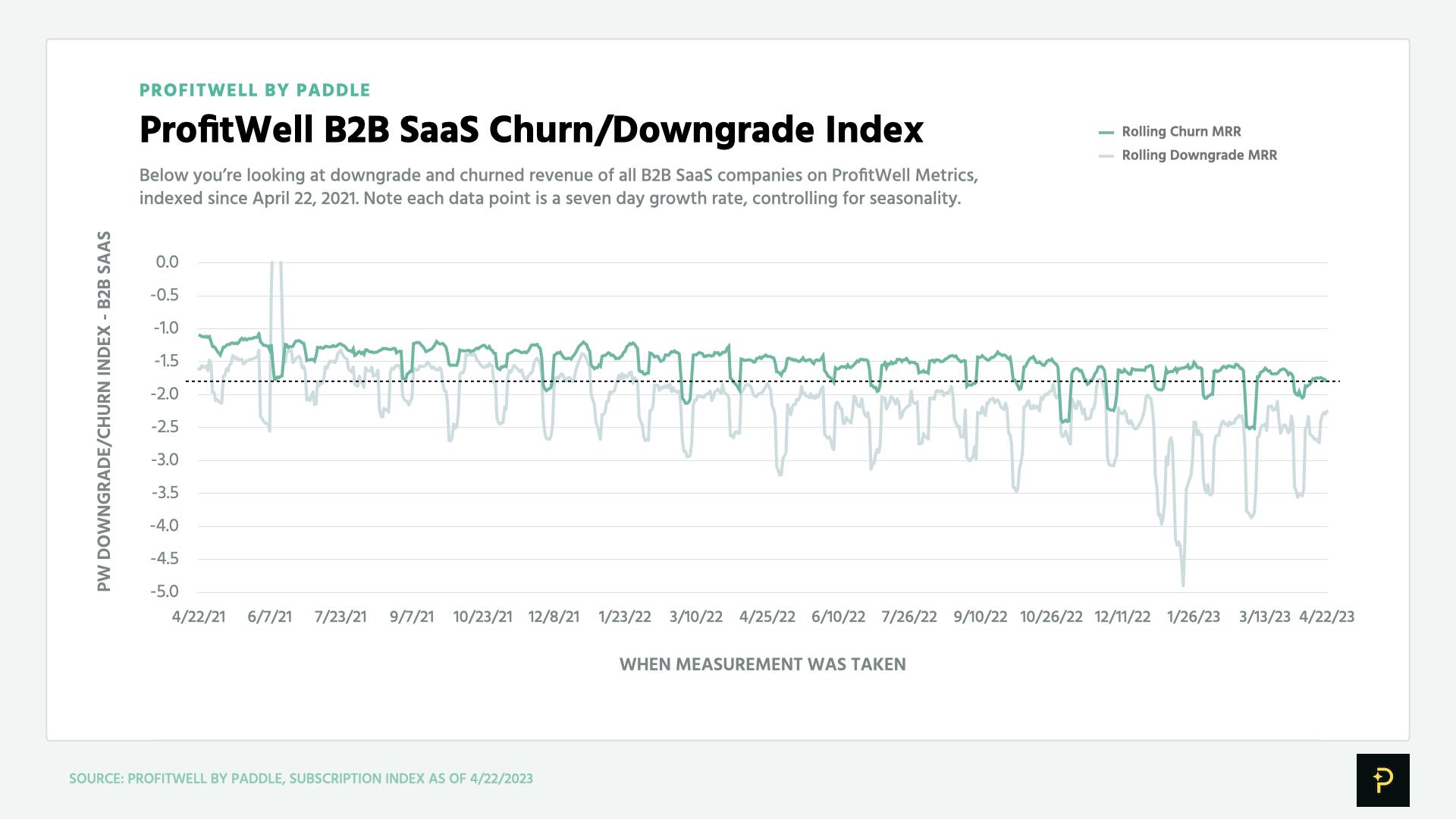 The ProfitWell B2B SaaS Churn Index had an average reading of -1.86 in April. This shows little change from its average March reading of -1.84.
While this indicates that churn is still 18% higher than 2022's average reading of -1.57, the April slowdown is driven more by a dip in new sales than higher churn.
It also suggests that churn rates may finally be hitting a plateau, after steadily trending upwards for the past 12 months.
We're now likely hitting the bottom of the software market, says Paddle Chief Strategy Officer Patrick Campbell.
"Consumer verticals will suffer more. But B2B stabilizing signals the beginning of the end. How long will the bottom be? No one knows," Campbell said. "Whoever holds on to the most customers at the end of this, wins."
What can SaaS businesses do right now?
In the face of slower growth, SaaS operators have lots to do to shore up their businesses.
Begin tightening operational processes to reduce costs.
This can include removing duplicate tools that do similar jobs, and canceling cards to start anew on expense approvals. Runway should extend to at least 24 months.
Double down on upsell and cross-sell efforts.
In the past four recessions, expansion revenue stayed consistent. Take advantage of this by reaching out to existing customers and seeing what they'd be willing to pay more for.
Shore up customer retention.
Churn will remain elevated for the foreseeable future, and in this cost-cutting environment, lots of your competitors' sales will come by offering deals to your customers. A good place to start is by addressing payment failures, which usually account for 20-40% of churn.
In the midst of increasing uncertainty in SaaS, we'll be publishing monthly updates on the ProfitWell Subscription Index to show you where the market's headed — and help you form strategies to respond.
Subscribe below, and be the first to receive the next SaaS market update.