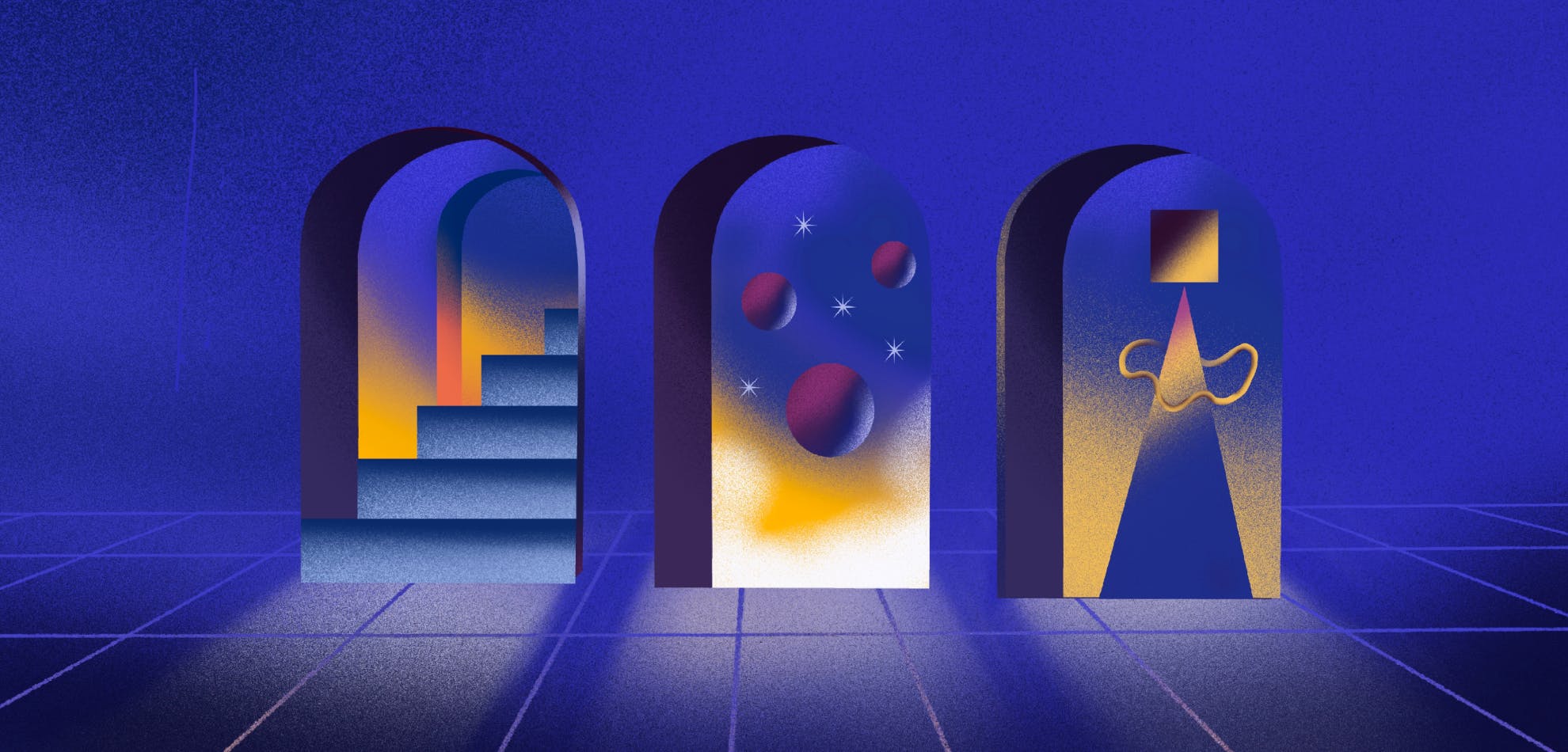 As we say goodbye (and in some cases good riddance) to 2021, it's that prime time of year to dust off our trusty crystal balls 🔮 and look through the haze at what lies on the other side of the new year's countdown. So we asked our colleagues, friends, and fellow SaaS enthusiasts to do just that. Here we go:
Out-of-office innovation
Helping a hybrid workforce of office-based and remote workers thrive is a continued challenge for SaaS businesses. But as we settle into the "new normal", it's one being met with a growing number of innovative solutions, as observed by James Gill, CEO of GoSquared:
"[There are] a lot of great ideas for how we can meet and work better in a remote world being experimented with, failed, succeeded, or merged into more established products as feature-adds. [Expect] more innovation and consolidation to come". 
Paddle's own out-of-office innovation kicks off in the new year. Not a product add-on but a cultural one: a partnership with Airbnb . Paddlers benefit from Airbnb credit to put towards working from new locations as part of the company's Navigate policy.
Product-led persuasion 
The SaaS market is currently growing by 18% each year, with spending on cloud software as a whole expected to increase by 22% in 2022.   Where there's a thriving market, there's fierce competition.
"The idea of bringing short time-to-value and giving the opportunity to try before buying a product is going to be crucial to win in an ever-growing competitive market. Only great products will be able to make it - just having a good product is not enough," says Itxaso del Palacio, Partner at Notion. 
This sentiment is reflected in the results of a recent poll we ran which showed that 71% intend to double down on a self-serve model as their growth strategy in 2022, above international expansion, pricing optimization, and selling into larger businesses.
SaaS businesses that have grown from a sales-led  GTM strategy haven't missed their chance when it comes to applying product-led principles and self-serve offerings. They can make the switch , and reap the benefits of both size and quantity of customers.
The hybrid sales motion
Freemium and low-cost plans offered in product-led businesses make it easy for users to sign up to hundreds of software tools independently of central sign-off processes. This makes acquisition easier, but can throw up challenges for retention. This is something Todd Gardner , Managing Director at SaaS Advisors highlights, predicting "a CFO pushback on all the SaaS applications adopted via the product-led growth approaches". 
"At some point", says Gardner, "even smaller companies will go, "Hey wait, we are paying 100 applications every month". How do you avoid the cull?
This is where we expect to see an increasing investment in hybrid sales motions that combines product-led with sales-led strategies to both acquire users and convince central decision-makers of the value on offer, locking in greater retention.
Out-of-the-box ease
Time is a more precious commodity than ever before, and this will see companies show greater willingness to spend more to get stuff done faster and with the least friction.
Expectations of B2C grade purchase experiences , where integrations, setups, and upgrades are seamless, are already widespread. Expect more businesses in B2B to catch up to this expectation over this coming year, as predicted by Ido Bornstein-HaCohen, CEO of Conversocial: "We'll start seeing consumer product sales methodologies used for B2B sales more than before". 
The inevitable challenge of 2022 for the SaaS industry, says Paddle's own VP of Engineering, Marcus Hayward, is "continuing to meet the ever-growing expectations of customers, who want all of these areas provided by default and everything to work seamlessly".
Dimitri De Boose , Head of Product at last-mile management platform URBANTZ, echoes this: "In e-commerce, the checkout experience has already become super smooth and homogenous. The next phase is to further the development of the product itself. For us, it's looking into the element of time slot selection for deliveries - this is often still clunky, not personalized and could do with more emphasis on green practices". 
Expectations are only getting higher - and 2022 shows no signs of that trend slowing down.