This is a guest post from Alena Korotkevich. Alena is a Senior digital marketer at Tapfiliate with 10+ years of experience in online marketing. She is a keen researcher, passionate about wrapping difficult things in simple words so that any reader grasps them quickly.
Competition in the SaaS market is getting tougher. According to Gartner, the SaaS industry has boomed, going from $31 billion in 2015 to an expected $171.9 billion in 2022. Despite the current economic uncertainty, some analysts expect the number of SaaS companies to grow up to a million over the next ten years.
What does it mean for your SaaS business? To stand out, you need to adopt specific marketing tactics that will help you spread the word about your services and attract more clients. This is where SaaS affiliate marketing comes into play.
In this article, we discuss what affiliate marketing is and share tips on how you can effectively use it to increase brand awareness, drive‌ growth, and scale your SaaS business. 
 What is SaaS affiliate marketing?
Affiliate marketing is an advertising model that involves recruiting individuals or companies to promote your brand, products, or services for a commission.
An affiliate, also known as a publisher, drives leads to your website using a unique link or promotional code. Each time a potential client clicks on this link and purchases on your site or subscribes to your services, the affiliate associated with the link gets a reward.
Used well, this type of partner marketing boosts sales and generates significant online revenue. It's beneficial to both brands and affiliates. As a result, the popularity of affiliate programs is rapidly growing.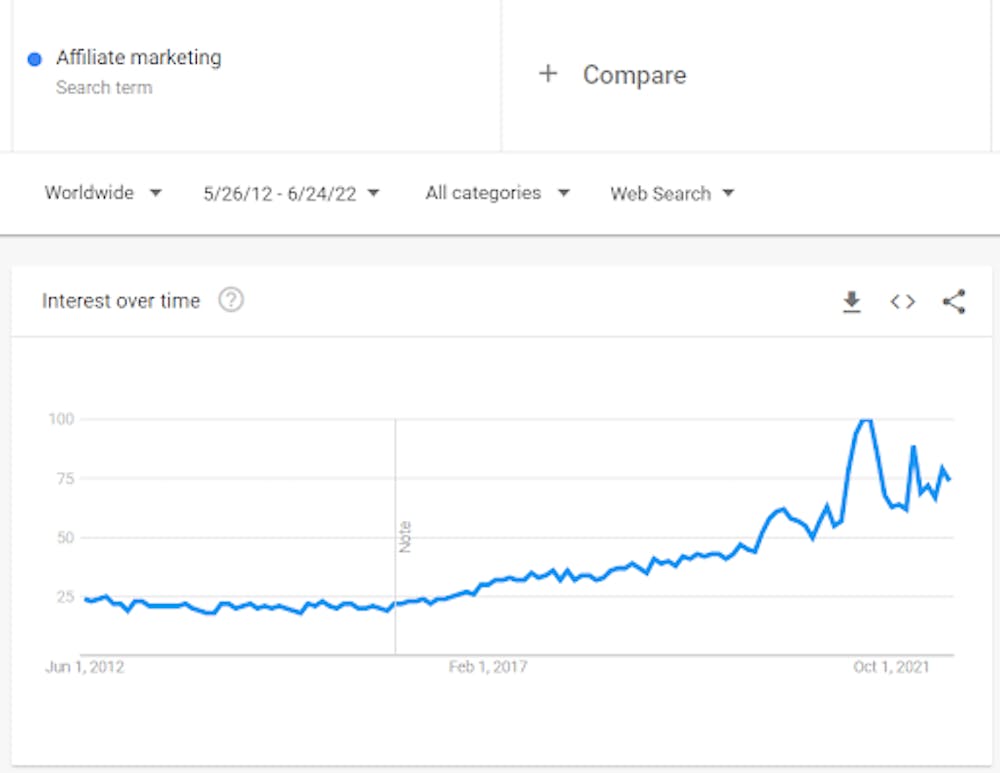 Source: Google Trends
Note: Affiliate programs work perfectly for those sites that already generate sales. Affiliates won't promote SaaS products that poorly convert or have bad reviews. Affiliate marketing can't drive every conversion. It's more about scaling and growth.
How is affiliate marketing different for B2B SaaS and eCommerce?
At first sight, affiliate marketing for SaaS works the same way as for other businesses.
In practice, running partner marketing programs for B2B SaaS has some nuances and requires a deep understanding of your end-users behavior:
Different target audience
Retail and SaaS industries have different target audiences. As a result, the nature of partnerships in the B2B SaaS market differs from what you'll find in a B2C sector such as retail eCommerce.
Since ideal SaaS affiliates won't always look like their peers in the B2C space, the approach to their recruiting should also differ. They're more likely to be found among people related to your SaaS niche or in dedicated business communities.
Different commission structures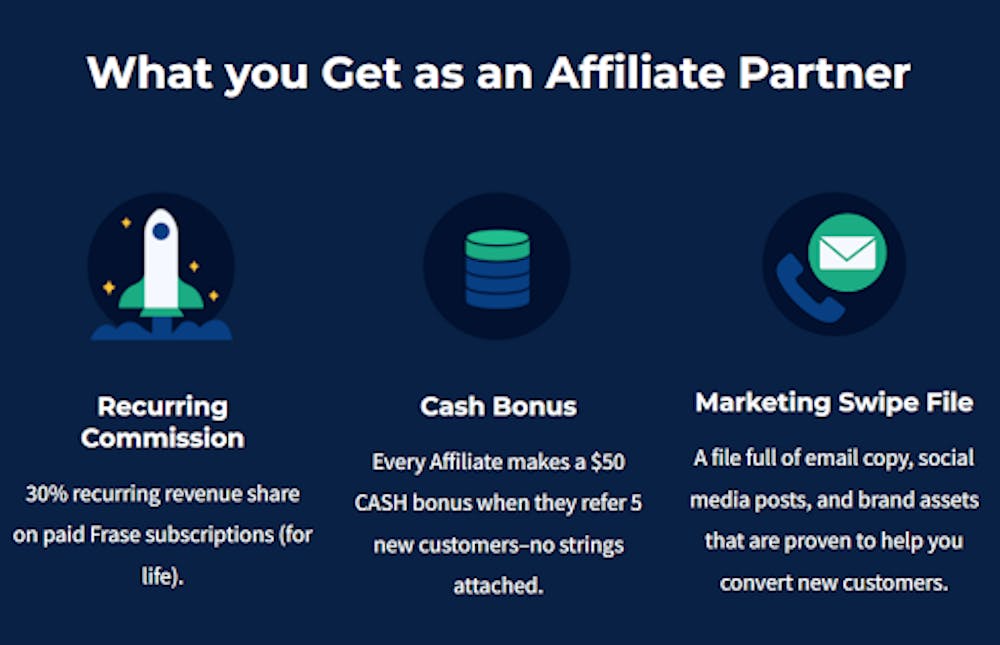 Source: Frase Affiliate Program
SaaS affiliates can benefit from ongoing payouts for the client they refer to your company. Yet, not all SaaS affiliate programs use this advantage for encouraging their affiliates, but those that do, achieve outstanding results.
Benefits of running a SaaS affiliate program
SaaS affiliate marketing is a practical, low-risk strategy to grow your business, and there are other advantages too:
1. You get new channels to market your services
Affiliates can promote your business by reaching out to prospective leads on their blogs, forums, social media, dedicated communities, groups, and other channels. It means that you get access to dozens of new traffic channels and their benefits almost effortlessly.
2. It reaches a highly targeted audience
SaaS affiliates who have already built trust with their readers, subscribers, and followers are always looking for ways to monetize these relationships. Choosing relevant  affiliates whose audience resonates with your business is a great way to bring targeted traffic to your website.
3. It boosts your ROI and reduces CAC
Running an affiliate program doesn't require upfront investments. Instead, you pay for actual conversions – improving your return on investment (ROI) and decreasing customer acquisition cost (CAC) at the same time. 
While the ultimate goal of an affiliate program is revenue growth, improved ROI and reduced CAC are of particular value to startup SaaS businesses in the early stages of growth when they want to attract new investors.
4. It improves brand awareness
Your program should include placing your company's name, logo, and branding on your affiliates' websites.
This tactic enhances your brand's visibility, increasing the chances that potential customers will notice you. And when they do, they'll be more likely to subscribe because they've learned about you from a trusted source.
5. It's easily scalable
With affiliates delivering leads, there is no need to hire additional sales reps to keep up with the rising demand. Instead, you can simply add more high-quality affiliates and enjoy the results. This way, affiliate marketing lets you start with minimum expenses and then scale up without the fear of spending a fortune.
6. It can boost free trial users
SaaS affiliate programs are popular among marketers and content creators for many reasons. SaaS products with a free trial are extremely attractive as website visitors driven by affiliates are more likely to sign-up if they can try the product for free first. 
Yes, affiliates may not earn a commission until leads convert into paying customers but the chances of being rewarded are higher as converting free users into paying customers is easier than persuading them to pay upfront.
7. It's an effective content marketing tool
Most SaaS solutions don't run out of the box and may require some technical skills to implement. So, potential customers do their best to explore a product before paying for it.
That's where high-quality content comes in handy. SaaS affiliates have an excellent opportunity to show your software in action. They can create content that educates the audience about how your software works to promote their affiliate links effectively.
How to launch an effective SaaS affiliate program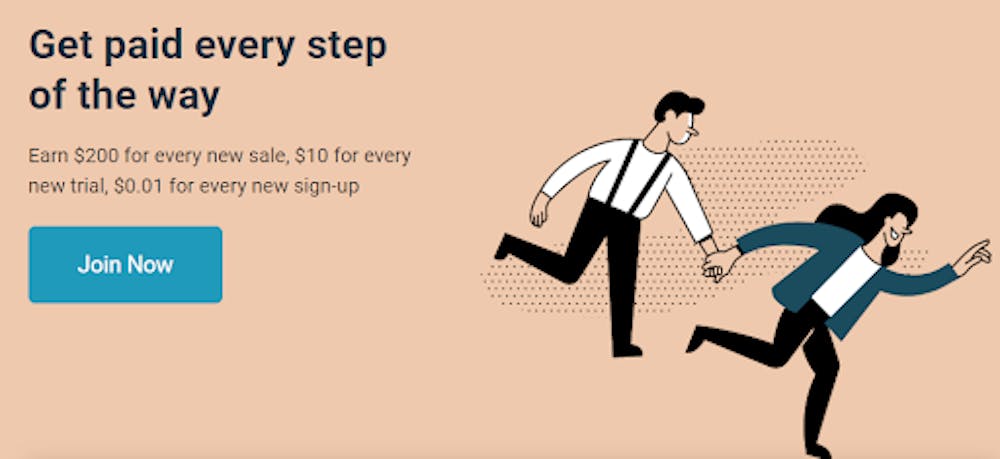 Source: Semrush affiliate program
Here are some best practices to help you set your affiliate program up for success:
Determine affiliate marketing goals and KPIs
Set key performance indicators (KPIs) with tangible goals and metrics to measure your success. KPIs can help you shape your affiliate marketing activities, stay on top of your goals, and optimize your campaigns.
Here are a few examples of KPIs you can measure:
Conversion rate. The percentage of affiliate link clicks resulting in a purchase. Track this metric to compare an individual affiliate's performance and identify your top performers. The metric is also helpful if you want to compare the effectiveness of affiliate marketing to other channels.

The number of sales per affiliate. This metric will reveal your top affiliates and rising stars that may require an individual approach to start shining. 

Affiliate revenue per quarter/year. How much money affiliate marketing earns during a specific period. Sometimes, stuck with dozens of other superfluous metrics, companies overlook this direct indicator of success. 

Return on investment (ROI). You can start tracking ROI only after recouping the initial expenses attributed to your program (commissions, paid promotion, and affiliate tracking software).

The percentage of active affiliates. Find out how many of your registered partners drive leads and sales for your business. 

The number of dormant affiliates. The number of affiliates that aren't actively driving people to your website. This metric will help you accurately segment your publishers and use different tactics for each segment accordingly. 

LTV or CLV (Customer lifetime value). How much revenue a typical customer will bring in during their relationship with your company. Track the LTV of the customers that come from your affiliates to measure the effectiveness of the program.
Choose an affiliate tracking software
Affiliate tracking platforms let you launch, manage, and optimize your own affiliate or referral programs. Most tracking tools are feature-rich and allow fine-tuning affiliate marketing campaigns for any business needs. Due to comprehensive dashboards and real-time statistics, advertisers can easily calculate commissions, track conversions, and store affiliate-related data under one hood.
Things to consider:
Pricing. Evaluate different tools to find the best feature-price ratio. Since most affiliate tracking tools offer various pricing plans, you can easily pick up the one that fits your budget. 

Integrations. If you have no technical skills and want the software to run out of the box, pay attention to the tools that have quick ready-made integrations with your platform.

Features. Create a list of the must-have features you need and ensure the tool you are eyeing provides them. For a SaaS product, you may need software like Tapfiliate to set recurring or lifetime commissions and get in-depth reports on each affiliate segment. 

Сustomer support and onboarding. Choose a tool that offers top-notch support, smooth onboarding, and product training so you can get your program up and running quickly.

Reputation. Use comparison or review sites like TrustPilot and G2 to see what others are saying about their experience with the tool to help inform your decision.
Create your payment structure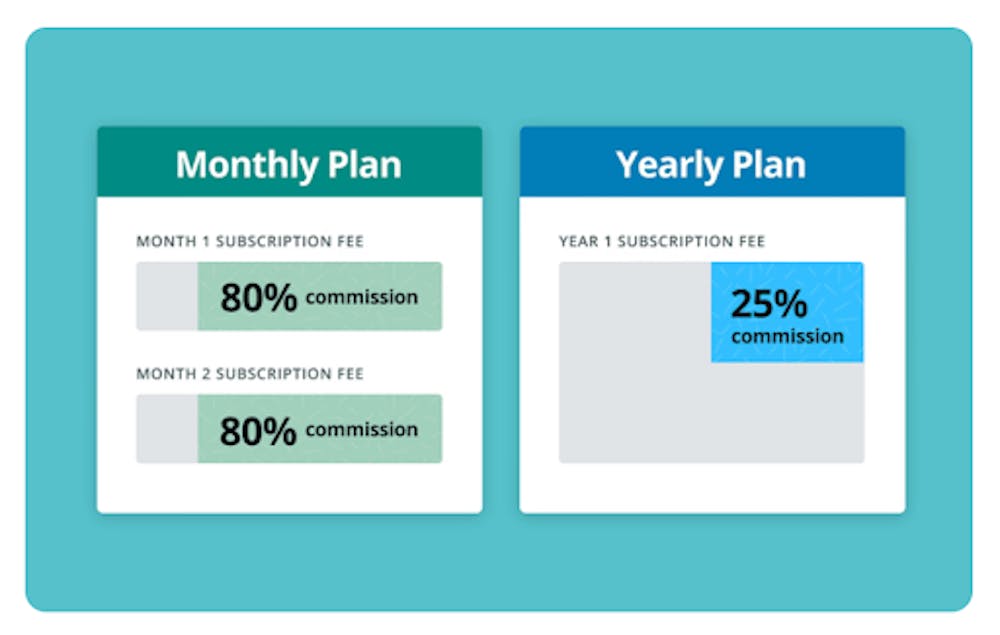 Source: The Canva affiliate starting guide
Before planning a commission structure, examine other affiliate programs in your SaaS niche. This way, you can set a commission attractive to promoters while still sustainable for your company. 
In addition, plan your commissions with room for extra incentives. If you offer the maximum commission at the start, you lose the chance to offer your best performers bonuses in the future. 
There are three main commission types you can choose from:
One-time commissions: A one-time payment for every sale driven by your affiliate. While popular, this may not be the best solution for the SaaS and subscription businesses. For example, you offer a subscription that costs $20/month. It would generate $240 annual recurring revenue (ARR). In contrast, a 15% one-time commission for the first payment will bring your affiliate only $3. 

Lifetime recurring commissions are preferable for SaaS affiliates. Instead of earning commissions only for the first purchase made by referred clients, they get the commission for every subsequent payment. So be it a monthly or annual payment, they get a commission whenever their lead pays. 

Limited recurring commissions specify a frequency cap - to limit the number of conversions attributed to a specific client, or a time cap - to limit the number of days (weeks, months) during which an affiliate is eligible for a commission on a customer's purchases.
Promote your affiliate program and recruit top-notch partners 
Once the program is ready, it's time to let the world know about it: 
Your company website is a great place to advertise your affiliate program. First, make sure you've created an informative landing page where you describe your program rules and commission amount. Detailed information will help you build trust and avoid any possible misunderstandings from the affiliates' side. Then, add the link to your site footer, and promote the program with banners and pop-ups.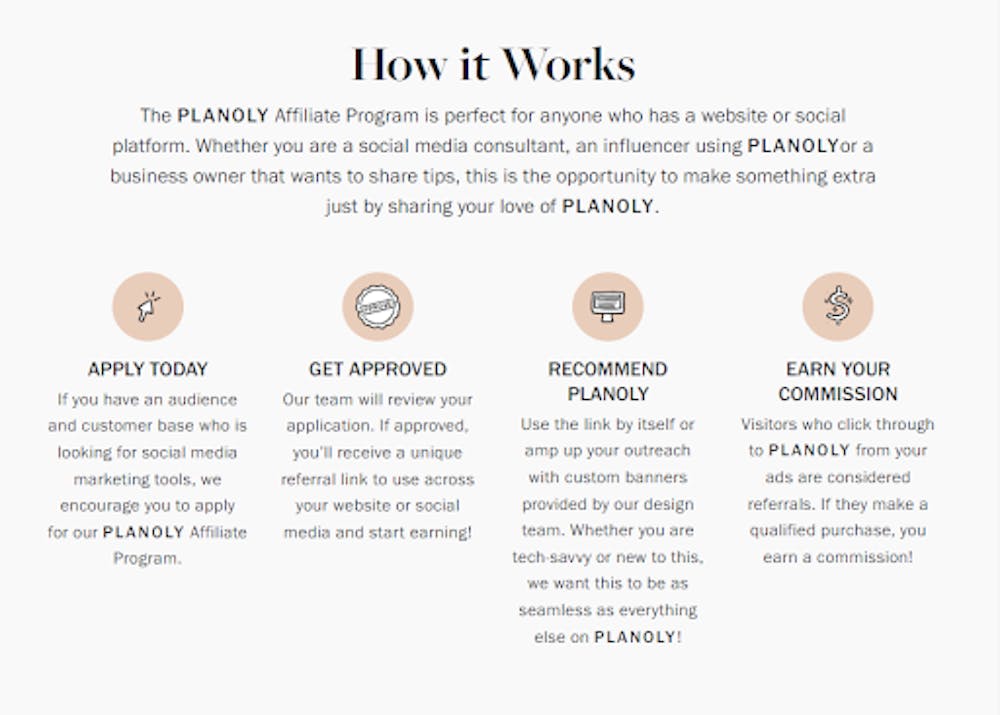 Source: Planoly Affiliate Program
Email marketing is indispensable for reaching out to your existing customers. Add information about your affiliate program to weekly or monthly newsletters, follow-ups, or emails with special offers to turn your loyal clients into brand ambassadors. You can also place the information about your program in your email signature. 

Paid advertising works perfectly for SaaS affiliate programs when you have a budget and know how to do it right. 

Your official social media pages. Feature your program in the company information section and schedule dedicated posts to inform them about commissions and bonuses you offer for promotion.

Reach out to bloggers and industry experts. Research your niche to find the most relevant influencers who will put your product in front of your target audience.
Design marketing assets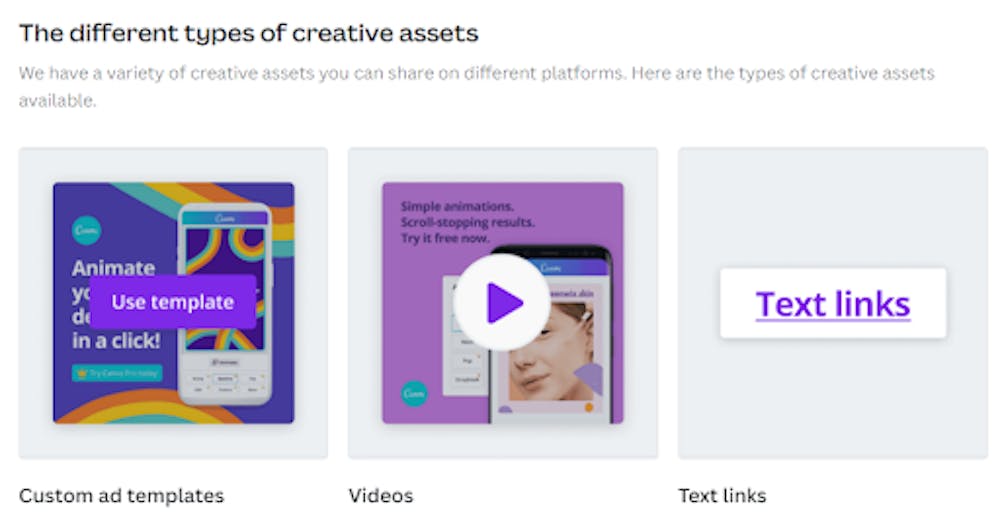 Provide your affiliates with helpful insights and create marketing materials for them:
Banners
Images
Videos
Social media posts
Text links
Also share your branding kit, including the logo, fonts, and any company-related imagery. Share your awards (if any) and reviews to let your partners use them in their promotions.
Educate your affiliates
SaaS solutions can be complicated to promote as they are not physical products and constantly evolve. That's why it's your job to provide your affiliates with necessary educational materials like guides, video tutorials, etc. 
You should also inform them about product updates or major changes to how the software works. This way, they will share the most precise and up-to-date information, avoiding misleading your potential customers.
And, of course, stay in touch with your partners, ready to answer their questions and provide any additional information.
The bottom line
A SaaS affiliate marketing program provides businesses with an additional source of revenue in a low-risk and low-cost way. Used well, it can become one of your most profitable marketing investments. 
Finding the right affiliate tracking software and following the best industry practices outlined in this article will help you get the most out of your affiliate programs and scale your SaaS business more efficiently.