Companies going through an acquisition can build the technology to integrate their products and find new ways of working to accommodate the coming together of two teams. But how do you build or maintain a brand that reflects the business you are today and the one you aim to be in the future?
We've been navigating this process since our acquisition of ProfitWell. While it's an ongoing project, we've made great progress when it comes to determining what our brand means and how we can bring it to life. 
SaaStr Annual and SaaStock Dublin were our first in-person conferences since the pandemic and our first opportunities to showcase our combined brand – and so we went big. 
But why did we do it and why did our CSO Patrick Campbell say "churn" for fifteen minutes at SaaStock?
In this post, we hear from Senior Manager, Field Marketing, Global Events & Experiences Kimberly Wong and Events Manager Leigh Anne Cooke on our approach to events and trade shows – and what it takes to bring these events together in practice.
Creating an experience
Our goal is to be the most helpful brand in SaaS and we use this ambition as a guiding principle for everything we do. 
So, while we strategically measure our return of investment (ROI) and leads generated at events, we also have to show up as a brand and ensure that every touch point takes us a step closer to that goal. 
We do this by thinking of events as experiences, Kim explained:
"Events present a huge opportunity for business growth and building our brand awareness.  We're communicating who we are, and why we exist with a bigger audience. When we kick off planning for an event, we strategically think through our growth plan and what brand experience we want to create and how we can achieve this through content, design, and activations."
Everything from how we develop the booth, to the content we put out, to how we brief the team counts towards creating a cohesive experience that will help build our brand and ensure that people have a positive experience with us.
Exciting activations
While engaging brand activities, our activations form part of our growth plan at events. That means that any activation we implement should support lead and opportunity generation, and ultimately drive revenue. 
At both SaaStock and SaaStr we created a journey for attendees with a series of activations running throughout the event. This created the opportunity for attendees to interact with the Paddle x ProfitWell teams across a number of touch points – allowing the team to have meaningful conversations, scan badges, and arrange follow-ups. 
Here's Leigh Anne talking about our activations at SaaStr.
Seriously good swag
What's a conference without swag? 
Anyone who's attended a trade show has scouted the hall to see what vendors are gifting – and probably came away with a number of pens, plushies, and more tote bags than they'll ever use. 
We view this as an opportunity to stand out. With all of our swag, we aim to create:
Something unique. 
Something that people actually want (and not just because it's free). 
Enter the Paddle Shop. Paddle merchandise that we as Paddlers would want to (and do) wear, and that others want too. 
At SaaStock, our shop was fully stocked with t-shirts with different designs, our latest SaaS report, stickers, and some limited edition hats that directly related to our brand activations.  
The only way for an attendee to get a hat was to wear a Paddle shirt on the second day of the event.
"While it was a risk to ask people to wear our shirts on day two, it paid off in huge dividends.  People came back wanting to continually represent Paddle x ProfitWell and redeem their 'Paddlegonia' hats.   We even spotted a few attendees repping our brand at airport on the way home - what we call "Paddle in the wild". A great result as it meant happy attendees and a bigger Paddle x ProfitWell brand presence not only at the event, but post-event as well."
Consumable content
One of the clearest ways we can be helpful at events is by adding value with content. For us, content at trade shows means a number of things: 
Keynotes and speaker sessions
Printed collateral
Podcasts and fireside chats
Quality conversations
At SaaStock, we went all in on our content proposition. Across Paddle and ProfitWell, we had:
 Four speaker sessions on SaaStock stages.
Ten talks and two workshops with the team and SaaS experts at our own content stage.
A printed copy of our recent, data driven report.
Product one-pagers.
With so much content going out, we worked to make sure that the talks covered different topics that would help attendees run, grow, and understand their businesses more effectively.
As we had more than one speaking opportunity, we also decided to take a risk. 
On the first day, our Chief Strategy Officer took to the stage to deliver a talk titled "Churn, churn, churn, CHURRRN, Churn". Here, we tried something different. Off the back of the viral video in which he said churn 100,000 times, the only word he said for the fifteen minute presentation was "churn". 
It was a calculated risk that we decided to take for a number of reasons: 
Patrick has a following (and is known for being controversial).
Ultimately, the content could still be helpful (check the slides out here)
If people didn't like it, we could learn from it.
If people did like it, it shows affinity with our brand.
Either way, it's a talking point.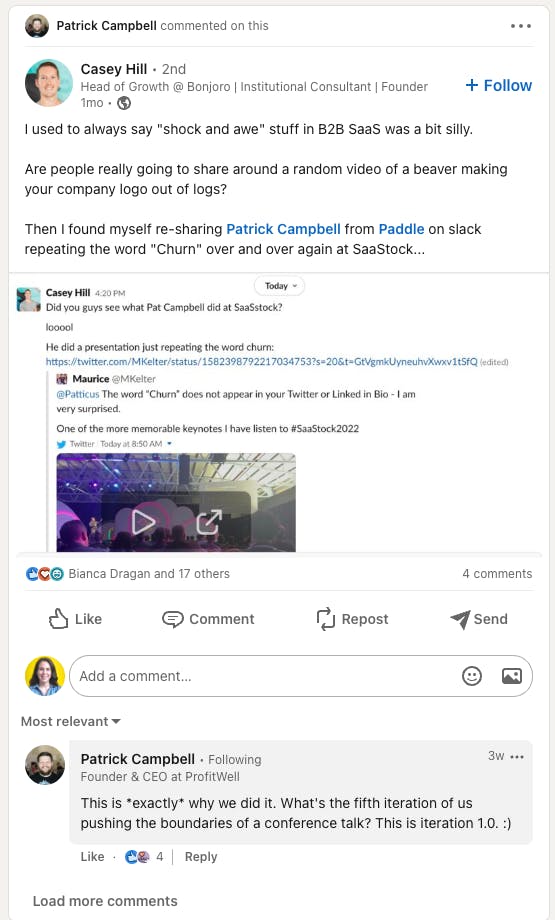 One team, one dream
A lot goes into developing our event experience and bringing that vision to life. None of it would work without the support of the Paddle team – including stakeholders from Marketing, Creative, ExCo, Sales, and more.
You need the team to be completely aligned on event goals, all of the activations, and talk tracks so that any touch points with your team and brand are consistent. 
To achieve this, planning for large events starts months in advance. This gives the creative team enough time to brainstorm and develop their ideas for our event presence. Kim and Leigh Anne also keep the whole company informed about these events, working specifically with sales, customer success, and product teams.
For the on-site team, there's a comms plan that includes:
A "Know before you go" session the week before the event.
A Slack channel for pre and post event comms.
A Whatsapp group for easy communication between the team while we are at the event.
A debrief session after the event to find out what worked, what didn't, and how we can improve next time.
What's next?
Our approach to events is ever-evolving and iterating to be the absolute best we can be - especially as we continue to navigate the acquisition and merger of two brands. 
"We're already looking at our event schedule for next year and thinking of ways we can show up bigger and better than ever," Leigh Anne Cooke, Events Manager. 
"We don't just do events to do events. If we choose to do an event we do it at 110%. We go big or we go home." Kimberly Wong, Senior Manager, Field Marketing, Global Events & Experiences.