Paddle Forward 2023 was stacked with insights, innovations, and in-depth discussions to shape the future of your SaaS operations.
Most importantly, Paddle Forward brought you Paddle Billing, our new set of APIs and features that will help you upgrade your billing capabilities, increase revenue and retain more customers.
We also got a chance to hear from the geniuses who have been hard at work building, refining and preparing the new features that will drive real growth in a tough SaaS landscape.
If you may have missed the event and have FOMO or you're here for a few reminders, here are six things that happened at Paddle Forward.
#1: Growth is harder than before, PLG and efficiency rules all
We know that growth is slower and harder than the zero interest rate environments of a few years ago. But if you dig a little deeper than that, there are a few interesting trends. Thanks to the financial data we can see from about 34 000 software companies in ProfitWell Metrics, we see how growth across the industry is correlated with the different macroeconomic shocks that we've been reading about in the news.
The trends are showing winning revenue from existing customers is proving easier than signing net new customers.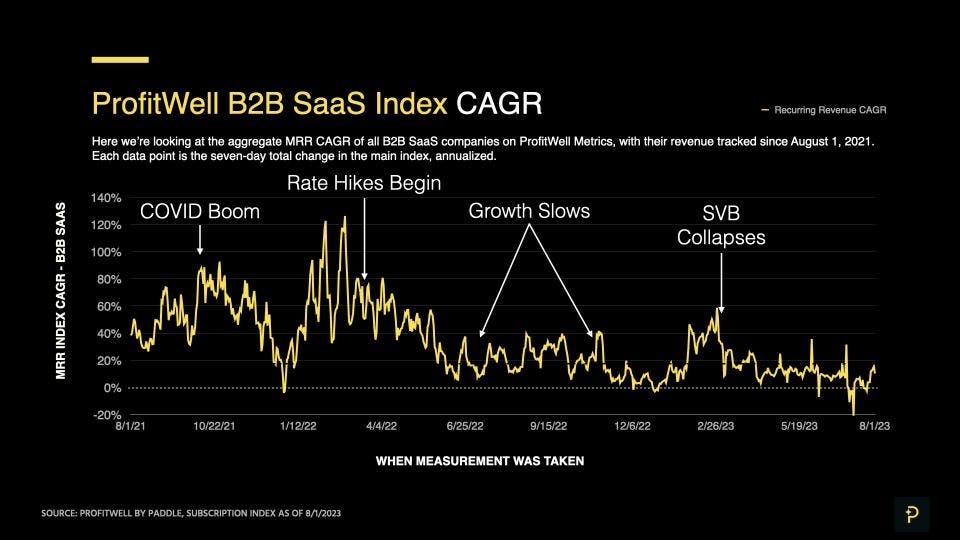 We're seeing that all of that new revenue that is being won is being eroded more than in the past by churn. Churn is now at an all time high since we've been tracking it over eight or nine years - 30 % higher than at its peak in the COVID boom times.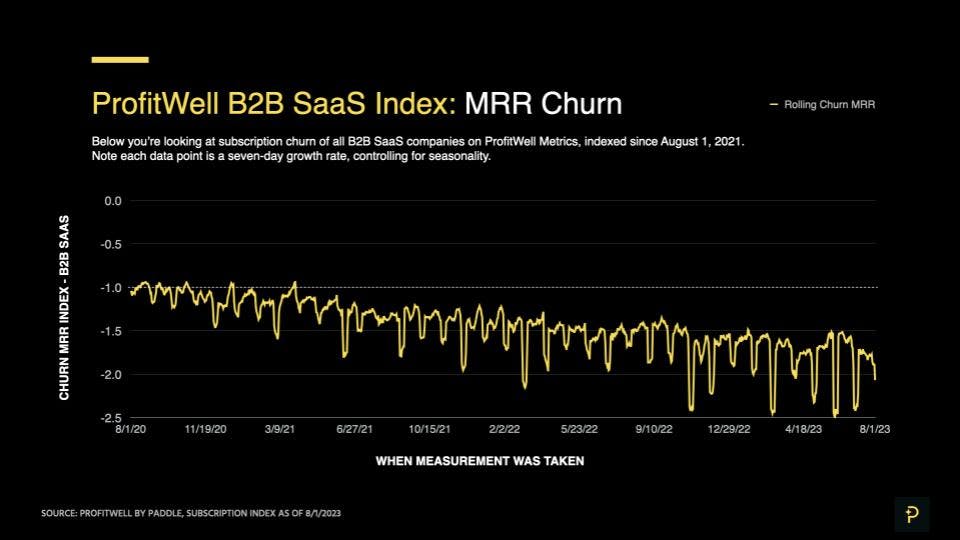 Then there's how you sell. "Try before you buy" and other product-led tactics are table stakes to most customers you sell to. It's no longer just the developer or small businesses interested in these tactics. The product-led approach is used across the spectrum of company sizes and personas that you're selling to.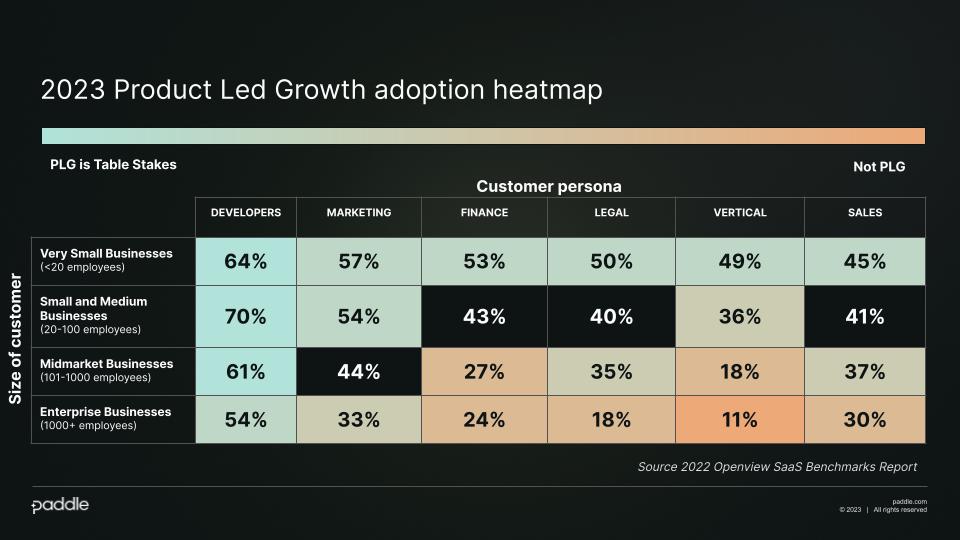 There is a noticeable trend of intense competition in mature economies such as the US, UK, and Northern Europe. Specifically, the costs associated with acquiring customers (CAC) continue to rise. However, there exists a potential for growth in markets beyond these major ones, where CAC has seen less fluctuation.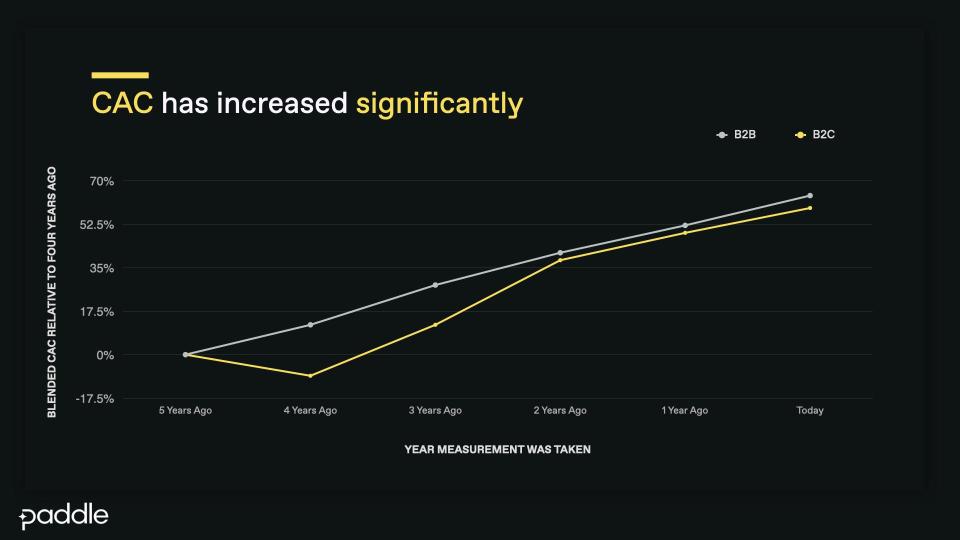 And finally, investors are placing a premium on efficiency and unit economics. Looking at the OpenView SaaS Benchmark's report, during the boom times valuations were correlated heavily or sometimes almost exclusively with the rate of growth of your ARR. But nowadays, efficiency metrics like the Rule of 40 and your CAC payback period are much stronger in their correlation with your valuation.
It's important to grow, but it's really important to grow efficiently.
#2: How to solve for the state of SaaS in 2023
So what are growing SaaS businesses doing about growth in 2023?
Our data shows that faster, growing companies are getting an increased portion of their revenue from existing customers by upselling to larger plans, selling new products, new services or new add-ons. Yup, you guessed it: expansion revenue. This comes at a lower cost and greater growth efficiency.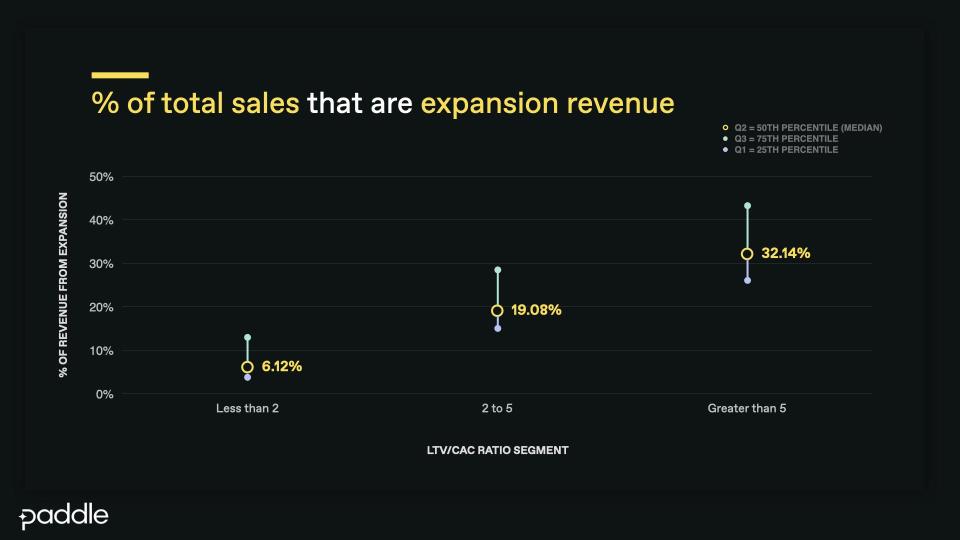 Additionally, OpenView's data reveals a correlation between PLG tactics and enhanced growth efficiency, characterized by a quicker CAC payback period for the business.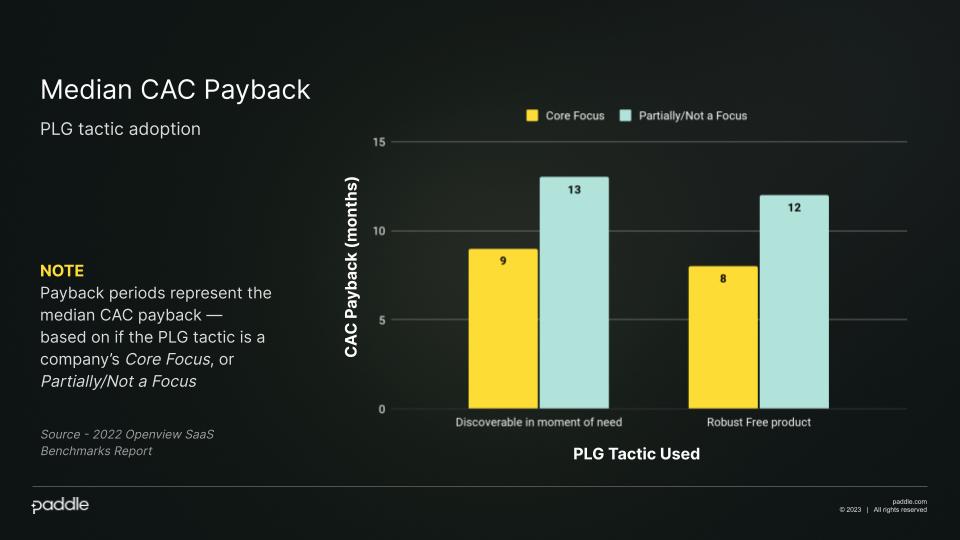 Product-led companies that we are tracking are adding on sales teams in an effort to mature. Some do this early on, but certainly by the time they get to 15 or 20 million of ARR, they will have a sales team on top.
This hybrid motion is happening across every single segment. When you look at the different growth levers that drive fast growth, one thing that stands out is those tracking and using this hybrid strategy.
Ultimately, internationalizing your product and marketing is critical. This includes using multiple payment methods, different pricing models, and adjusting willingness-to-pay by region. As shown by the data, these tactics demonstrate a clear correlation with accelerated growth.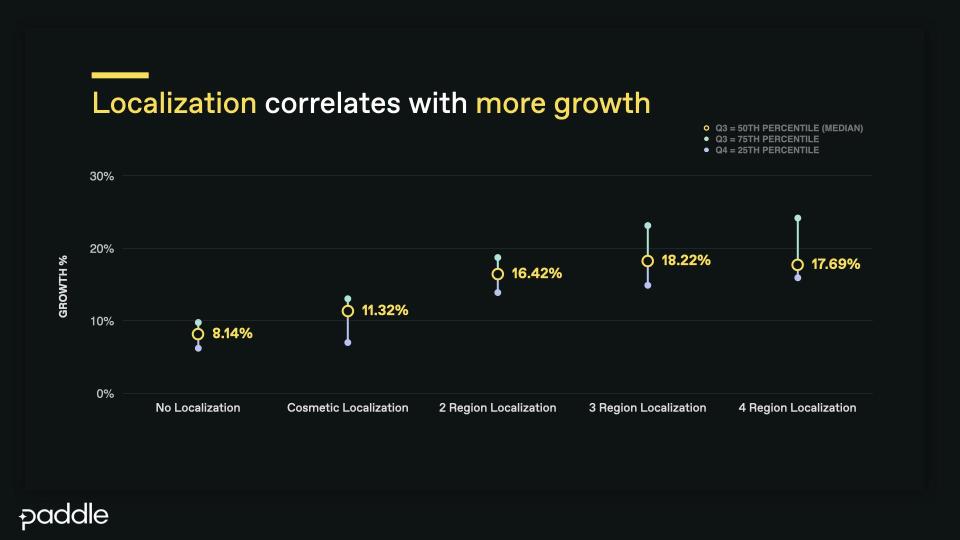 With the state of SaaS in 2023, firmly in our minds, let's get onto some key Paddle Billing updates revealed at Forward.
#3: Redefining Paddle's APIs - Paddle Billing is built for the developer
One of the first things you will notice about Paddle Billing is that the API is more powerful and more flexible than we've had before. Billing is API-first to ensure it's intuitive and simple to integrate with, whilst also being powerful and flexible enough to support the more complex billing models that we see in the SaaS space.
There are more ways to accept and manage payments with less friction, thanks to new webhooks providing real-time payment updates and a single API that integrates seamlessly with your third party systems.
#4: Introducing flexible, SaaS billing
Flexible SaaS billing is crucial for businesses. It increases revenue, improves customer retention, and provides you with a competitive edge. During Paddle Forward, we dived into the latest billing trends we are seeing on the market and how you can facilitate them in Paddle Billing.
Product bundling, feature differentiation, hybrid billing, PLG, and pricing localization, all possible thanks to Paddle Billing's flexible, multi-product subscriptions. Easily set up multi-product subscriptions tailored to your customer's diverse needs.
#5: Seamlessly facilitate sales-led and product-led in one
As we have already seen in the numbers, when you look at the different growth levers that drive fast growth, both PLG and sales-led motions are effective ways to increase revenue per customer and drive growth.
This is why having all of your product-led and sales-led revenue in one place is crucial and it's something that we see a lot of subscription companies struggling with.
Paddle Billing has been developed for seamless hybrid billing, facilitating both billing motions under one roof. You gain a holistic view of your revenue, making it easy to report to stakeholders, enhance cash flow predictability, and identify strategic growth levers.
#6: Hyperlocalization: Boosting revenue with just a few clicks
SaaS is born global and the secret to global expansion is localization. Localization helps you convert free users to paying customers by modifying languages and currencies for customers in each market. But that's only part of the journey.
It's true localization, including market specific variations like regional pricing, that will truly set you apart and help you boost your revenue. In a market where growth can be stagnant, there's an opportunity to make sure that you capture revenue in regions based on what your customers are willing to pay.
This level of hyperlocalization is possible in Paddle Billing, where you can set prices, choose your currencies, and adjust the pricing at a regional level. This strategy helps capture maximum revenue from every customer.
That's all we have time for, folks
But if you turned in for the event right at the end, our founder Christian Owens might have shared the story behind the new Paddle. This is a shameless tease, but it is well worth watching the event back for that juicy info and more insights from our experts. Click here for the recording.