New data shows that SaaS revenue growth continued its historically slow pace in May. Churn worsened, while net new sales came down from a spike in Q1.
This is the latest in our ongoing SaaS market updates, which track the movement of the ProfitWell B2B SaaS Index, and its underlying growth and retention trends. Subscribe to the Paddle newsletter to get these updates in your inbox.
SaaS growth is slow, but still positive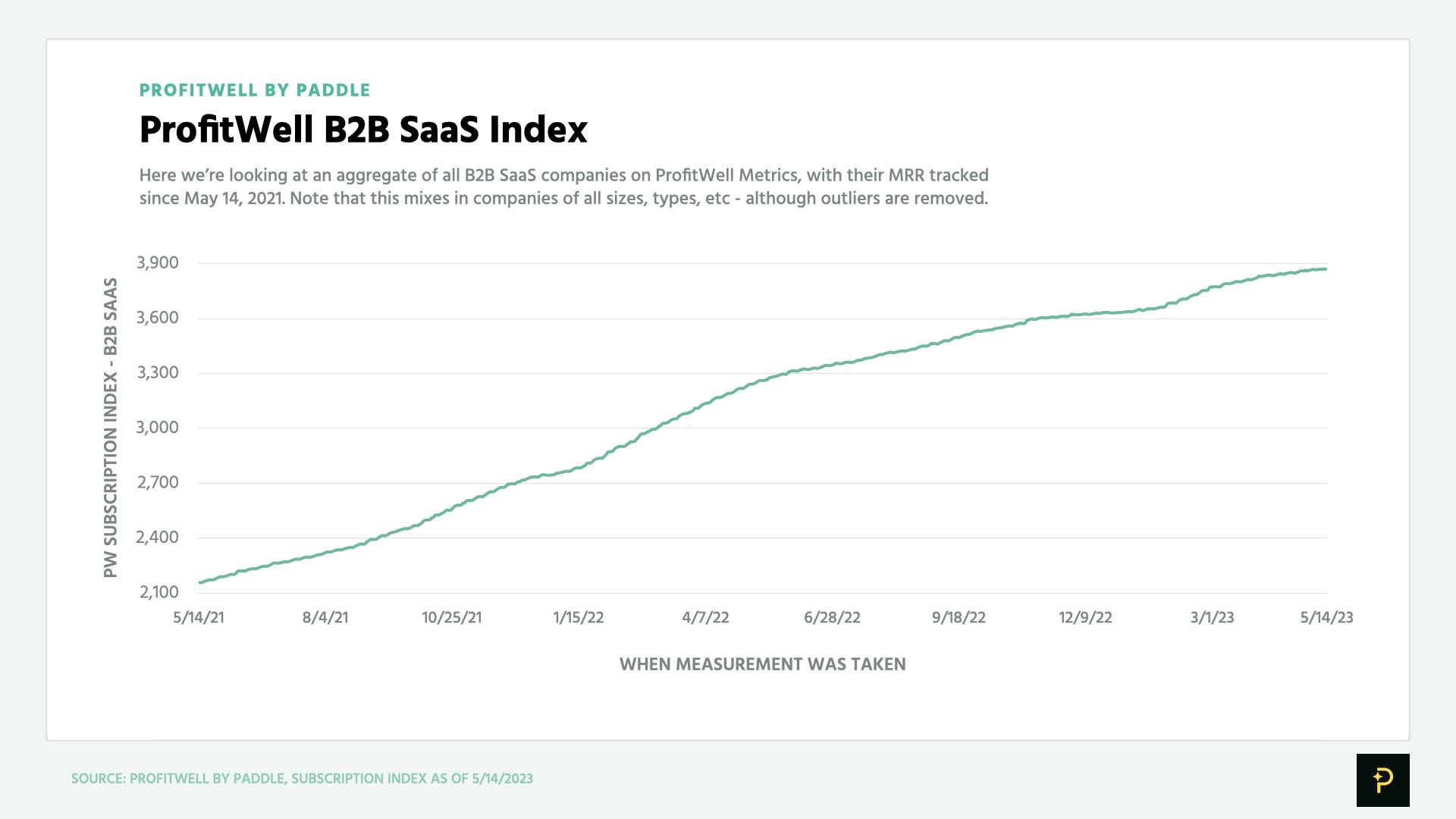 The ProfitWell B2B SaaS Index increased by 10.4% in annualized terms, between our last update on April 22 and May 14. We last reported a growth rate of 9.1%.
The ProfitWell Subscription Indexes collectively aggregate Monthly Recurring Revenue (MRR) data from over 33,600 companies on ProfitWell Metrics, using these to measure the growth (or contraction) of both B2B and B2C products.
Explore the free demo version of ProfitWell Metrics here.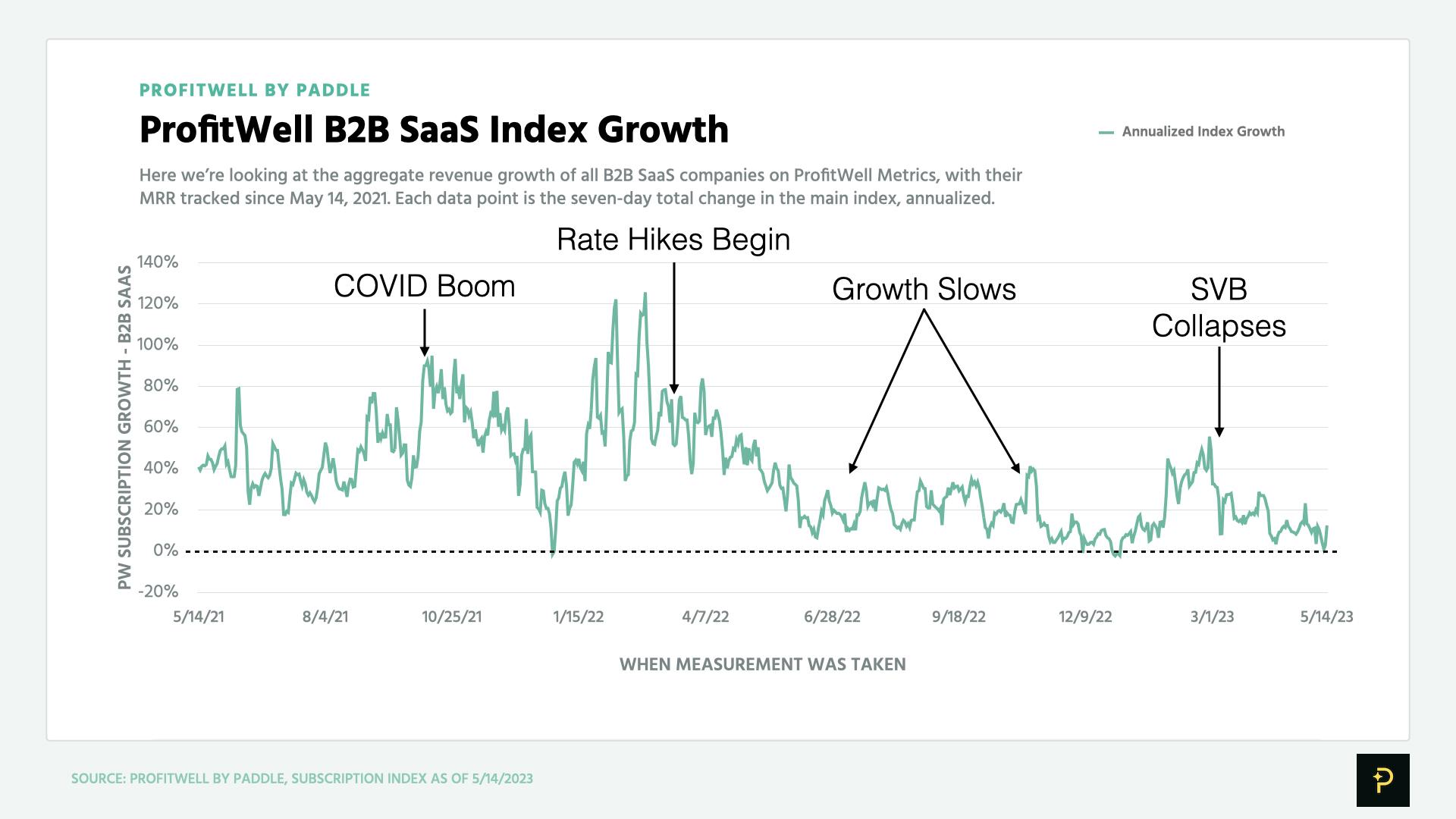 May's slow B2B growth represents a slowdown after a relatively healthy Q1, when the index spiked to an annualized growth rate of 24.5%. This spike likely reflects revenue realized from net new bookings that were closed at the end of 2022.
The B2B market has averaged a growth rate of 19.2% for 2023 so far, including Q1. This is in line with H2 2022, when growth rates averaged 17.0%.
This is largely down to the continuing impact of higher interest rates on SaaS, as well as the ongoing correction in the technology sector. While the collapse of Silicon Valley Bank (SVB) did coincide with a drop in growth rates, it doesn't appear this had much lasting impact beyond these ongoing trends.
Churn accelerates, eating up slower sales
Subscription revenue growth is fundamentally a function of net new sales and plan upgrades, less downgrades and churn. And while new sales have been volatile, the most consistent trend of the post-COVID slowdown has been increasing churn.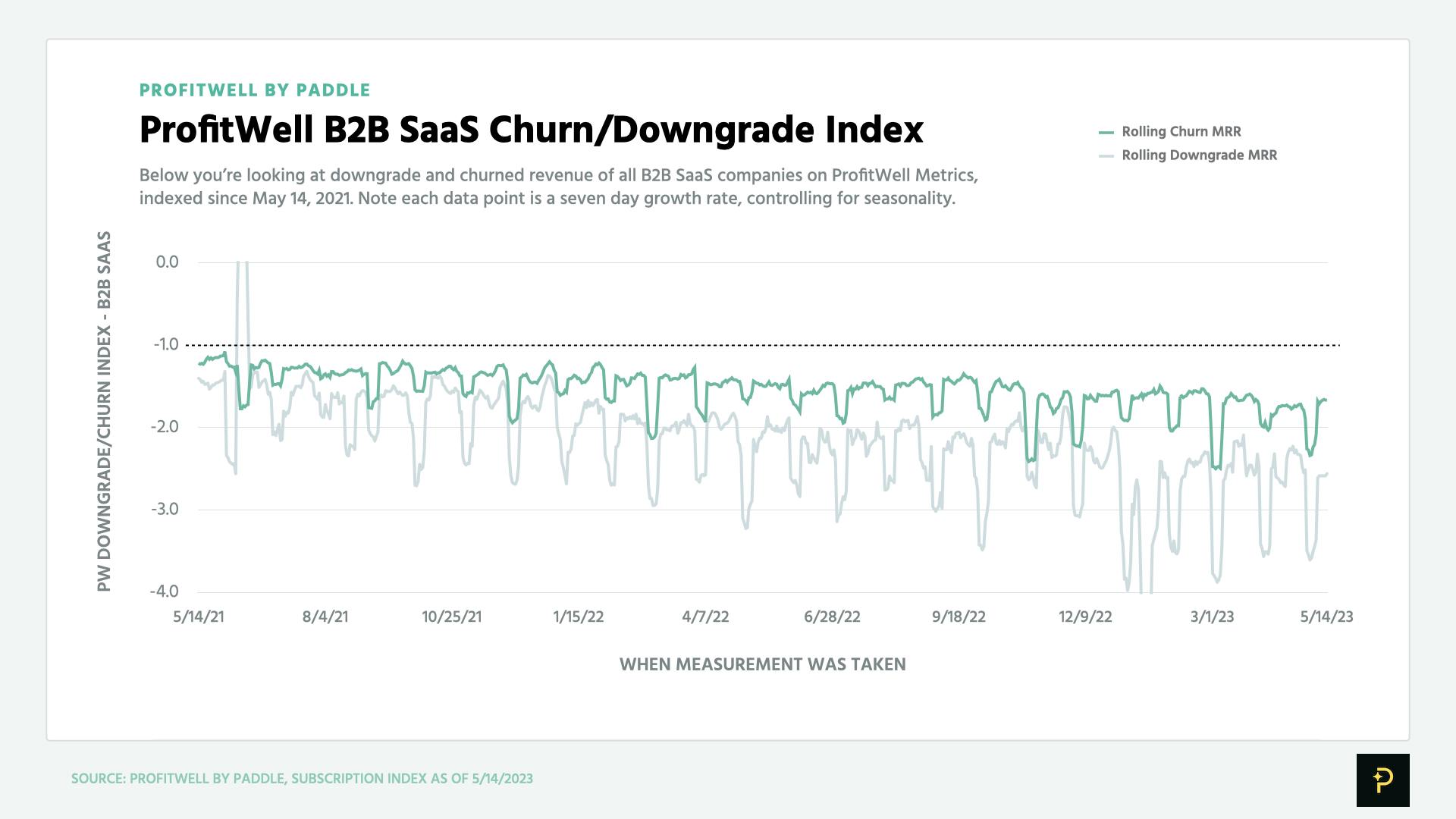 The ProfitWell B2B SaaS Churn Index showed an average reading of about -1.96 in the first half of May. That means churn increased almost 8% compared to April, when the index showed an average reading of -1.82.
For comparison, this is 20.5% higher than the average reading of -1.63 that we saw in H2 2022. These are the the highest churn rates in the history of the SaaS Churn Index, which tracks retention going back to 2019.
The ProfitWell B2B SaaS Churn Index is a seven-day rolling average of MRR lost to churning customers, shown as a multiple of typical daily churn in 2019. As these readings are only a multiple, they reflect directional shifts in the churn seen among SaaS companies, but do not directly show an average churn rate.
ProfitWell Metrics users can view data on aggregate churn rates, by accessing ProfitWell Benchmarks 100% free.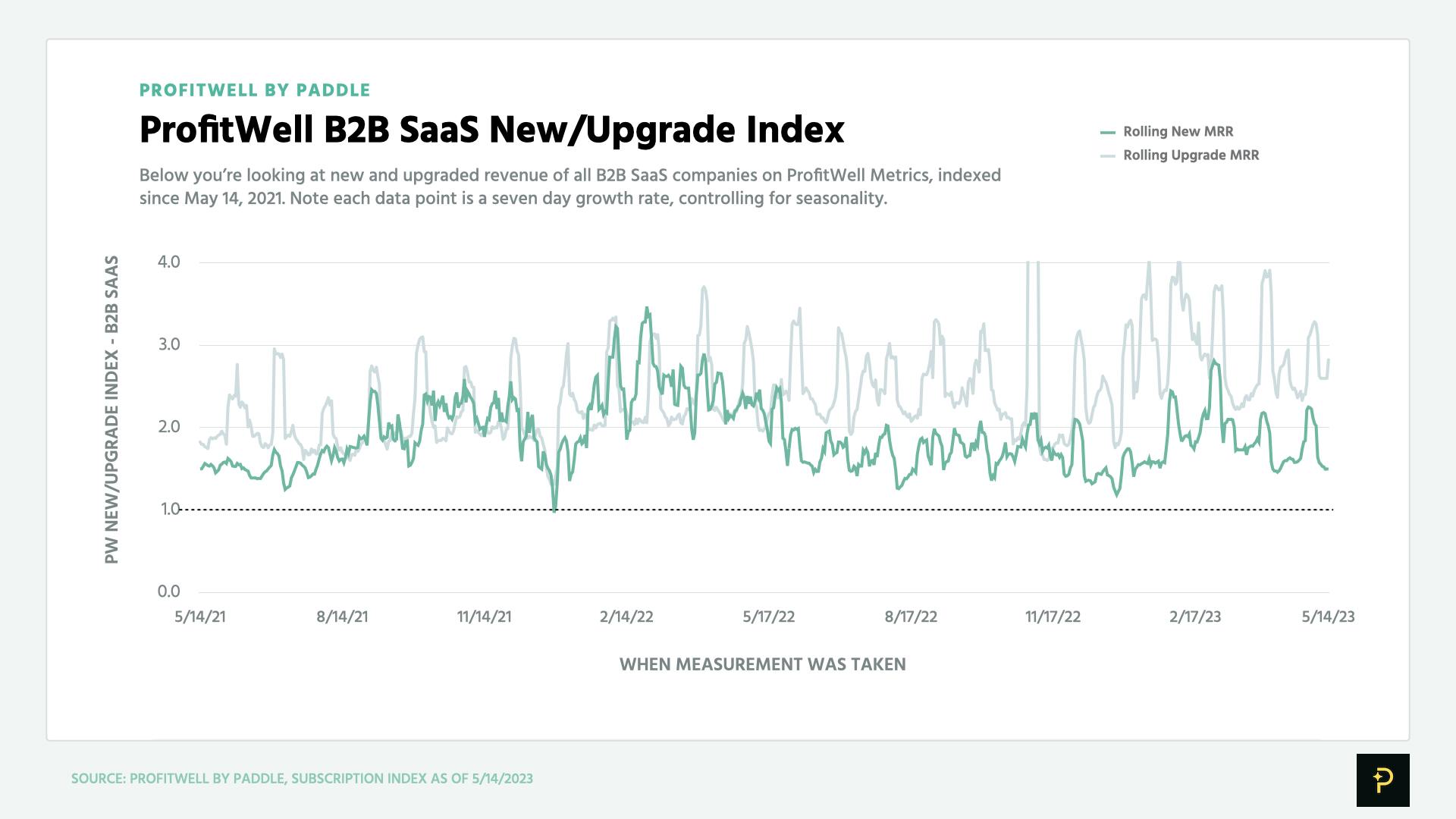 In spite of high churn at the beginning of 2023, strong Q1 sales pushed growth rates as high as 40-50%. That has proven to be a temporary resurgence, as revenue from newly-acquired customers declined to levels seen in September 2022.
The ProfitWell B2B SaaS New Index showed an average reading of 1.80 in the first half of May. This is a 5% increase from its average reading of 1.71 in April 2023.
The ProfitWell B2B SaaS New Index is a seven-day rolling average of MRR from net new sales, expressed as a multiple of typical daily sales in 2019.
High revenue churn will likely continue for at least a year
Higher borrowing costs are clearly being felt throughout the greater economy, and not just SaaS. Still, many economists estimate that interest rate changes take at least 12 months to be felt. And with the Federal Reserve signaling that more rate hikes may come, the current macroeconomic environment is likely to last for longer.
B2B customers are reducing budgets, and will likely continue to do so. But while companies can halt new purchases almost immediately, it takes weeks or months for them to progress through their budgeting processes and begin the work of cost-cutting. By the time revenue data reflects this, the market is already developing momentum.
Products with few stakeholder champions will be the first to go, followed by products perceived to have cheaper alternatives available. Many SaaS companies will seek to poach new customers from competitors — this will appear as new sales growth for those who are successful, but will result in lower revenue for the SaaS sector overall.
Companies will then review operational processes run using multiple systems, and seek to simplify or "de-duplicate" by reducing these to 1-2 systems. Operational costs manifest not just in the cost of purchasing tools, but also in the productivity costs of managing complex tech stacks. Thus, reduced headcounts will lead to end users preferring tools that are less complex to operate.
Particularly aggressive customers will cancel existing payment methods to start afresh, reviewing which expenses to keep (instead of making decisions about what to cancel). They often will habitually bias toward cancelling subscriptions outright, as opposed to remaining customers on lower-priced plans.
What can SaaS businesses do right now?
You should define and implement a customer retention strategy if you haven't already.
The most important first step is to define retention metrics, set measurable and specific goals, and assign a stakeholder to own those goals. If no one on your team is in charge of improving retention every day, then you haven't really prioritized it.
Then implement retention tactics to make progress on "low-hanging fruit":
Track engagement of individual users, reaching out to provide enablement or support to those at-risk of churning.
Give salvage offers to customers seeking to cancel, getting them to pause or move to a lower-price plan instead of leaving outright.
Set up processes to recover failed payments from delinquent customers.
While that's happening, refresh your pricing to align with customer value. If the cost of your product doesn't reflect the value of keeping it, then you'll see more churn over the long run. Even if you've already done this before, it's possible that willingness-to-pay has shifted in your market — you'll need to collect fresh data to verify this.
If all of this sounds daunting, your financial processes might be too complex for you to get meaningful insights, or to cleanly implement operational improvements. Paddle can help by simplifying your payments infrastructure at every stage, so you can focus on building and marketing your product — here's how.
In the midst of increasing uncertainty in SaaS, we'll be publishing monthly updates on the ProfitWell Subscription Index to show you where the market's headed — and help you form strategies to respond.
Missed our previous market update from May 2023? Read it here.
Subscribe below, and be the first to receive the next SaaS market update.