SaaS marketing is different from other types of businesses. Products are more long term, relationship-based, and complex. Here we explore what that means, plus five strategies to explore.
It's hard enough to come up with an idea for selling a product when it's something that everyone likes—how long do you think Nike spent coming up with "Just do it"?

For SaaS marketing professionals, it can seem like climbing Mount Everest would be more straightforward. You're working in a field where the presence of new companies is constantly expanding. It's also a field where most of your savviest competitors are likely to be literally giving their product away for free, where all of your would-be buyers are experts in their field, and impulse purchases don't exist.

But with the complexity of SaaS products comes an unlimited number of marketing possibilities. Once you've grasped how SaaS marketing is different, there are a host of strategic possibilities you can use to help your product stand out from competitors.
What is SaaS marketing?
SaaS marketing is strategic promotion for software-as-a-service (SaaS) companies. Owing to differences in customer bases, product complexity, and price strategy, SaaS marketing is fundamentally different from promoting physical products. Because this form of marketing is unique, SaaS marketers can call upon a variety of different strategies.
How does SaaS marketing differ from other types of business?
The SaaS business model is inherently different from other types of business — so it follows that marketing for SaaS requires a different approach. Here are all the ways in which SaaS, and promoting SaaS products, differs from the marketing norm.
Customer base
First of all, the customer base for SaaS is fundamentally different from businesses that sell tangible products in one-time transactions. While there are a number of business-to-customer (B2C) SaaS products, many of them are business-to-business (B2B). Therefore, marketing efforts will often focus on B2B communications.

In regular B2C marketing, you can target a broader group of potential customers without having to account too much for who, exactly, you're speaking to, or for their expertise level relative to your product and field. In SaaS marketing, on the other hand, strategy needs to be tailored specifically to decision-maker(s) within your target business—for example, the HR business partner for enterprise organizations.

The average SaaS marketing prospect will also have considerably greater subject expertise than their B2C counterpart, and you'll need to adapt your approach accordingly. There's less dependence on social proof in most SaaS marketing (though it becomes highly valuable again during the sales phase), and you may find yourself targeting specific employees at your prospect company with your marketing.
Complexity of products
SaaS marketing requires defining a complex product in a simple and easy-to-understand message. Again, this highlights the difference between B2C and B2B products.

For example, selling chocolate is easy. It is delicious and is a simple way to enjoy a moment. But selling, for example, B2B pricing software? That's a little more difficult. It represents a significant long-term investment for your prospect, onboarding is likely more complex, and the benefits are more challenging to define in a simple way.

The sales cycle for selling SaaS products, particularly when they're B2B, is also considerably longer as a result of this complexity. Almost three-quarters (74.6%) of new customer sales in B2B businesses have sales cycles of at least three months, and the same goes roughly for SaaS products. Your prospects will do their homework to evaluate your software against competitors to find out which product best suits their needs and addresses their unique pain points.
As a result, you'll often find yourself building a SaaS marketing plan with multiple parts to address the different stages of the sales funnel: social media for the early stages, buying guides and high-quality content for the discovery phase, and glossy demos for the later stages.
Price strategy
SaaS products often operate in tiers, so pricing strategies need to be far more widespread and segmented. Pricing strategy falls under SaaS marketing because it concerns finding the most competitive price for your product.

However, if you're any SaaS company worth your salt, you'll be offering more than a single pricing point for your product. You might have, for example, a few different buyer personas across a few different fields, like Hubstaff, which counts legal firms and construction companies among its customer base for its time-management software. Not all of these companies want the same set of products, and not all of them want to spend the same amount. So, Hubstaff offered this series of pricing options.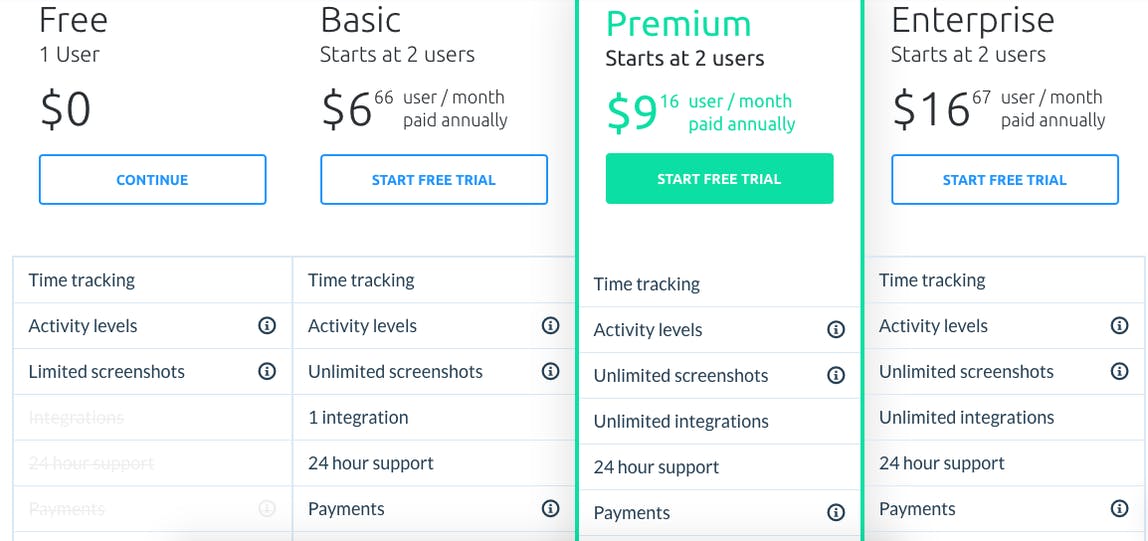 B2B pricing strategy is a crucial aspect of SaaS marketing because of the way the value of each product feature interacts with a would-be customer's willingness to pay. For example, if you're including the same features in your paid options that your competitors are giving away for free, that sets you at a disadvantage. If other companies can get away with including these features for free, they're probably low-value items and will work best as makeweights when selling higher-value features.

Pricing features against their real value can also make it seem like you understand less about your buyers' pain points and their willingness to pay than your competitor does.
5 SaaS marketing strategies that work
Now that we know what to consider when building a SaaS marketing strategy, we can begin to explore our options.
Opt for Freemium
Freemium, or offering some of your software features to prospects for free, is one of the most road-tested and time-honored acquisition models SaaS companies use to get customers on board. Whether or not your SaaS business is primarily B2B or B2C, offering some of your services under the freemium model is key to combatting the skyrocketing cost of customer acquisition (CAC) in SaaS.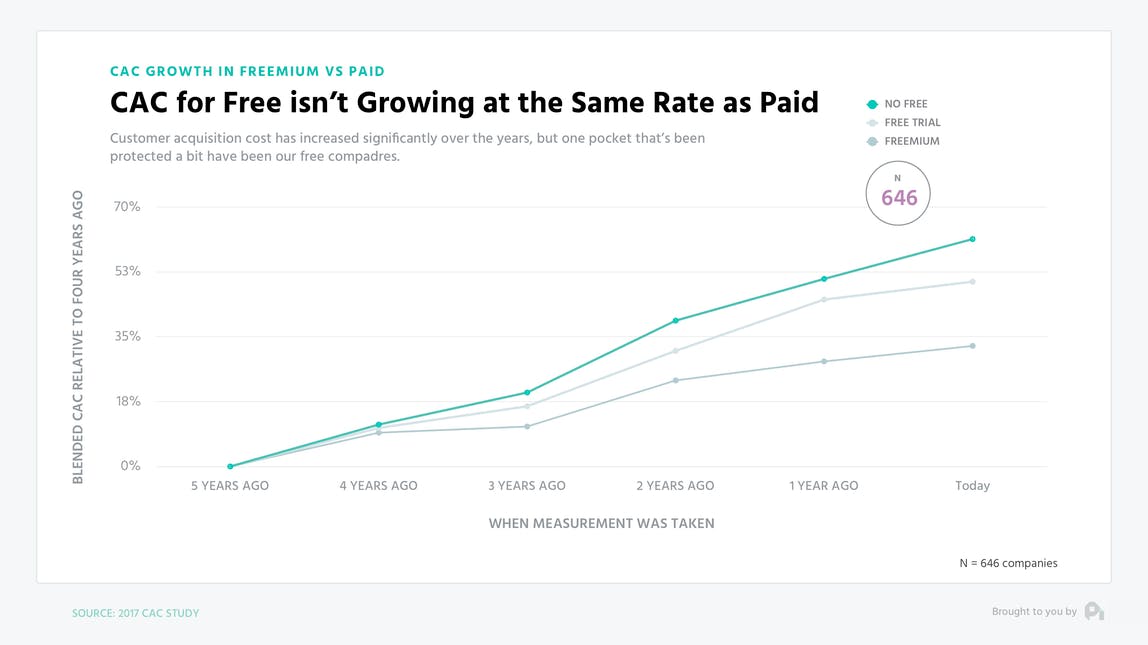 As we can see here, companies that offer only paid pricing or a free trial have seen their CAC rise exponentially since 2014. Those that converted to a freemium plan, on the other hand, have avoided such a steep rise. As the chart shows, these companies also have a nearly 20% better net retention on an absolute basis than their non-free counterparts.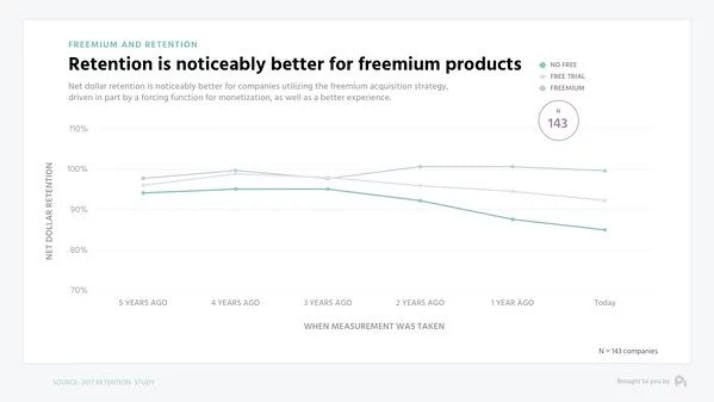 Freemium is not a pricing strategy — it's only a means to acquire more customers, on whom you can then focus your upselling efforts. Whatever form you use it in, a freemium option is worth considering as part of any SaaS marketing strategy.
Double down on referrals
Try to make your customers part of your marketing department. Get your current customers to tell their friends about how much they love your software through a referral program. Better yet, allow your current customers to send demo invitations to those that may need it. Approximately 30% of companies have a formalized referral program, but the benefits can be huge.

Referral of a SaaS product from a friend makes it four times more likely that someone will make a purchase, and their lifetime value following referral can be 16% higher. A rewards points model, discounted bills, joining bonuses — all of these tactics are effective.
Create sources of information with content marketing
Content marketing is another thing that should be a mainstay of almost any SaaS marketing plan. In a space where you're trying to keep pace with the existing expertise of your would-be buyers, and where the volume of web traffic you attract can be the difference between staying competitive in the market and floundering, great content answers both calls. Furnish your website with plenty of useful information that proves your company knows its space and its customers' needs, and optimize your content for SEO so your blog and landing pages appear at the top of Google SERP results (and other search engines). Useful content also brings more people into contact with your product.

Content is all the more powerful if you work in a niche market. Here's a case study: let's say a SaaS startup helps investment-property owners manage their properties. A great way to reach more of those owners would be to produce content tailored to their needs, like "X Ways to Get Rent from Tenants." When someone comes across the article, they're introduced to the product and might be convinced to give it a try. More ambitious content is even more effective at improving your conversion rate.
Get social
Among the variety of vital marketing tools SaaS marketers use, the likes of TweetDeck, Discoverly, and HootSuite must be among the most indispensable. That's because of how squarely important a social media strategy is to SaaS marketing.

If SaaS marketing is about convincing prospects of the value of long-term investments, then creating a social media presence for your SaaS company is one of the best investments you can make for your own business (especially on LinkedIn, where much of the business community is active). Social marketing helps companies target specific buyer personas, is compatible with mediums from article content to viral videos, and helps with lead generation (and ultimately conversions). Just make sure that your social marketing strategy is coordinated with other channels like email marketing.

Moreover, social marketing has considerable added value as a data bank for your company. You can track mentions, shares, and other engagement from different market segments. You can also find out in real time just what people think of your product and whether or not you're reaching them the way that you want to.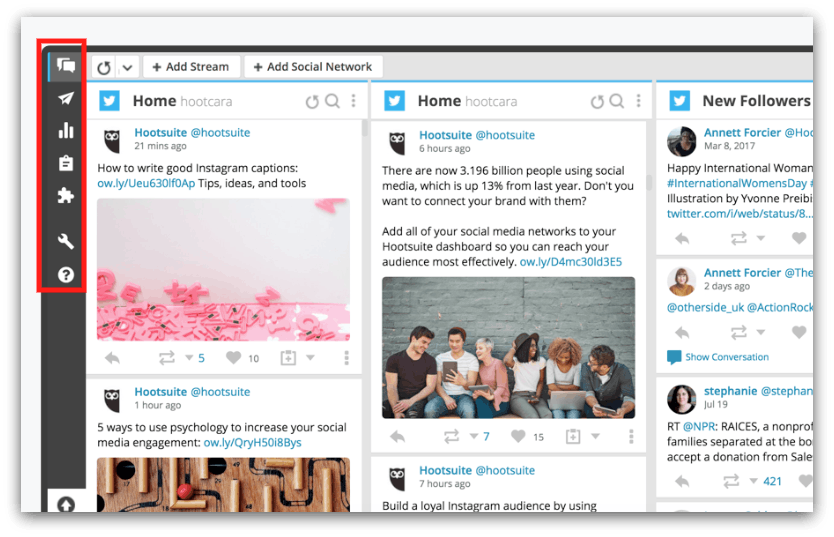 Focus on benefits
It's a truism that's as useful for SaaS sales professionals as it is for SaaS marketers: When you're selling your product to its target audience, don't focus on the product. Focus on how your product will improve prospects' businesses and, by extension, their lives.

Capturing the imagination of influential, extremely busy people who are in a position to buy your product for their company is most of the battle for SaaS marketing teams. It's quite often the case that your buyers will not even be the ones actually using your product. As a result, focusing on the bigger picture and showing off how your product will change your target's business tends to yield better results and more subscribers than hammering home its technical pedigree.

So, when you design ads for your service, sell the dream, not your extraordinary network architecture. For the hypothetical investment-property business we mentioned earlier, it might go something like: We help you get tenants, repair your home, and raise your home's value. For a company that uses social media to drive up engagement with other properties (*cough* Snapchat), it might be: It's 3x more likely that one of our users who saw the ad watched the movie.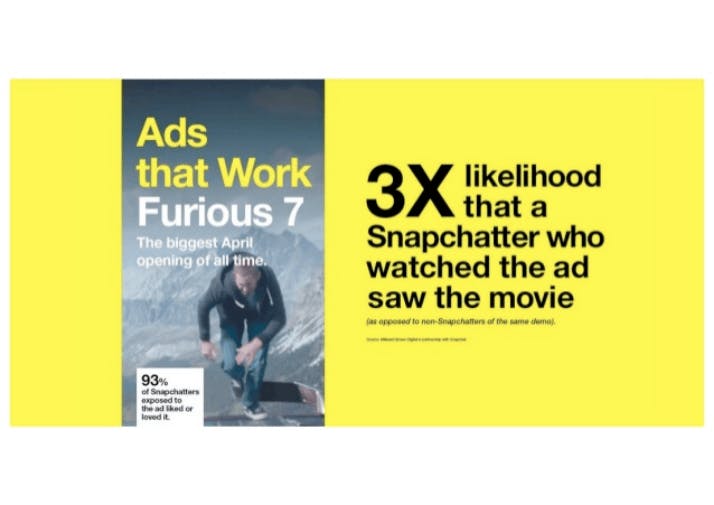 Source: Cirrus Insight

Showing off how your services translate to benefits is the quickest way to a decision-maker's heart — and SaaS marketing that shows off that end result is bound to draw in the ones you're targeting.
Combining your metrics with your marketing campaigns
Of course, there's no marketing campaign more optimized than one that makes full use of the various performance metrics available to your company.

However, you might give your marketers a heart attack if you request that they combine their well-crafted SaaS marketing plan with a plethora of spreadsheet data. Figuring out how to use your customer metrics to segment and market more efficiently requires time and expertise — getting it done is almost impossible without the right tools.

Thankfully, the right tools are out there. Tools like Segment can show you where your customer growth is coming from, which segments are bringing you the most dividends, and which ones need a rethink.  Your CMS (Hubspot, WordPress, etc.) and CRM also produces useful analytics on your content and marketing campaigns.By taking metrics into account when building digital marketing campaigns, you can make more direct appeals toward territories that make up a bigger portion of your MRR and target new personas that will help you meet growth targets (and even reduce churn in the long-run).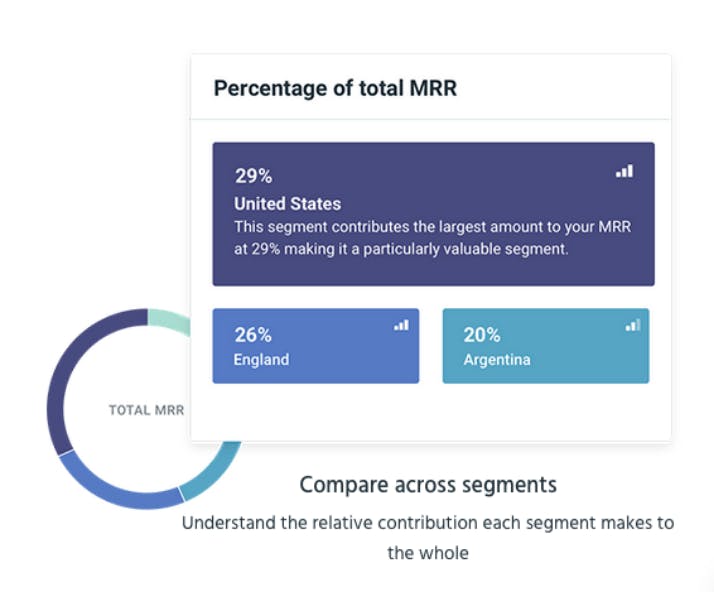 Even a theoretically perfect SaaS marketing strategy is only as good as its targeting; make sure you're getting the best out of yours.
Moving forward with your own SaaS marketing strategy
Once you understand the lay of the land in SaaS marketing, it can suddenly seem like a marketer's paradise — there are so many avenues to explore, so many different types of content that can serve a SaaS marketing strategy well, that the possible combinations are almost endless. .

The key to building a strategy that helps differentiate your product is to just, well, do it. Once you've got a host of helpful tools built into your tech stack, it's a matter of trying different approaches and using your customer metrics to figure out what works. Marketing automation is another powerful lever of growth: find processes you can automate to save your team time and scale your efforts. Stack your site with content; set your company's stall out on Instagram; commission a web series where your cofounders dress up like astronauts to talk about the state of competition in your market area.