Let's say you workout everyday. You take pride in your routine—two days a week on leg training, one day on biceps/triceps, one day isolating your back, another day toning your shoulders, and resting on the remaining days. That sounds like a great routine, and I'm sure you're very strong, but you're missing something crucial: your core.
Many people neglect building their core, assuming it'll happen along the way. But your core is your foundation, and having a strong core increases your ability to strengthen all other muscles. It needs dedicated focus and priority.
Your core is a lot like pricing in SaaS companies. People make the common mistake of not spending enough time on it. Like your core, pricing is a wildly untapped growth lever. It's the center of your business. 
To end our analogy—creating a lean core could mean you hire a professional trainer to obtain better results. Building a strong pricing strategy starts with hiring a professional team to conduct a pricing audit.
What is a pricing audit?
A pricing audit assesses your subscription business' pricing process to ensure consistency across similar accounts, maximize profitability, and benchmark against other companies. A pricing audit is an examination of your company's pricing capabilities versus industry best practices. Conducting a pricing audit will not only make your company more competitive, but you'll also be less likely to spark a price war with other companies. 
The main factors in a pricing audit 
Conducting a pricing audit goes through five factors—acquisition, monetization, retention, pricing strategy, and discounts. A pricing audit requires self-reflection. You'll have to reflect and admit where you can improve, which is often times the hardest part. 
Acquisition
The first thing a pricing audit will examine is customer acquisition, which is the process of gaining new customers and perhaps the most literal way to grow your customer base. Remember, acquired customers can still churn at any point. Customer acquisition proves to be more challenging and more expensive as your customer base grows and the untapped market shrinks. 
Monetization
Next is monetization. What does your revenue look like? What are your long-term goals? A pricing audit will help set the metrics you are driving your growth toward—lifetime value (LTV), the average rate per user (ARPU), conversion percent, and payback period. This is where you decide what matters to you. 
Retention 
A pricing audit will look at how you're retaining customers, why they're staying, why your customers are churning, and if you're missing core functionality. 
Pricing strategy
Then we can determine a pricing strategy that works best for you after examining how you previously set up your pricing. Are your tiers set up for monetization or acquisition? For example, do you want features wants in too high of a pricing tier that you then have to overly discount? These are key questions when determining the perfect pricing strategy. 
Discounts
Finally, a pricing audit will reflect on the current discounts you offer and if you should be offering better discount incentives. Discounting is a huge topic of interest in the subscription world and unnecessary discounts can have a negative impact on your business. If you're seeing high churn at renewal, it could be because of over-aggressive acquisition discounting. For a more in-depth look, read my previous article on discounting.
Why a pricing audit is essential for business
You put a lot of time and energy into building a great product. Conducting a pricing audit will maximize revenue and guarantee the best return on your hard work. 
Consistency in pricing
Running a pricing audit will create consistency in your company's pricing structure. Managers should have well-founded price control principles to refer to. 
Maximizing profitability
A pricing audit will also reveal the aspects of your business that impact pricing performance, giving you a greater understanding of your service. Then, based on the revelations, you can identify new pricing opportunities, thus maximizing profitability. 
Measuring prices and being more competitive 
Conducting a pricing audit means you don't have to worry about what your competitor's prices are. You can rely on value-based pricing to deliver products and services to different market segments. 
Planning and prioritizing
Strategizing your pricing can help you execute a short and long-term roadmap to boost growth and profitability. You can stop guessing and plan for the future. 
How to perform a pricing audit in 3 steps
A pricing audit is performed in only three steps. In these three steps, you'll align pricing with your goals, review current strategies, and identify potential weaknesses. 
1. Define organizational goals and objectives
Put together a 'pricing committee" comprised of members from sales, finance, product, marketing, and a coordinator who's the driver of your research and strategy. This committee will define the goals and objectives you are seeking from your pricing strategy. 
2. Review current pricing strategies
Review current pricing packages, incentives, customer segmentation, competitive landscape, product bundling, and tied selling. You'll assess all areas within the company impacted by pricing by interviewing different teams, reviewing across distribution channels, benchmarking against the competition, and analyzing historical data. 
3. Identify weaknesses and opportunities
Finally, identify your weaknesses and then strategize to strengthen them. A pricing audit will reveal where you're falling short so you can work to grow that area.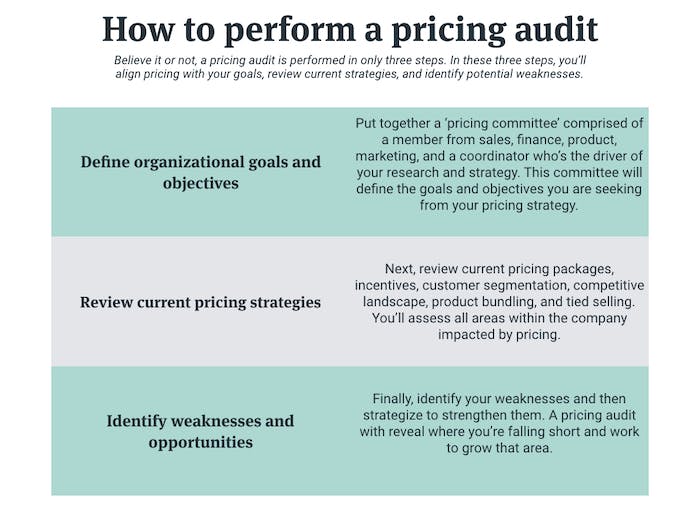 Paddle's Price Intelligently (PI) team can do it for you
Pricing is our thing. We have the tools that take the stress out of strategizing your pricing. We offer a free pricing audit because we don't want to make money until you make money. 
Data collection
Finding your target customers is the first step. We'll collect and compare data to find this customer base.
Value quantification
Powerful algorithms and pricing data with PI's software help you identify what matters to who. We want to ensure we're putting data behind what we're highlighting to different audiences and buyers. Operations usually care about something totally different than marketing or sales when looking for a product. 
Expertise
Choosing Paddle's Price Intelligently team means you're working with the best subscription and pricing economists in the world. We work hard to perfect your pricing plan because, well, it's what we do.
Ongoing value analysis
Perfecting pricing doesn't end once the audit is done. You need to continuously provide value for your customers. Change your pricing when it feels right, but also know when to grow with your market. If you are consistently adding value for your customers, then you should be evaluating monetization at that pace. Meaning, not only changing pricing, but making sure the features that are released are being placed in the tier that reflects what customers are willing to pay for them. 
Get more than just an audit
We do more than just audit—we combine pricing data and industry-leading expertise to accelerate your subscription growth. Our software and methodology is a powerful pairing of our proprietary algorithms and market panel working in conjunction with our team of subscription and pricing economists. 
Pricing and packaging
Ah, yes. The bread and butter of your pricing strategy—understanding how you should differentiate and price your features and plans. 
Localizing your pricing brings a lift of 11-18%. At Paddle, we make sure you know how to capture extra growth while maintaining customer satisfaction.
Personas and market mapping
We're more than just a software. Our group of subscription economics work with you and are on call for subscription growth questions. We look at buyer personas, which are research-based representations of your ideal customers. They are fictional and generalized to describe the "types" of customers that find value in your product but based on market research from your current customers. 
Data driven roadmaps
With Price Intelligently, you'll always know exactly which features appease which segments, as well as which features will drive the most willingness to pay, or retention. 
Examples of who we've helped and how
We've helped thousands of companies maximize revenue by adjusting their pricing. Let's take a look at some of the scenarios we were handed. 
Help Scout
First, let's take a look at Help Scout, a help desk software launched in 2011. "Customer research is the foundation of everything that we do. We really want to ground all of our assumptions in customer research and customer feedback. Or else, the company wouldn't be able to make a great product," says Nick Francis, CEO and founder.
While I appreciate this sentiment, Francis and his team made the all too common mistake—perfecting the product development and customer research process and forgot about pricing. That's where Price Intelligently (PI) came in. PI provided data and insights on Help Scout's current pricing structure, annual payments, and grandfathering system. 

"Putting numbers behind what features would matter to potential buyers helped us select the right things to work on and gave us a level of confidence that we otherwise wouldn't have had."
The pricing audit helped Help Scout identify features that could trigger pricing upgrades, as well as develop a new pricing plan while enhancing an existing one. Help Scout has since seen revenue improvements, more customers upmarket, and has enabled existing customers more opportunity to grow within the company. 
Wistia
Now, let's take a look at how Wistia (a video-software company) doubled their sales and made their customers happier. 
The Wista team has a clear understanding of who their customers are:
"The person who's a Wistia customer is the person who wants to understand what's actually happening with their videos—who is watching, how they're watching, what they're watching, what they're skipping," says Wistia CEO and co-founder, Chris Savage.
Savage says he realizes that if you don't take pricing seriously, you won't see the fundamental business improvements that are sitting right in front of you. Wistia discovered that while they excelled at iterative testing and research from a product standpoint, it lacked experience to effectively alter its pricing strategy. Price Intelligently stepped in, running market panels and employing other tactics to provide insight into what customers cared about.
Before the pricing audit, Wistia did not gate accounts by the number of videos, which was a huge mistake. It learned through the audit that people saw videos as a value metric—the more videos, the more a customer would be willing to pay.
Knowing this, Wistia created a free plan that featured a limited number of videos. The results were astounding. Wistia ended up doubling the number of new sales coming in. 
TaxJar
Finally, let's walk through how TaxJar, a sales automation platform for ecommerce businesses, tripled MRR (monthly recurring revenue) in less than a year.
TaxJar admittedly didn't put a lot of thought into the company's initial pricing. Customer development was the focus, asking questions like, "what would a product like this be worth to you?" and "Would you pay this?" Pricing research was limited and anecdotal. 
TaxJar agreed to a pricing audit with Price Intelligently and restructured its tiers to create three standard packages and three enterprise plans. It also altered the number of transactions within each tier to best reflect it's customer base. 
TaxJar did experience some churn because of the pricing, but the team was prepared for it. Mark Faggiano, CEO and founder of TaxJar, said:
"In the end, our accrue was going to increase so significantly that we were going to come out winners and get the ROI we were looking for."
Within a year, MRR tripled. TaxJar then took the additional revenue into growing the business. The takeaway? Businesses are always evolving, especially in SaaS, so that means pricing has to evolve in order to serve customers, product, and company goals. TaxJar realizes that it will need to review pricing again to continue evolving. 
Pricing is the core of your company
Why put time, hard work and effort into something if you aren't getting the best return possible? Remember, your core is your foundation—if you don't price your product correctly, you won't maximize profitability.

Not sure where to begin? We've got you covered.