What are product metrics & why do they matter? Learn more about product metrics, which ones to keep track of, and tools you can use for real-time insights.
Analyzing your company's product metrics is key when it comes to evaluating whether you are on track to meet your goals. Here is an overview of what product metrics are, how they can benefit your business, and how ProfitWell Metrics can make keeping track of your company's product metrics and using them to improve your business more convenient than ever.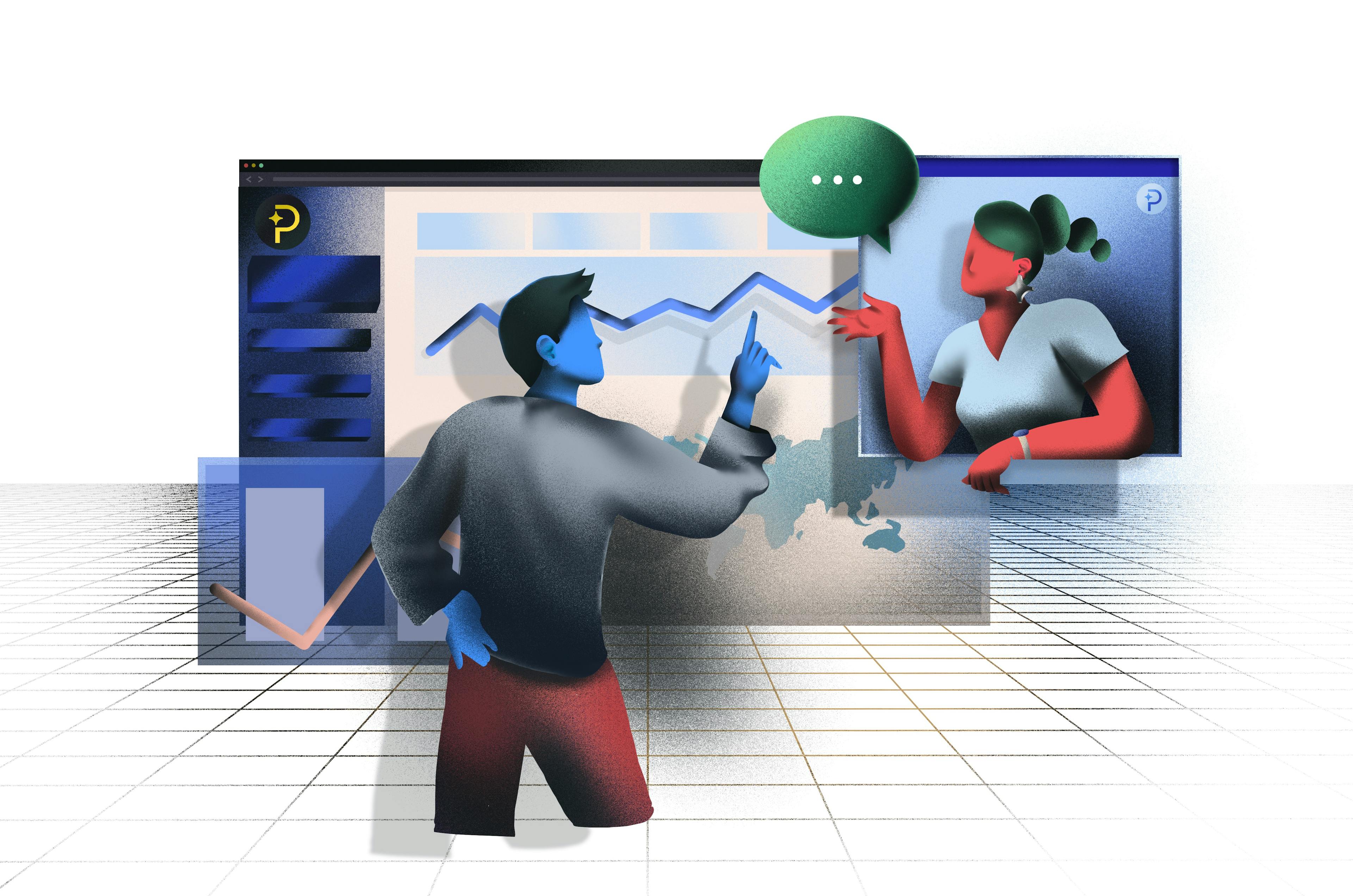 What are product metrics? 
Product metrics are quantifiable data that provide businesses with insights into the overall success of their products. Companies analyze product metrics to get the information they need to set or modify their product strategy to increase revenue and customer satisfaction.
Why tracking product metrics is important
Tracking product metrics provides your company with a wide range of details about how well your sales are going and your customers' satisfaction with your products. Here are five key categories of information your product metrics provide that can be analyzed to improve your business! 

Customer experience insight
Knowing what your customers think about your products and whether they are satisfied with their experience using them is an important aspect of making adjustments to these experiences in the future. Analyzing customer experience provides insights into what your customers liked or would like to see improved, which provides you with opportunities for improving their impressions of your products and your company in the future. 

Evolved product strategy
Savvy businesses do not arbitrarily create new products or add new features for no particular reason. Your product strategy gives you the opportunity to define why you are creating and selling a particular product, as well as how it is intended to benefit both your customers and your business, and product metrics give you a means of knowing whether you are achieving those business goals. 

Early issue detection
Even products that are well-designed can have unexpected problems. Detecting these issues sooner, rather than later, gives you ample opportunity to temporarily pull them from your shop to make any necessary adjustments. Product metrics can alert you if a particular product has an unusually high number of returns, low reviews, or otherwise dissatisfied customers. Key metrics allow you to investigate, determine what the issue is, and fix it before too much damage is done.  

Clear product roadmap
Successful products are not simply designed with no clear direction in mind and forgotten about. Instead, they are carefully planned to suit a particular vision, goal, and purpose that fulfill a specific need in your customers' lives. These products should also evolve over time as you learn more about what your customers like and dislike about them, and product metrics play a key role in helping you create and grow this product roadmap over time.  

Revenue forecasting
Having an idea of whether a product is making enough money to turn a reasonable profit can help you determine whether it is doing as well as you anticipated. By tracking your products' current revenue and analyzing their forecasted revenue, you can determine which products to continue to sell and which ones your company may be better off discontinuing to pursue other ideas.  
Top product metrics you can track
There are several categories of product metrics that can provide helpful information about various aspects of your business. Here are several of the most common types of product metrics you can set as your key performance indicators.  
Product acquisition metrics
Product acquisition refers to your company's ability to sell a particular product in the first place. These are important metrics that will give you an indicator of whether your company is on track as far as producing products and preparing them for sale. 

Key metrics to track: Acquisition rate, Customer Acquisition Cost (CAC), and bounce rate.

Product adoption
Designing and releasing a quality product that will offer an exceptional user experience and make your customers' lives better does not mean they will automatically know it exists or have any interest in purchasing it. Product adoption describes the process your customers will go through from first learning about your product to building interest in it to ultimately making a purchase. For an average customer, this process typically consists of four stages: the awareness, interest, evolution, and conversion phases. 
Key metrics to track: Product adoption rate, time-to-first key action, and activation rate.
Product engagement metrics
Product engagement describes the various ways in which customers can interact with your product. Keeping track of these actions gives you an understanding of how to adjust your actions toward them to affect that behavior. Analyzing the steps your customers are taking over time can help you determine which products customers are sufficiently interested in and which ones you may need to increase your promotion of or consider discontinuing.
Key metrics to track: User engagement rate, number of active users - Daily Active Users (DAU), Weekly Active Users (WAU), and Monthly Active Users (MAU).

Customer satisfaction metrics
Although your company will receive the same profit from a specific purchase regardless of your customer's level of satisfaction, customers who are highly satisfied with their product, customer service, and ordering process are much more likely to become repeat customers than those that are not. This means that tracking customer satisfaction metrics can give you an idea of which customers may be among the most likely to continue to place more orders and increase your revenue over time.  

Key metrics to track: Referral rate, Net Promoter Score (NPS), Customer satisfaction score (CSAT), and product return rate.

Customer/user retention metrics
Likewise, retaining as many customers as possible is key when it comes to increasing your overall revenue. Tracking which customers have placed multiple orders and factors that may be related to their decisions to do so can help you increase your ability to create a customer experience that results in an overall customer retention rate that is as high as possible. 
Key metrics to track: Churn rate, retention rate, growth rate, and repeat purchase ratio.
Revenue Metrics
Tracking and analyzing your revenue is key when it comes to determining how well your business is doing overall. Although your revenue and sales can be broken down into several of the above business metrics, studying your overall revenue and comparing it to that of past quarters and years is one of the most important steps you can take to gain a complete picture of your current business. 
Key metrics to track: Annual and Monthly recurring revenue (ARR/MRR), Average Revenue Per User (ARPU), and Customer Lifetime Value (LTV).
Keep track of relevant SaaS product metrics with ProfitWell Metrics
ProfitWell Metrics, by Paddle, makes keeping track of relevant SaaS product metrics easier than ever. Here are several ways our products can benefit your company's success!

Get real-time data
Although analyzing product metrics at a later date can still provide a significant amount of useful information, having access to real-time data can be even more helpful when it comes to making quick adjustments to elements that may not be working as well as you had hoped. ProfitWell Metric's real-time data feature provides the extra details you need to give your company an extra boost when you need it. 

Analyze different customer segments
Your customer segments will not all respond to various marketing strategies in exactly the same way, and analyzing groups of customers' preferences can give you a better idea of what different parts of your target audience think about your products and how you are advertising them. 

Get a clear overview of the entire customer lifecycle
Understanding how customers engage with your products over time can help you develop effective strategies for reaching them during each stage of the marketing process. We prioritize providing data about every aspect of your customers' decision-making processes, from first learning about a product and considering whether to make a purchase to making a purchase decision and their overall satisfaction with the product.  

Improve customer retention rate
Repeat customers naturally bring in more profit than new customers that make a single purchase and are not satisfied enough with their product or customer service to come back. ProfitWell Metrics provides a wealth of data that can be used to assess whether a satisfactory percentage of your customers are not making their first purchase. 

Boost user engagement
Your customers usually will not make an impulsive purchase decision, particularly if your company sells high-value items. Using product metrics to increase your user engagement can help keep your potential customers interested until they ultimately make a purchase decision, rather than simply forgetting about your company and your products. 
 
Estimate your revenue
Although your revenue for a particular sale is not finalized until your customer receives the order and chooses to keep it, analyzing product metrics can give you an estimate of how much you can expect to earn from a particular product or during a particular time period. ProfitWell Metrics breaks down your expected revenue into several categories to help you assess how well a particular product is performing. 
Product metrics FAQs
Here are some of the most common questions surrounding product metrics! 
What are some product metric examples? 
Although there are many types of product metrics, some are more helpful than others. Your expected monthly or quarterly revenue, conversion rate, and churn rate are some common examples of product metrics that can be applied to virtually any business. 

What is the difference between process and product metrics?
Product metrics measure the success of the products themselves, while process metrics describe the quality and functionality of your website's software. Although product metrics and process metrics are considered to be two separate categories, they both have an impact on your customers' overall experience shopping from your company.  

What categories of product metrics are there? 
Product metrics can be divided into several categories, including those that impact your revenue and those that are more closely related to the products themselves. 

What is the difference between product metrics and customer metrics? 
Product metrics analyze various aspects of the actual products your company sells, while customer metrics analyze various factors relating to your customers' experience and opinions of your products and your company. Although these categories of metrics measure slightly different types of data, they go hand in hand to provide a more thorough picture of how well your company is doing. 

What is a north star metric?
A north star metric is the one key metric a company tracks to evaluate overall business success. However, a north star metric measures success only if it fulfills three conditions: it measures business progress, reflects customer value, and helps lead to revenue.