E-commerce subscriptions started becoming popular in the early 2000s. Since then, they have formed a huge economy of physical/non-physical companies. Explore popular types and their common challenges.
Nowadays, it seems like you can buy just about anything on a recurring monthly plan: razors, clothing, knick-knacks, candles, etc. Over the past decade, e-commerce subscription companies have doubled down on the subscription model to monetize their relationships with customers.
But starting an e-commerce subscription service isn't an easy task. There's a significant amount of infrastructure that needs to be in place for it to work—customers won't accept a sub-par experience. That's why we've put together the platforms, tools, and strategies you need to make subscriptions work for your company.
Let's dive in.
What are e-commerce subscription companies?
An e-commerce subscription company sells its products on a recurring basis online. Typically, it sells and ships products to customers on a monthly or quarterly basis. It leverages the power of these recurring customer relationships to provide everything from razors to computer software.
Gaining popularity in the early 2000s, these subscription companies now occupy a significant portion of the e-commerce market that is only expected to grow.
4 popular types of e-commerce subscriptions
The subscription economy has spread its wings into just about any industry you can imagine. Online retailers are using the subscription model to tap into a shift in how consumers think about the relationships they have with the businesses they use. According to this study from 2018, the subscription e-commerce market has grown significantly since 2014.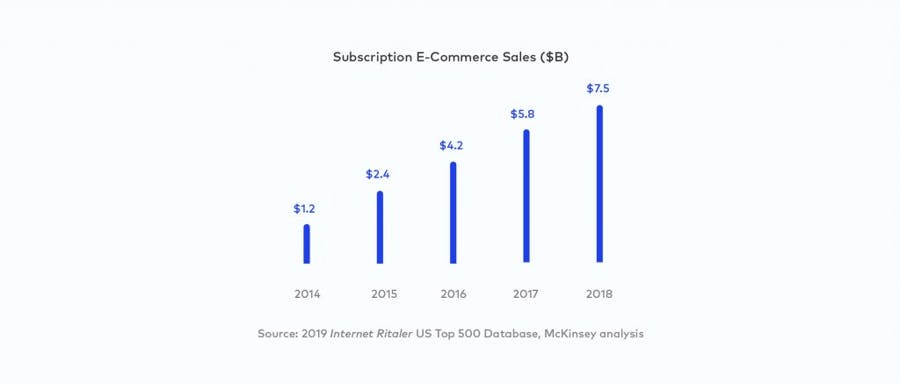 Subscription e-commerce sales in the billions via Fuel.
This trend is expected to continue as subscriptions make their way into additional industries and markets. Here are four industries where subscriptions have taken hold in the past five years.
Entertainment subscriptions
The entertainment industry is one of the first things that come to mind when thinking about successful subscriptions. Content streaming services like Netflix, Hulu, Disney+, and Spotify dominate the market and act as the model for tons of new startups.
Many followed Netflix after it pivoted from a DVD-rental service to a streaming content platform in an effort to double down on the existing relationships with its customers. While Netflix has made some tradeoffs along the way, it owns the position of one of the first streaming platforms to capitalize on the subscription model.
Commodity goods subscriptions
When Dollar Shave Club started its monthly razor subscription, it shook the commodity goods market to the core. In an industry that typically has a lack of pricing power, DSC was able to take on established brands like Gillette by monetizing the customer relationship online.
The subscription model helped DSC and others, like Harry's, Billie, and Quip, subvert the established model in the market and capitalize on the sustainability of these relationships by helping them build a predictable stream of revenue.
E-commerce subscription boxes
Whether it's Stitch Fix's personalized outfits, Birchbox's customized beauty products, or Blue Bottle's single-origin coffee, you can get a box of pretty much anything you want shipped to your house every month. The rise of these e-commerce subscription box services came in the wake of Netflix's and Spotify's success by offering personalized recommendations to their customers.
The reason these boxes work so well is that each platform relies on data and education to help their customers see the value in a recurring payment. It's one of the truest forms of monetized relationships.
SaaS subscriptions
The technology and software market has seen the largest influx of subscription e-commerce in the past five years. Here at ProfitWell, we use the same model as the majority of the market to build stronger relationships with our customers, reduce churn, and boost monthly recurring revenue.
All of these examples showcase how the ongoing value provided by a company, whether it's software services, clothing recommendations, or simply a new razor, keeps customers engaged with businesses longer. It's one of the quickest and most effective ways to grow your company in just about any market.
Why e-commerce businesses switch to a subscription model
E-commerce companies typically have a more engaged customer base, so pivoting to the product-as-a-service or subscription model makes sense. It gives these businesses a way to tap into a more consistent and predictable revenue stream by monetizing those relationships with their customers.
Higher LTV
Being able to capture a recurring stream of revenue from each individual customer leads to a higher lifetime value (LTV) for subscription e-commerce companies. Consider Dollar Shave Club—while its monthly price for a razor is significantly less than what consumers would spend on a one-time purchase from Gillette, it's able to retain customers longer. That compounds the value of the relationship over time, leading to more revenue gained from each individual customer.
Consistent revenue
Building a predictable revenue model without using the subscription model can be difficult. Any revenue projections have to be based on the number of goods sold to offset acquisition and operational costs. With subscriptions, as long as you factor in churn rates, companies are able to forecast monthly, quarterly, and annual revenue on a much more consistent and predictable basis.
Ability to upsell and cross-sell
Subscriptions make it easier to tap into expansion revenue, making it one of the most attractive aspects of the business model. E-commerce companies can upsell customers to a higher package or cross-sell complementary tools or products more easily by leveraging the existing relationship they have.
Common challenges for e-commerce subscriptions
Whenever you're considering a shift to a new business model, it's important to recognize the challenges that are inherent to it. For e-commerce subscriptions, the majority of those challenges center around how you acquire, monetize, and retain your customers.
How to price
Choosing an effective pricing strategy is an important decision for subscription e-commerce companies. Connecting the value of your service to potential customers' willingness to pay takes a significant amount of data to understand. If you're wrong, you end up leaving money on the table. Our Price Intelligently service can help you find the best pricing strategy for your subscriptions.
How to upsell
The subscription model is one of the best for utilizing expansion revenue, but upselling and cross-selling your customers aren't always easy. A customer will only move from their basic subscription to a premium one when the value gained is something they're willing to pay for. That requires a comprehensive understanding of what drives your customers to make a purchase as well as a strong, existing relationship with them.
How to reduce churn
When your revenue is tied to a recurring relationship with customers, losing that customer to churn is a direct hit to your bottom line. Subscription e-commerce companies need to keep their churn rates in check to maintain any semblance of growth. Anything over 5% could seriously hurt your business over time. Retaining customers, therefore, becomes one of your highest priorities. ProfitWell Retain is the automated tool with proven results to drive down your churn rates.
Important additions to your subscription ecommerce toolkit
Building a successful ecommerce subscription platform is only possible when you have tools in place to facilitate payments and manage communication. From subscription billing and management platforms to email automation and analytics, there are a lot of moving parts that need to work together for the model to work.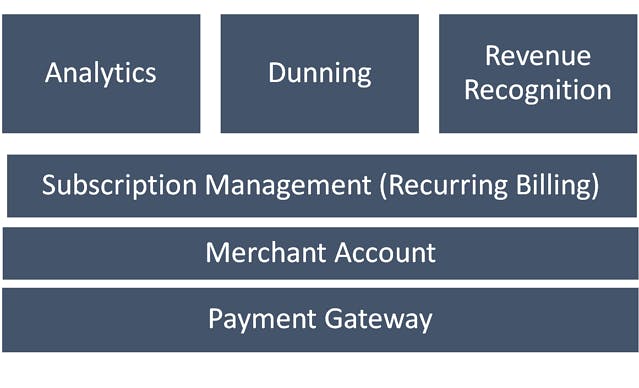 The six major aspects of your subscription business.
Some platforms will provide a suite of features to help you build your subscription e-commerce business, and it's important to understand how they function.
Analytics: Understanding what drives the success of your business is vital to sustaining it. With tools like ProfitWell Metrics, you can easily build a high-level overview of the current status of your business.
Dunning: Email campaigns that prompt customers to update their billing information are one of the best strategies you have for decreasing delinquent churn.
Subscription Management: Tools like BigCommerce and Stripe work on top of your merchant account and payment gateway to process and manage subscription payments.
Merchant Account: This bank account allows your company to give and receive payments through a credit card.
Payment Gateway: Gateways give you the ability to connect with credit card companies and process payments.
Each of these features will help you manage your e-commerce subscriptions more effectively. When you use them together, you can make and receive payments, manage recurring customer subscriptions, and follow up with customers automatically before any issues occur.
E-commerce subscriptions are here to stay
When you understand how both the e-commerce and the subscription models impact your business, finding the tools and strategies that work is much simpler. Don't let a lack of infrastructure cause you headaches or lost revenue as your company grows.