Adding Apple Pay and Google Pay as options on Retain's payment forms will greatly reduce the friction of having customers manually enter in payment information, leading to higher recovery rates. Setting up Apple and Google pay with Recharge is fairly straightforward.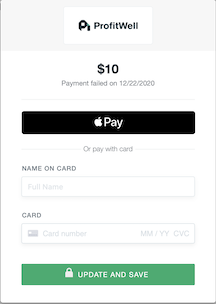 How to set up Apple Pay and Google Pay
You need to have Stripe as your primary processor in Recharge. If so, make sure you've also integrated Stripe into your ProfitWell account.
For every domain that Retain accepts payment information on, you need to register them with Stripe here, by clicking on Add a new domain and following the instructions provided by Stripe. This is necessary because Stripe will communicate these with Apple, who require to know every domain up front for security purposes. You do not need to send us any keys.
Contact us so we can turn this on for you. And that's it!